We spent 4 days on the island of Hvar, visited its main cities, drove through it, swam in bays and ate the best pizza in Croatia (among that ones we tried, of course :).
Contents:
Croatia is well-known for its thousand islands, that's why it was not so easy to choose what island to visit. But finally we choose Hvar island mainly because my friend like it too much and there were so many positive reviews about it through the internet.
How to get to Hvar island
There are ferries to Hvar from Split and Drvenik. Price for car and two persons from Split to Stari Grad is 53 euro one way, and 19 euro from Drvenik to Sucuraj for one way.
Check prices and schedule on the official site of the main ferry company of Croatia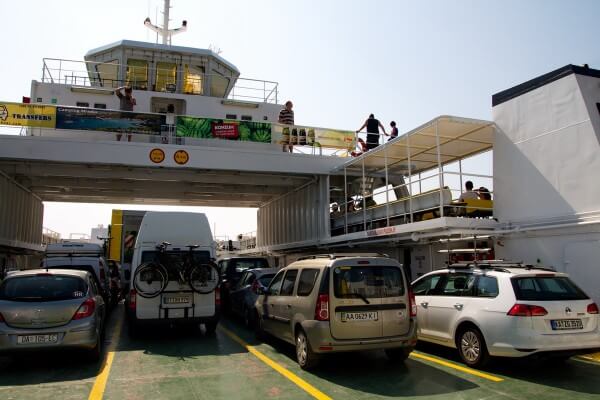 On the ferry
Our experience: we decided to go to Hvar from Drvenik. So we got there and saw the line of cars waiting for the ferry. Ferry capacity is approximately 30 cars, we were more than 30th in the line. It meant that we should wait for next ferry that would be in 2 hours according to schedule.
Drvenik is a small village, with several restaurants, beach and several shops. So there is not much to do there. We went to the shop and when we came back to the car, it appeared that they started up an extra ferry and we were lucky enough to reach Hvar much quicker than we expected.
It took about half an hour to get to Hvar's small town Sucuraj by ferry.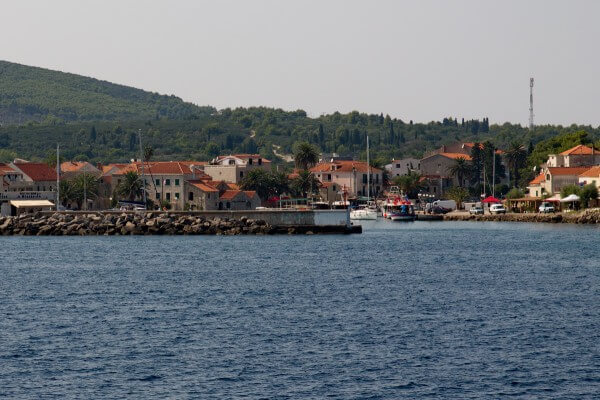 Sucuraj pier - view from the sea
Where to stay on Hvar island
There are a lot of apartments and rooms on Hvar island in the main towns (Hvar, Jelsa, Stari Grad), usually, starting price is about 40-50 euro for the room for 2 person depending on the season.
Our experience: One night we lived in the town of Hvar for 30 euro (we found apartments through booking.com).
Two nights we lived in the apartments in Stari Grad for 26 euro, but after bargaining (at the beginning, hostess asked for 40 euro per night). Apartment was very nice, with small kitchen and terrace with view over the town (GPS: 43.187789°, 16.594938°, apartmani Ana)
Camping on Hvar island
While planning our trip to Hvar, I prepared a list of campsites on the island:
Mlaska camp (price from 140 Kun = 19 euro)
website http://www.mlaska.com/
GPS: 43.137491°, 17.143647°, 4km from Sucuraj
Grebišće camp (price from 26 euro)
website www.grebisce.hr/en/index.php
GPS: 43.158406°, 16.711031°, near Jelsa
Camp Vira (price from 24 euro)
website http://www.campingvira.com/
GPS: 43.189925°, 16.430122° 12 km from Hvar
Camp Mina (price from 120 KUN = 16 euro)
website http://www.nudistcamp-vrboska.hr/hr/2/kamp-mina/
GPS: 43.163601°, 16.703239° in Jelsa
Nudist Camp (price from 150 Kun = 21 euro)
website: http://www.nudistcamp-vrboska.hr/hr/1/kamp-nudist/
GPS: 43.182291°, 16.687056° near Vrboska
Our experience: we lived only in Camp Mina and liked it a lot.
First of all it is situated right by the sea and very close (5-10 minutes walking) to the center of Jelsa with its restaurants and shops.
There are many pitched with shadow under the pine trees with a sea view. Toilets are ok. Overall, camp is very cosy and nice.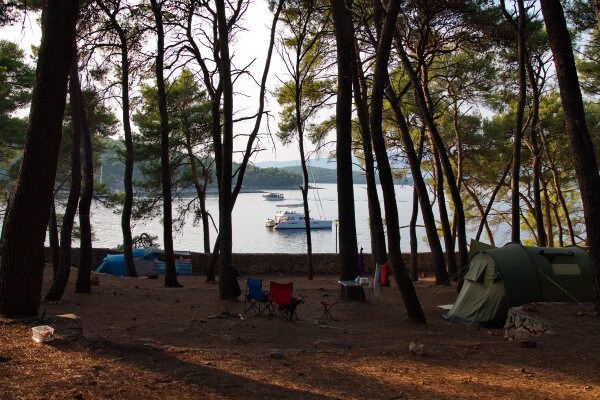 Camp Mina in Jelsa
Cities on Hvar island
Hvar is the capital of island and its largest city. This is bustling small city with many restaurants and cafes both along the seafront and on the narrow streets of the city center. There are many bars as well.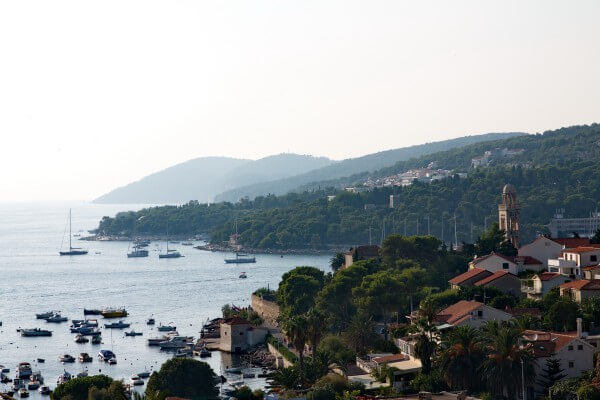 City of Hvar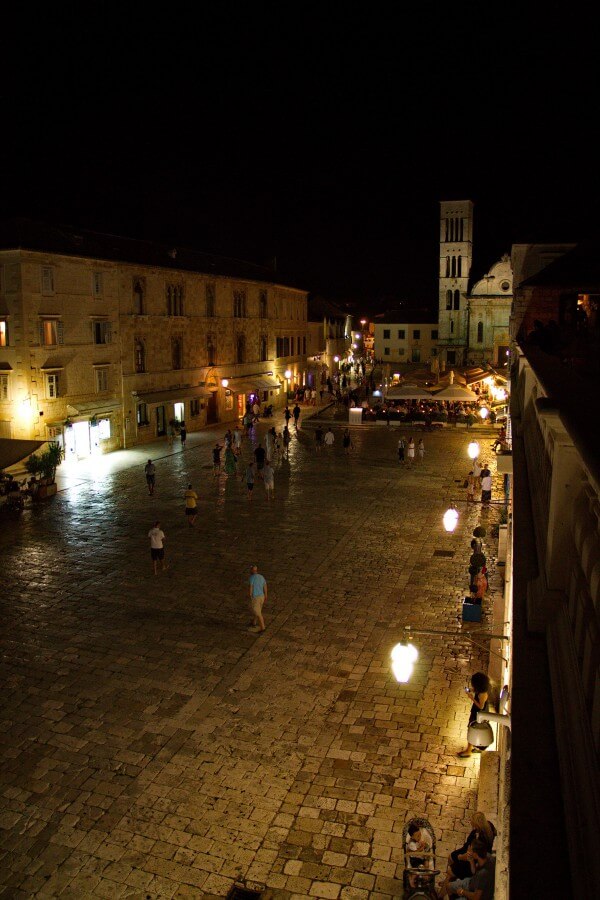 Main square of Hvar
Jelsa seemed to us more cosy and quite than Hvar. There are also many restaurants along the seafront.
Stari Grad is the main port of the Hvar. The city itself is more mediocre than others. However we ate the best pizza in Croatia there. The restaurant Marko's pizzeria served pizza baked on the wood in the old style oven.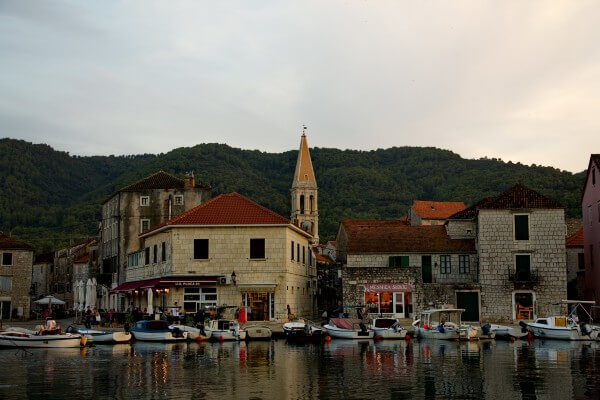 Center of Stari Grad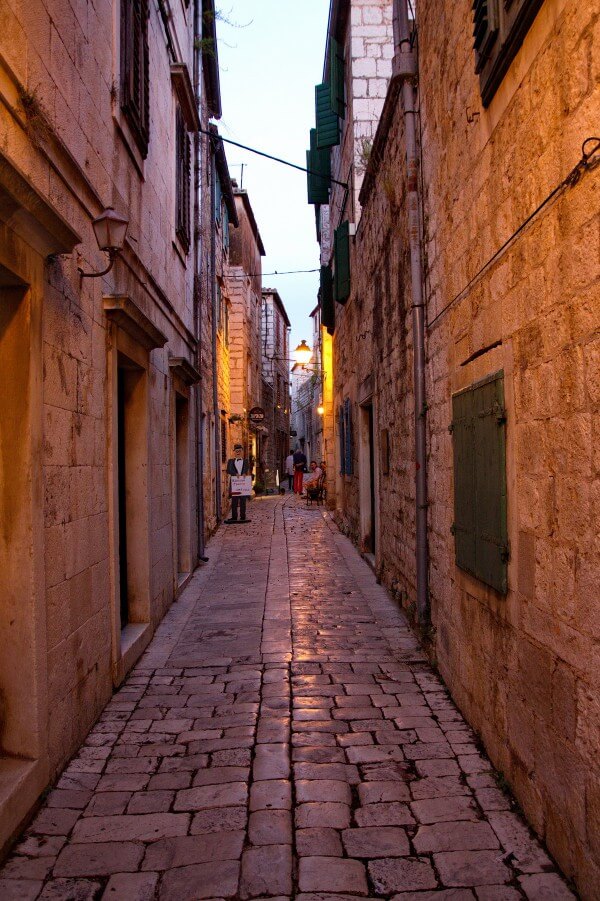 Street of Stari Grad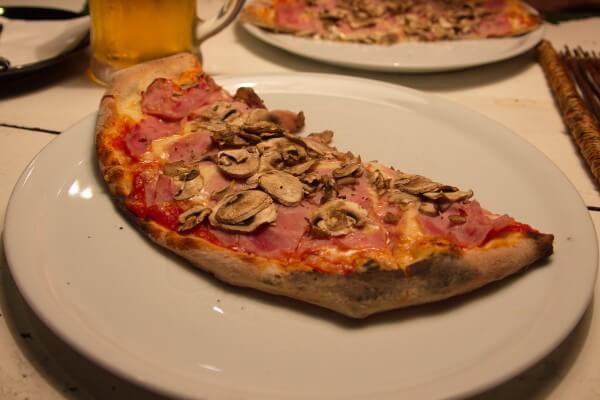 Pizza in Marco's pizzeria
Beaches on Hvar
We discovered some nice beaches on Hvar:
Dubovica beach (GPS: 43.145999°, 16.534603°)

Nice bay with clear water. We parked our car along the road (there are many cars parking there, thus it should be the free place as it rather much space for parking). Then we walked for about 6-10 minutes by path to the beach.

Path to Dubovica bay

There is only a small coffee shop on the beach, so if you are planning to stay there whole day it's better to carry some food and water with you. Beach is pebble.

Zukova Bay (GPS: 43.206886°, 16.579293°) is situated near Stari Grad.



We drove there by good unpaved road, parked car here (43.204441°, 16.575847°) and walked for about 10 minutes to the bay. There was nobody there because of the rain but place is very nice, water is clear. No restaurants and no shadow. There are rocks but with rather good access to the water.

Vrboska (GPS: 43.183043°, 16.686335°) there is a nice nudist bay near village of Vrboska.

Parking places for car are limited, thus we were lucky enough to park car. 3 minutes walking and you are on the rocky beach with no shadow but clear water and good access to the water.

Jelsa (GPS: 43.162532°, 16.703479°)

Good beach near city of Jelsa. Car parking is possible for free. There are both rocky places and small pebble beach.
Conclusion
As for me, I though it would be something peculiar on Hvar. I hoped for some nice secluded bays and a variety of underwater life. Yeah, we finally found some nice beaches, but as good as along coastal Croatia. There is limited amount of the beaches due to the relief of the island. And usually good beaches are rather crowded.
We liked living in the towns of Hvar but again it is not much difference between these towns and similar small towns along the coast of Croatia.
But anyway our short trip to Hvar was amazing. It's still something special in travelling to islands....