Last year in the early September we visited Corsica. We didn't plan to go there but because of Ebola virus we changed our plans. I fell in love with this small, cosy, picturesque island and from now on if somebody asks me where to go for swimming on vacations, I always recommend Corsica.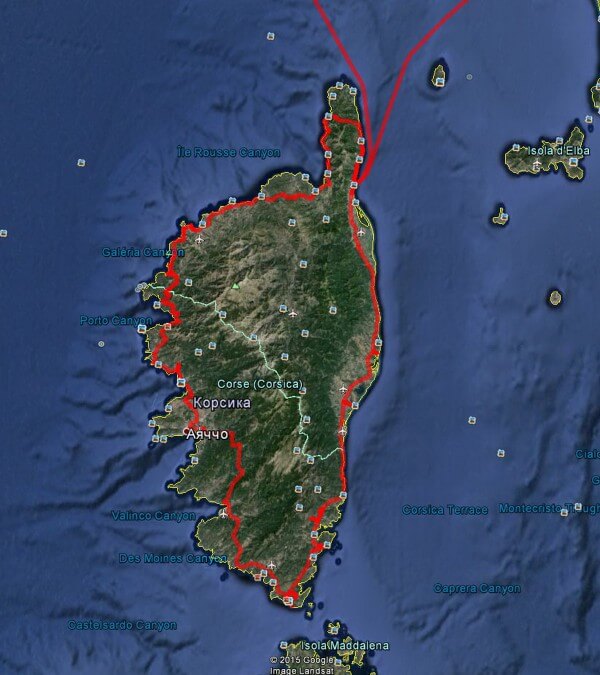 Our itinerary around Corsica
For your inspiration, I decided to write a small article with a places we lived in and visited while our trip to Corsica. Frankly speaking, it is not much to talk about because the main attraction of Corsica is sea itself and magic views along the road. It was the only place in Europe I've ever visited where each bay was inviting with crystal blue water. I would suggest, that even if you are not a big fun of swimming you couldn't resist the magical Corsican sea.
Overall we spent 7 days in Corsica, drove around 550 kilometres around the island and fell in love with its beauty.
We lived in the campsites that accept ACSI campingcard and bought food in the supermarkets, so we spent about 16 euro per night for campsite and about 10 euro for food per day (drinking tasty French cider and eating tasty French cheese).
Day 1: 2 September 2014
We bought tickets for the ferry to Corsica online here.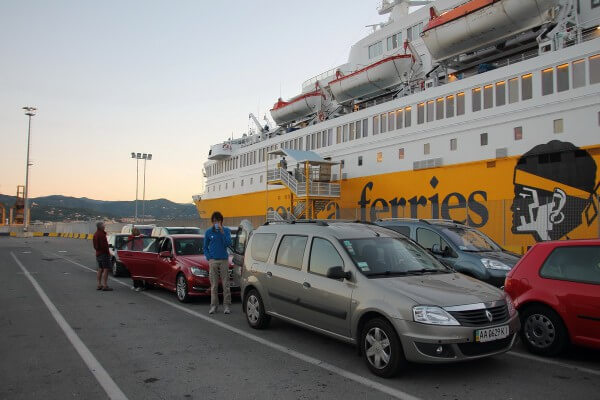 Waiting for embarking
Ticket from Savona to Bastia costs 77 euro for both of us and our car. It took us 6 hours to reach Bastia port.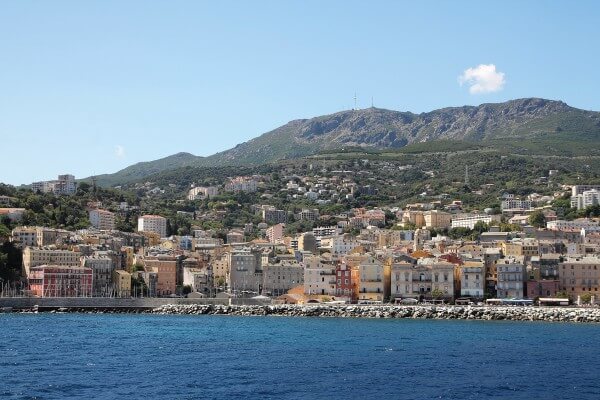 Bastia greets us
Once we drove out to the firm ground we went to the supermarket in Bastia for food, after which we went to our first campsite in Corsica. Looking ahead it is worth to mention that we liked all campsites in Corsica. All of them were very comfortable and nice.
Lived in: Campsite La Pietra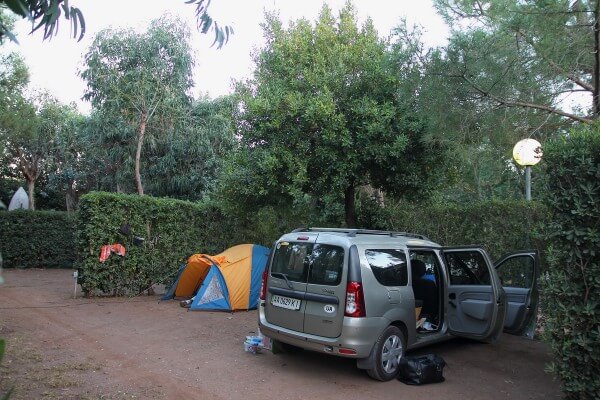 We liked this campsite a lot. There are two good tables for ping pong, nice swimming pool and cosy places fenced with green plants.
Day 2: 3 September 2014
Stayed at the same campsite we sallied out to the nearby bays for swimming.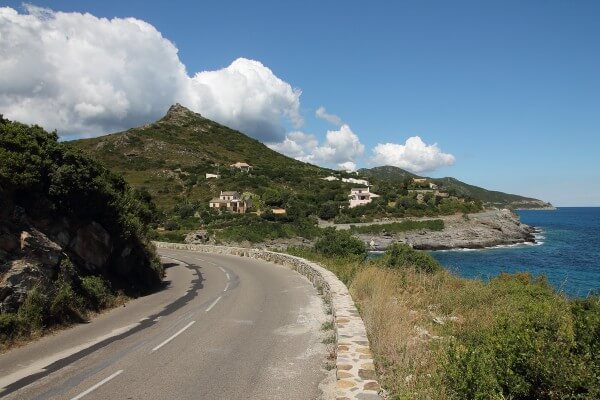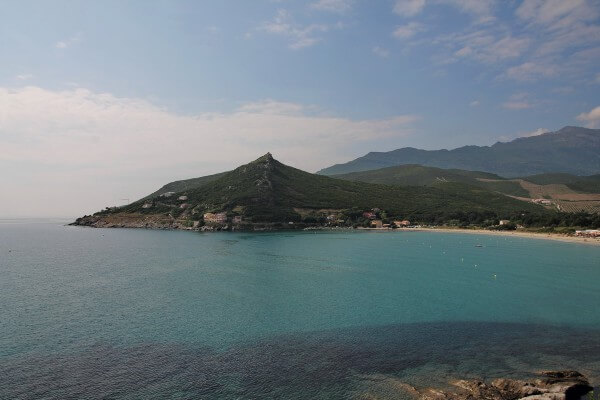 Lived in: Campsite La Pietra
Day 3: 4 September 2014
Roads on Corsica are very narrow and curved. So don't expect to move quickly there.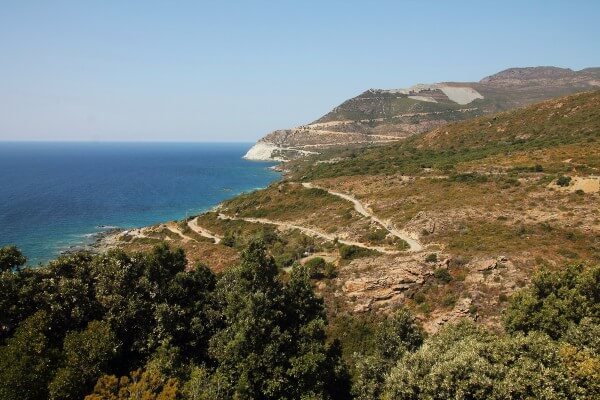 On our way to another campsite we saw famous black beach near Nonza (GPS coordinates: 42.789071°, 9.343852°)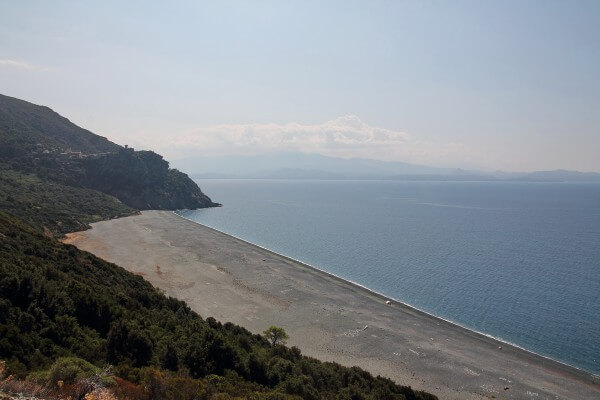 This beautiful black beach always stands deserted due to the pollution. Colour of the sand is black because of the asbestos mine nearby which is abandoned nowadays.
After we settled down in the campsite we went for a walk and found ourselves in the marvellous city of Calvi (GPS coordinates: 42.568128°, 8.760677°) that is worth visiting. We climbed to the citadel by narrow streets from where we saw breathtaking views on the night city. Unfortunately, we didn't have any photo from Calvi and that nice evening spent in the city because we went out from the campsite without any expectation that we would walk right to the city centre.
There are many restaurants around the city and its seafront, but the prices in menu were scaring (at least for us :)
Lived in: Campsite La Pinède
This huge campsite was overcrowded, so we didn't like it a lot. As advantages there is good table tennis, nice beach with white sand is in 2 minutes walking and city of Calvi is in 20 minutes walking (2.5 km).
Day 4: 5 September 2014
Driving on the Corsica roads is really challenging because you want to stay on the every bay and dive into the magic blue water that invites you into its delightful world.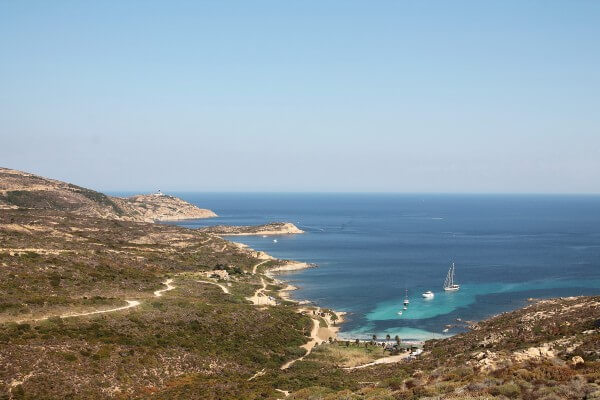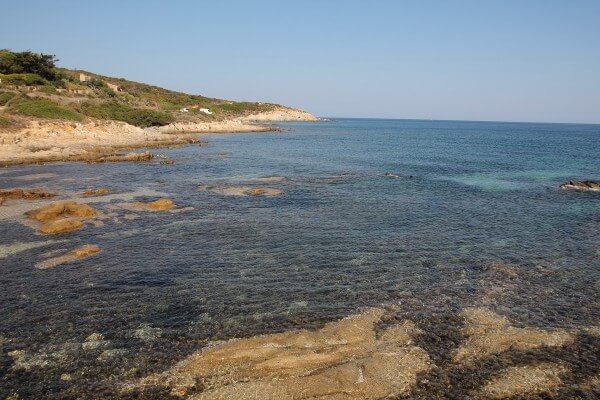 Thus, after swimming with a scuba and mask in one of the bay we drove to the abandoned silver mine situated not far from the main road near Argentella (GPS coordinates: 42.463619°, 8.684609°).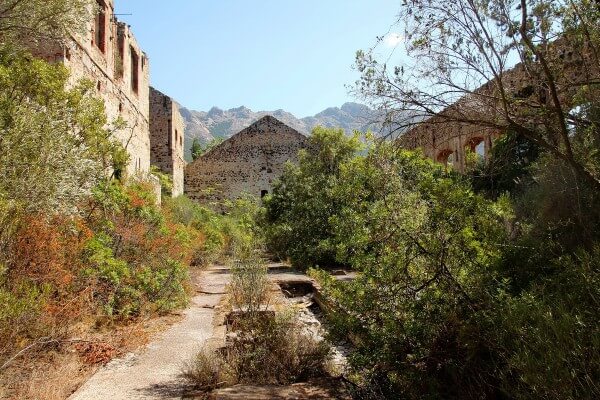 There are many ruined buildings and if you are fond of such "places of interest" you might be excited of this site.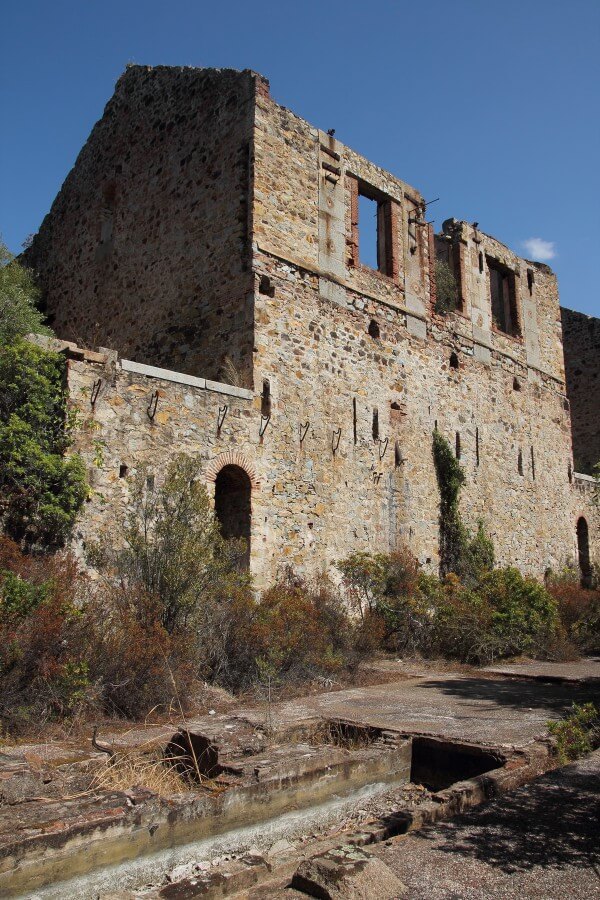 I liked it and we wondered around its rather big territory, exploring several storey buildings, tunnels and tower.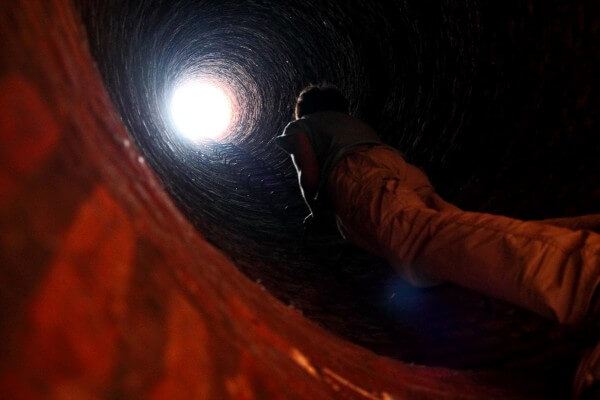 After this we moved further and occasionally found ourselves among marvellous park called Calanques de Piana (GPS coordinates: 42.247215°, 8.656141°).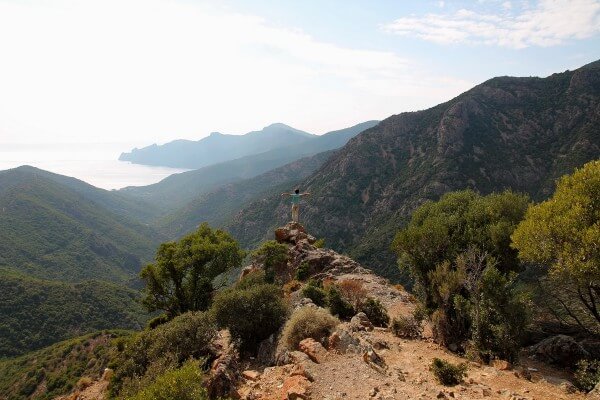 We almost got used to the wonderful views along the road, but this one was the best… Here, the rock formations made of granite have undergone severe erosion and as a result acquired bizarre shapes made by nature…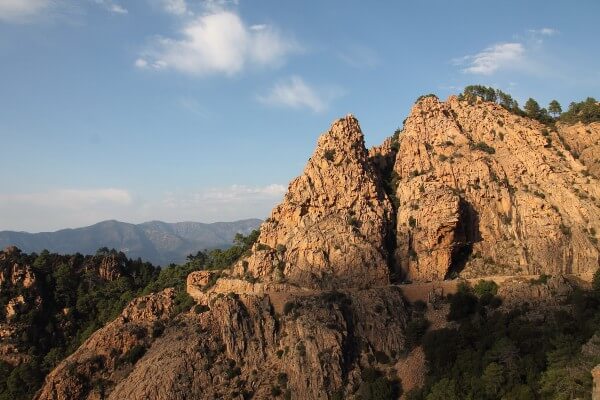 You could park your car there and get a trip inside Calanques de Piana. Unfortunately, we didn't make it due to the lack of time and information, but it's worth visiting for sure. Keep in mind that it would be hard to find a place for the car.
Lived in: Le Sagone Camping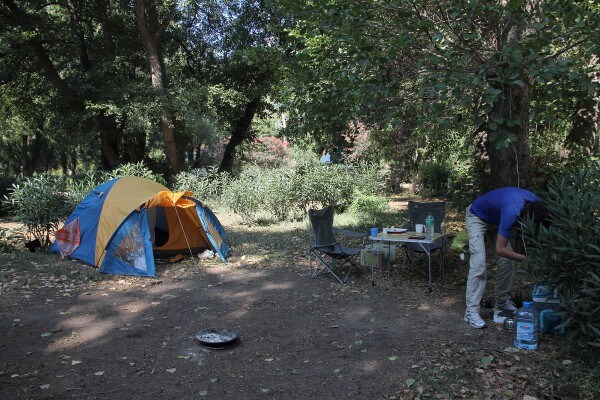 Campsite was rather good, but seems not so cosy. It is rather big with many houses for rent, swimming pool, bar, table tennis and tennis.
Day 5: 6 September 2014
Hardly remember what we did this day, as there are no photos of it. Probably, we have been swimming in the nearby bays.
Lived in: Le Sagone Camping
Day 6: 7 September 2014
This day we planned to meet the sunset near Bonifacio (GPS coordinates: 41.387360°, 9.159375°), so we moved to the campsite situated near the city.
In the evening we drove to the cliffs near Bonifacio – it's very beautiful place.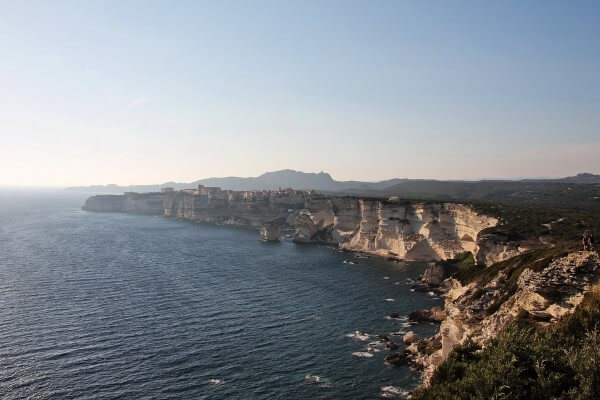 We spent there more than 3 hours. There is a lighthouse on the cape (GPS coordinates: 41.367453°, 9.184454°) – that is worth visiting for sure.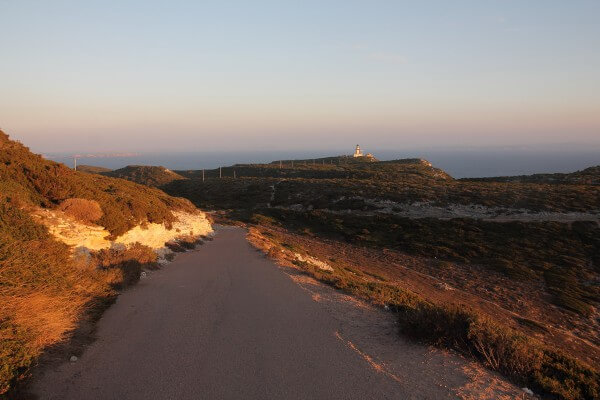 There is a small bay as well with a nice beach and huge stone which is a good place for meeting sunset.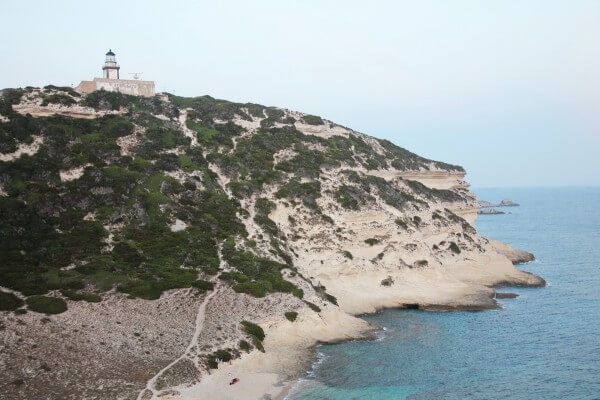 We saw some guys who stayed on this beach for a night with sleeping bags. Very romantic!
We were excited by the beauty of this place, by the abandoned bunkers along the shore and stunning views on Bonifacio.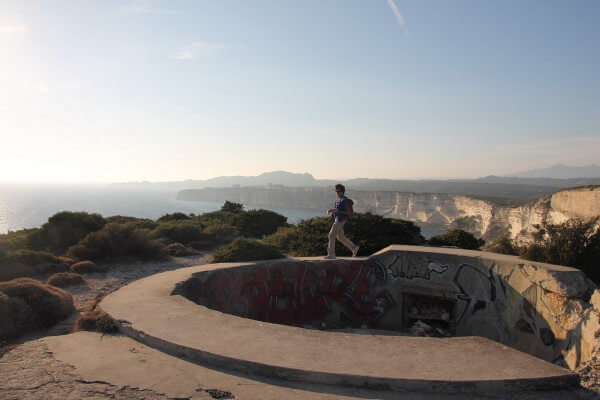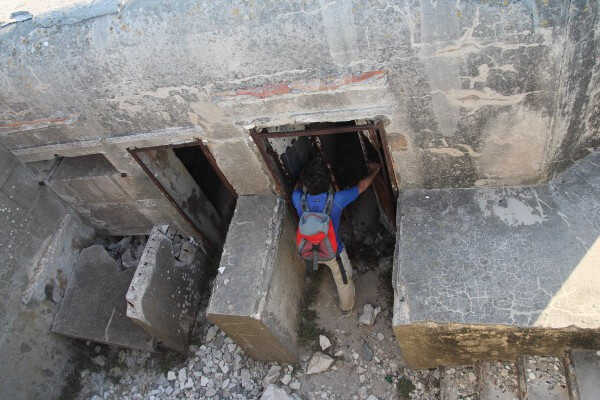 We meet sunset near the lighthouse and then sit on the cliff with a breathtaking views on the night Bonifacio drinking cider and eating very tasty French cheeses.
It was one of the best day on Corsica. Then we sat down into the car and drove to Bonifacio, parked the car not far from the city center and went for a walk.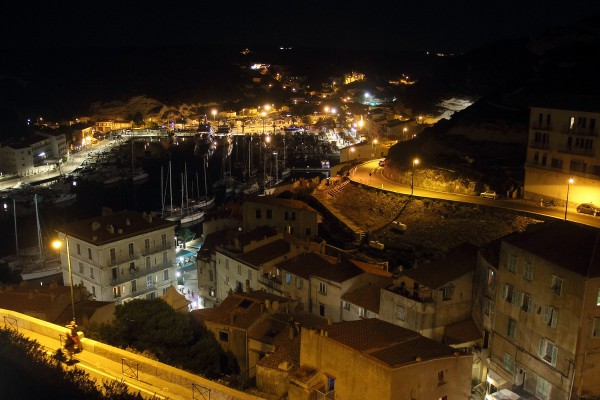 I don't know how good Bonifacio is during the daytime but it was magnificent at the night. If you could afford, live here in one of the hotel in the old city center inside the city walls… We returned to the campsite at the midnight – tired but very happy.

Lived in: Campsite Pian del Fosse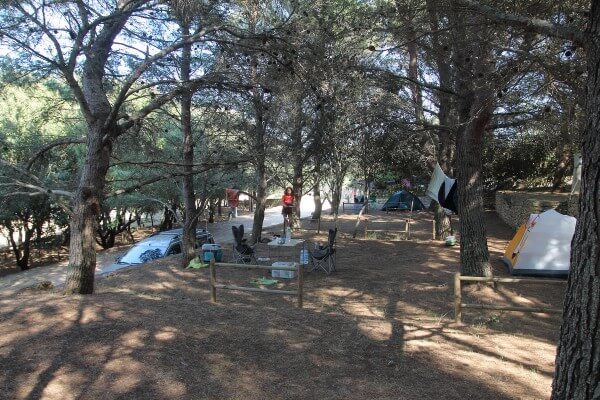 There are no table tennis and swimming pool in this camping, but it is very cosy with plenty of shadow and terraced pitches.
Day 7: 8 September 2014
This day we wanted to visit ruins of the castle on the hill, called Castle of Arraggio (casteddu d'Araghju) (GPS coordinates: 41.647837°, 9.262088°)
We parked our car in the village Araghju (there were cork trees on the parking which I have been dreaming to see for a long time!), from where we begin the ascent to the ruins.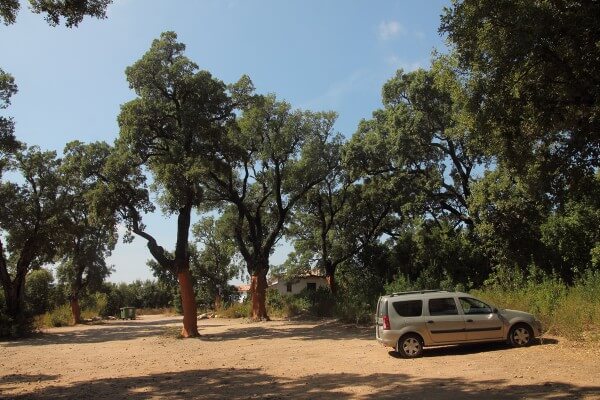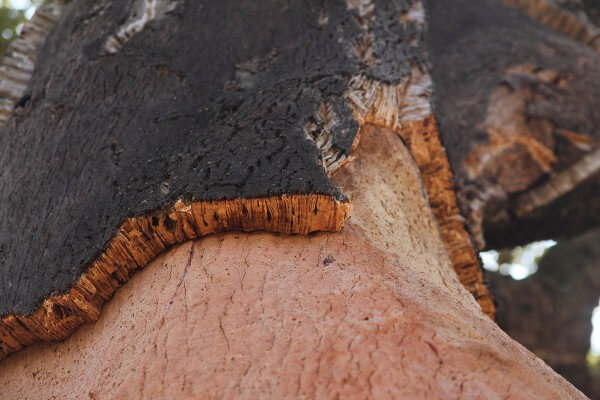 It was very hot, there were almost no shadow along the path and it was rather hard to climb up. It took us about 25 minutes to reach the ruins, and… what we saw disappointed us a lot….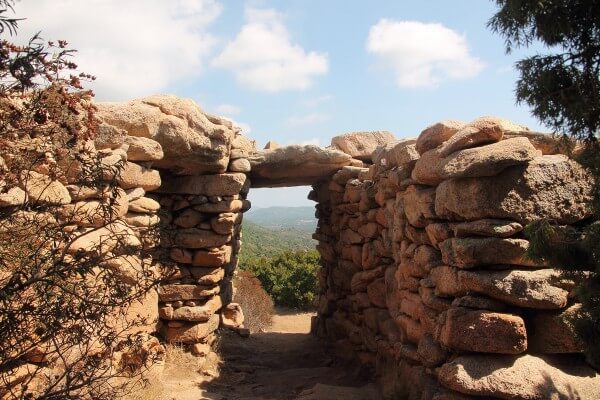 There were almost nothing to see, some walls and that's it (I like ruins a lot, but as for me this one is not worth visiting). The only one thing we liked - there were nice views from the top of the hill.
After the tiresome ascent we moved on to the five star campsite.
Lived in: Campsite Arinella Bianca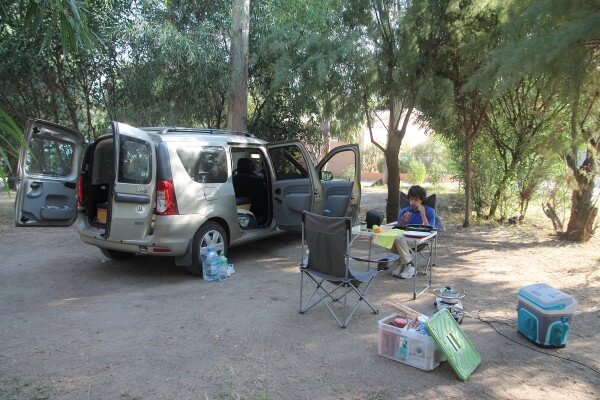 This is big campsite situated directly on the sandy beach. There are plenty of entertainments – several swimming pools (one with amazing river flow and other nice installations), table tennis, animators in the evening, and so on…. There is even hair-dryer in the bathroom :)
Day 8: 9 September 2014
This day we returned to our first campsite, because tomorrow we come back to Italy.
Lived in: Campsite La Pietra
Day 9: 10 September 2014
There was heavy rain all night long. It was the only rain during our trip around Corsica. But in the morning it suddenly stopped and sun shone brightly again. Around 14 o'clock we had a ferry to Livorno from Bastia, so we swam a little bit in the pool, played tennis and saying goodbye to Corsica went to Italy… (it took around 4 hours to reach Livorno from Bastia, ticket price was 85 euro for 2 person and a car).
Useful links:
corsica.kml - file with our places of interest and gps coordinates
corsica.pdf - lonely planet guide (old one but still could be useful)
italy_2014.kmz - our itinerary around Corsica
ferries to Corsica http://www.corsica-ferries.fr/ and http://www.mobylines.com/routes/ferry-corsica.html
Campsites in Corsica that accept ACSI camping card