Two years ago at the end of the May we had amazing trip to Georgia. Our aim was to climb to Kazbek mountain. Frankly speaking, I didn't believe that I would climb as altitude of 5047m seemed frightening.
The trek to Kazbek mountain was full of both positive and negative emotions, it was too challenging but too marvelous. Looking ahead it is worth saying that we didn't reach the summit due to the bad weather conditions and our endurance. But I could say it was unforgettable journey!
Contents
Day 1 (27th of May, 2014)
Kiev - Kutaisi - Tbilisi - Kazbegi, 1750 m - Tsminda Sameba, 2200 m
Covered: 4km by foot in 2 hours
Early in the morning, by Wizzair flight we arrived in Georgia Kutaisi airport. There is visa-free entry to Georgia for Ukrainians, so on the passport control officer stamped the passport and that's it (for Ukrainians: you should have foreign passport that must be valid for at least 6 months). There is no ATM in the airport, only currency exchange.
We decided not to waste time, so we bought tickets for this bus company to Tbilisi (ticket costs $11), you will find counter of this company at the airport hall just near the exit.
If you want to get cheaper to Tbilisi, first you should exit the airport and go to the main road where you can catch passing minibuses (there are many of them passing by) to the city of Kutaisi, and from there catch the bus to Tbilisi.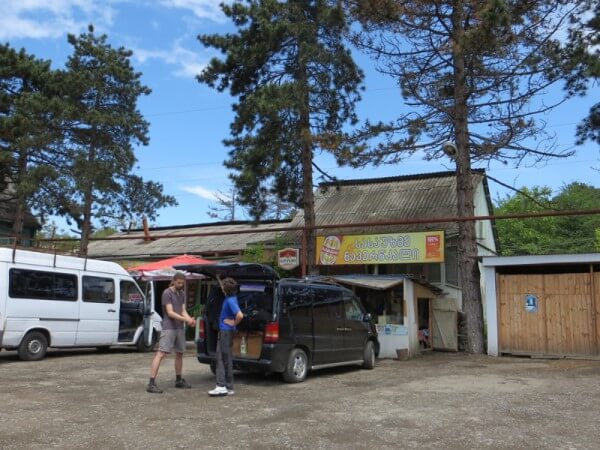 Take a rest on the way to Tbilisi, our small black bus
It took us four hours to get to Tbilisi. Minibus stopped once for a snack and restroom. In Tbilisi, we arrived at the bus station Didube. Life abounds there. There is market with fruits and vegetables, many stalls with khachapuri. There is metro as well, so you can quickly and easily reach the city center.
There is no schedule for buses to Kazbegi, minibuses depart when full (approximately every hour). If you don't understand what minibus you need just ask every driver - he will show you the right one. So we found our minibus and were ready to set forward Kazbegi (Stepantsminda) village. Ticket costs 5.5$ per person from Tbilisi to Kazbegi.
The road to Kazbegi is very beautiful, views over mountain range are breathtaking. We passed by well-known Georgian ski resort Gudauri with nice hotels scattered along the slopes. It took us 2 hours to get to Kazbegi village from where we started our trek to mount Kazbek.
We arrived to Kazbegi at the late afternoon, it was already about 6pm. The village of Stepantsminda is situated at an altitude of 1750 meters. We hold way up to the church of Tsminda Sameba,where we are going to set up the camp with tent and spend the night there.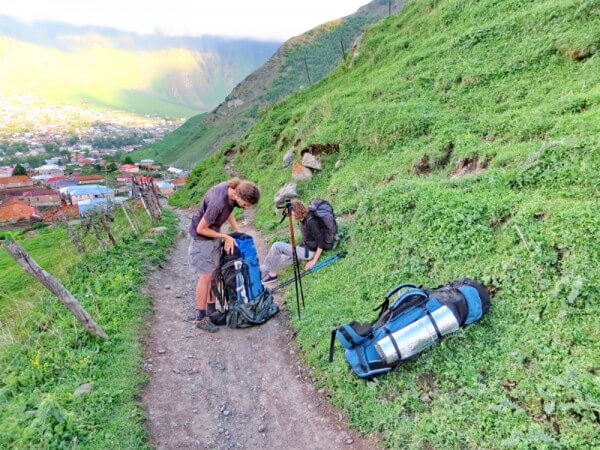 On the way to Tsminda Sameba, village of Kazbegi fell behind
Tsminda Sameba church can be reached by car (approximately for 15$ per car, car can be found on the bus station in Kazbegi village). But we stubbornly excuses to use the car - we came there for trekking! The road to the church is not hard, 1.5 - 2 hours go by good dirt road for jeeps (you can cut of the way by small paths, they are quite steep, but it is much faster).
There are plenty of nice places on the plateau near the church. There is a spring near the church so you will be supplied with unlimited drinking water.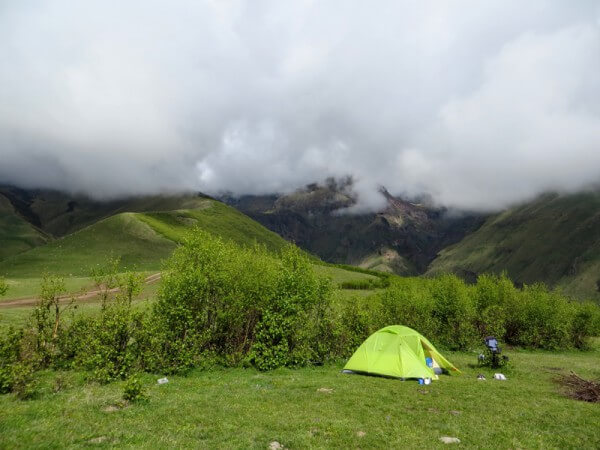 Camping near Tsminda Sameba
DAY 2
Tsminda Sameba, 2200m - Sabertse pass, 3150 m - camping, 3000m
Covered: 9 km in 5,5 hours
Sun woke us up early in the morning. But very soon clouds filled up the sky and covered the mountains. We had breakfast, dried our tent and started to ascend. As soon as we hit the road it started drizzling.
First, we have gone astray, and went on the wrong path. Wide path led to someone's little house, so we had to climb straight up the very steep mountain slope. Drizzling rain became stronger and stronger by that time. The weather that day was the worst of our whole trip. We wear raincoats that helped us not to get fully wet. Moreover, because of the rain and lack of sun I felt cold.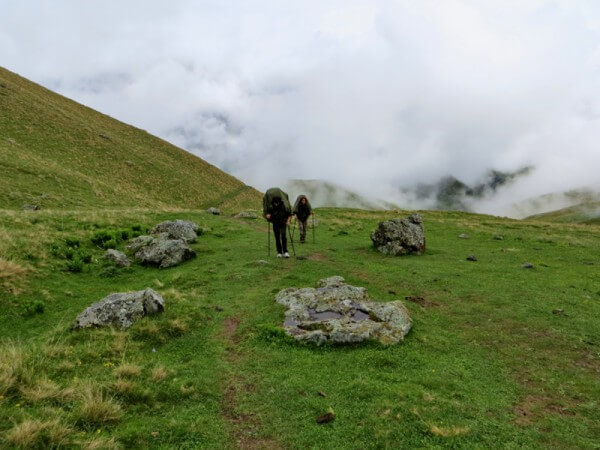 Drizzling
At some point, when we were tired of waiting for the rain to stop, we stopped to get a bite. Some dog followed us from the very beginning of the trek, so we decided to feed it too.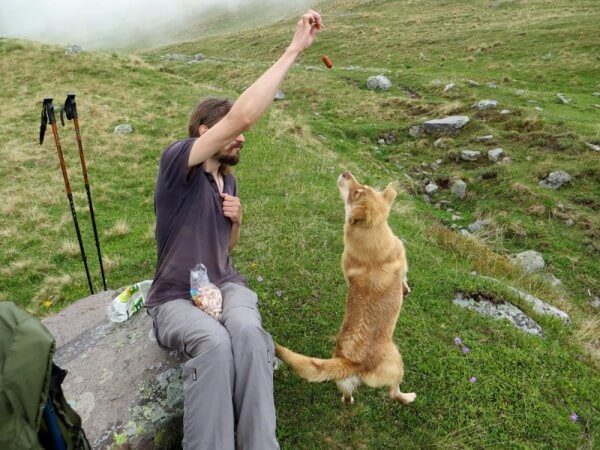 Feeding dog and ourselves
When we came across Sabertse pass we began to look for a place for camping. It was not too easy to find it. Half of the good places were flooded with water. Unfortunately, there was too much garbage there. Finally we found a good place. Rain stopped and even sun appeared for the short time behind the dense clouds. There is river nearby from where we took water for drinking and cooking.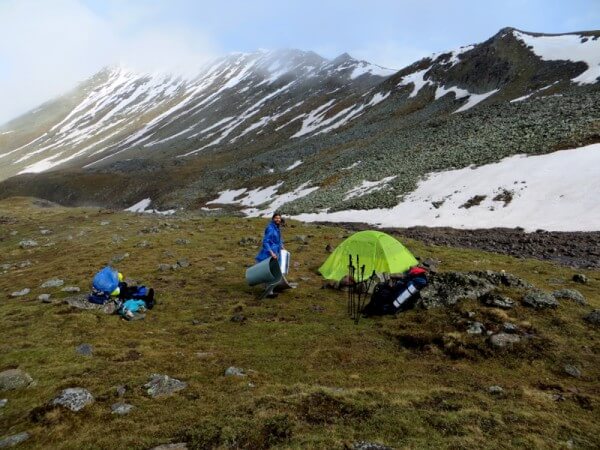 Our camping near Sabetse pass
While we were placing the tent, clouds parted and we saw the mountains range! With joy we went for a walk.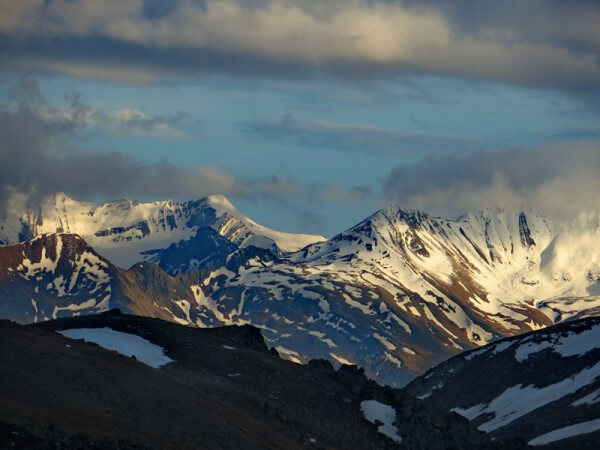 But very soon clouds filled the sky again. From the place we reached we saw how big cloud devoured our small green tent. We were afraid of the rain and getting wet so we come back "home"….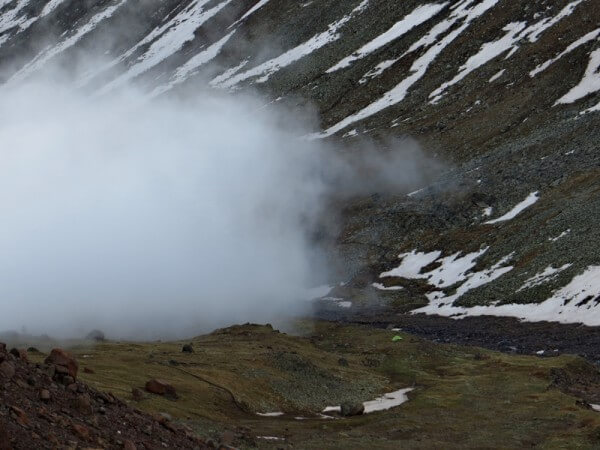 DAY 3
Camping, 3000m - glacier - meteostation, 3650m
Covered: 6km in 4 hours
We wake up early in the morning in hope to see the sun and mountains. Our hopes were fulfilled, we saw Kazbek mountain from afar.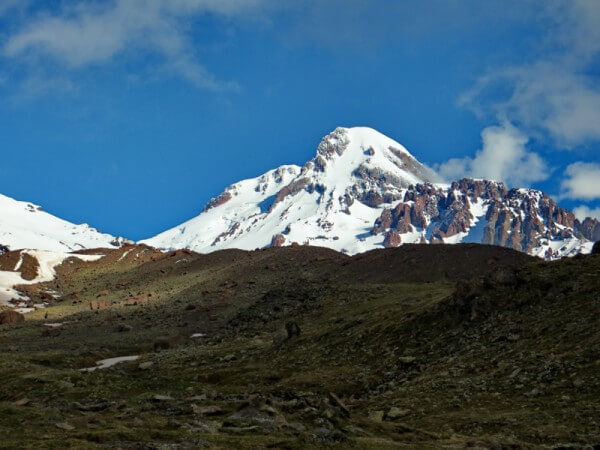 View over Kazbek mountain in the morning
We went up quite a bit but the path was already covered with snow. Yeah, the snow started from about 3000m here at the end of May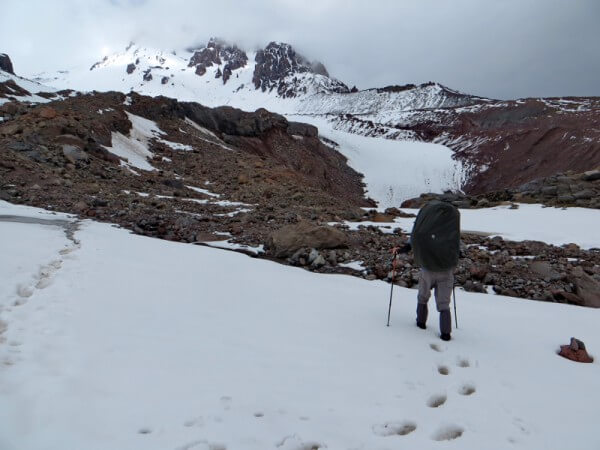 Snow on the path
We have decided to rest a little bit just in front of the glacier, that we reached quite soon from our camping. We drank tea and ate some snacks, put on the crampons and were ready to make this part of the trek. Basically, we could go on a glacier without crampons, the snow was soft and non-slippery that day. But with crampons we felt ourselves more stable.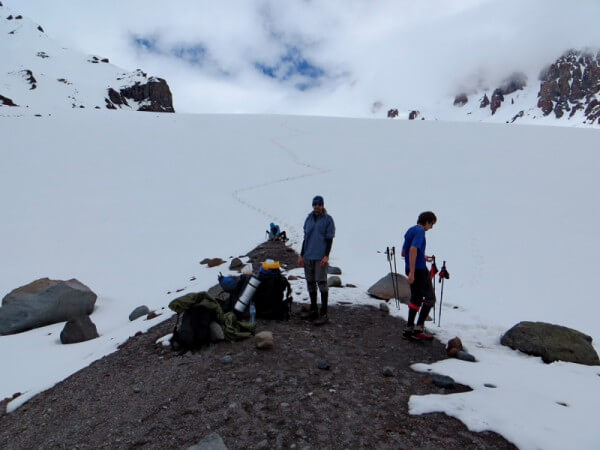 Resting before passing the glacier
Glacier seemed to be endless. We went through it for too long. We tired very quickly because of the thin air and stopped every hundred meters. We saw meteostation in the distance, but it was not approaching.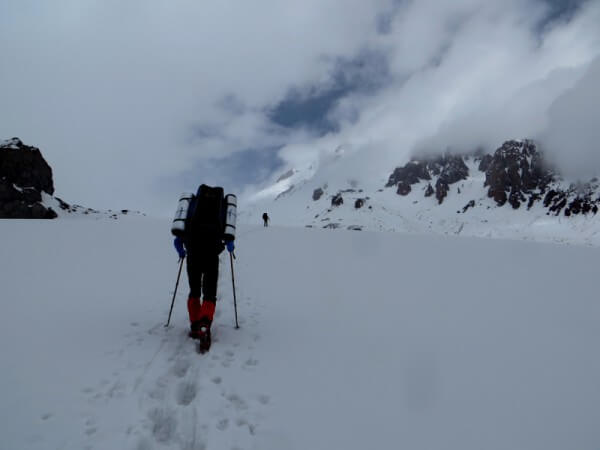 Endless glacier
Finally, around the corner we saw the building of meteostation. At the entrance we were greeted by the Ukrainian guide who lead us to the dining room and made the tea with chocolate for us.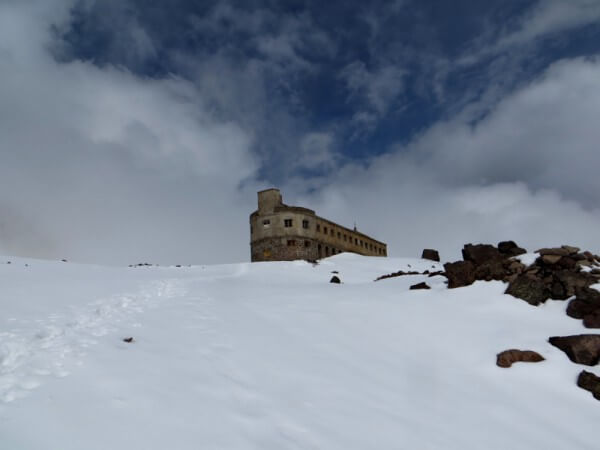 Meteostation is so near
Johnny, keeper of the meteostation, very hospital Georgian, stand behind the impromptu bar stand. This is dining room, when night fall down and it gets very cold outside, it is still warm here - they stoke the oven. Tired climbers rest here and dry wet boots and clcothes near the heat.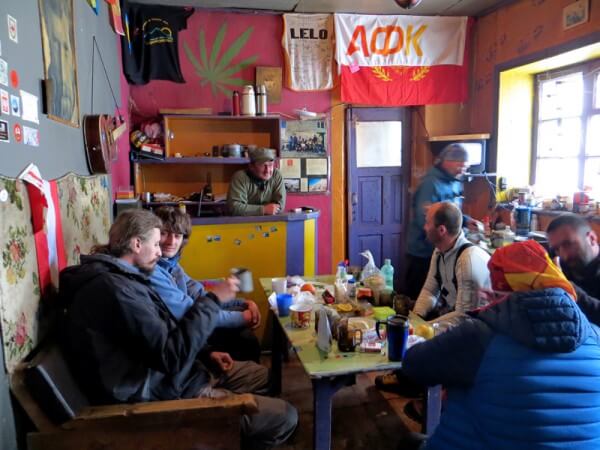 Dining room in meteostation, Kazbek
There is a shelter for mountaineers in the meteostation, there are several rooms with bunks. Night in the room costs $14 per person. Of course there is no amenities in the rooms, they are not heated so at night it is a little bit warmer than outside, but much softer than in the tent!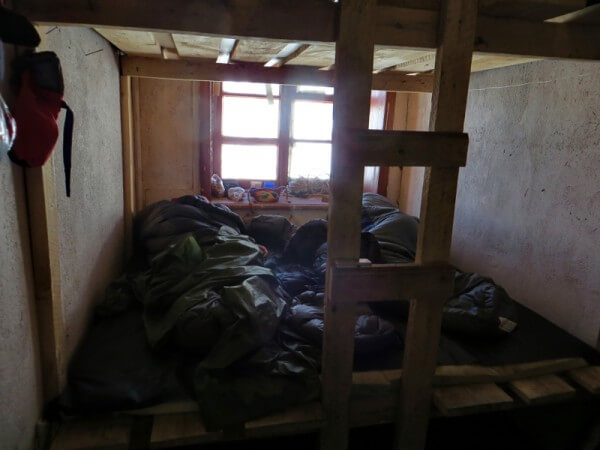 Our room in meteostation (photo taken next morning)
Toilet is outside, you should walk several dozens meters. But, it is so beautiful all around that it worth every discomfort!
Later, in the middle of summer, the snow will melt around the meteostation and you can easily put tent near the station (you should pay 5$ for the tent per night). We drank melted snow as a water, but soon the spring will appear out of the thick snow.
In the afternoon, after a little rest and several cups of tea with sweets, we have decided to walk to the church at 3900m altitude. Ascend is not long but very steep. We came back very exhausted. It took us 2,5 hours to ascend to the church and back to meteostation, distance is 2 km.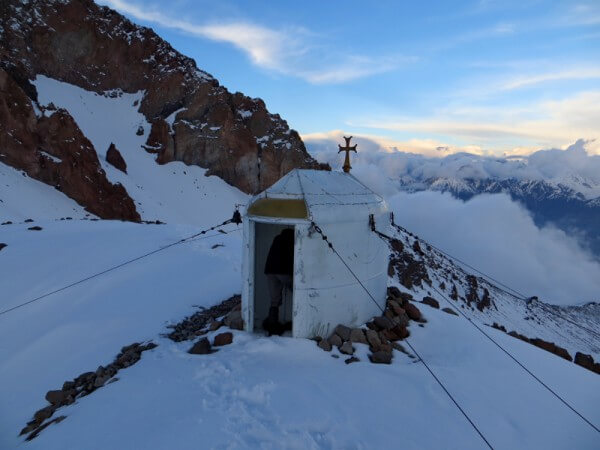 Church above meteostation
Speaking about acclimatization. One of my friend didn't believe in it. He said that this is all a fairy tale for the weak people. But after climbing to the church he finally believe in necessity for acclimatization. At an altitude of 3000m when air is very thin it becomes difficult to walk and breath normally, the whole body and head hurts. Mountain climbers usually acclimatize by climbing up and down. Over the time, the body gets used to such conditions and it become easily for you to breath and walk.
DAY 4
Meteostation, 3650m - Lower plateau, 4200m
Covered: 10km in 5 hours 45 minutes
In the morning we decided to continue our acclimatization and trek to the lower plateau. So we ate breakfast slowly, after that started trekking. When planning our trip we thought that it might be worth to put the tent on the lower plateau. We read that some climbers place the tent there and then it is easier to reach the top of Kazbek mountain from there.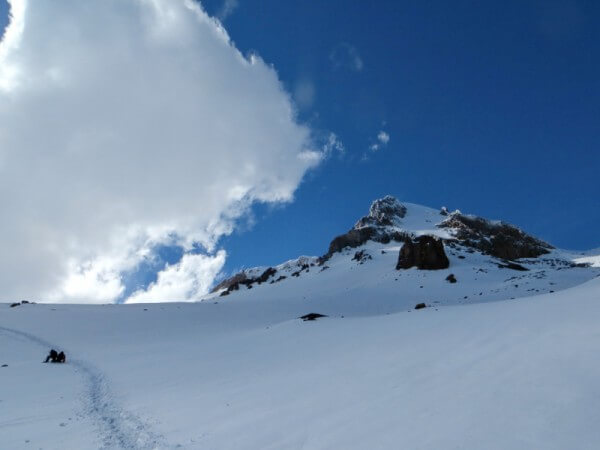 Lower plateau
That day the wind was so strong on the lower plateau that it blew away all our doubts about camping there and we decided to spend the night in relative warmth and comfort of the meteostation.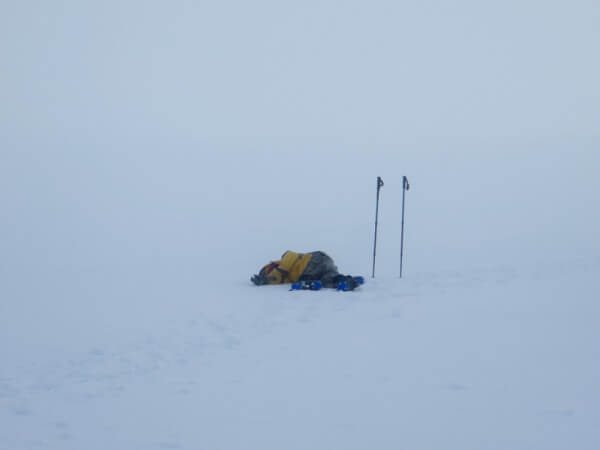 Resting on the way to lower plateau
The road to the lower plateau takes 3-4 hours. It was not easy walking. All the way I was thinking about the idea that my body will get used to this conditions and it would be easier next day to go the same road. We stopped often, went very slowly. The weather that day was excellent.
We passed by Mount Hmaura . Hmaura means "noise" in Georgian - stones kept falling down from the mountain top and roll down the slope really making noise.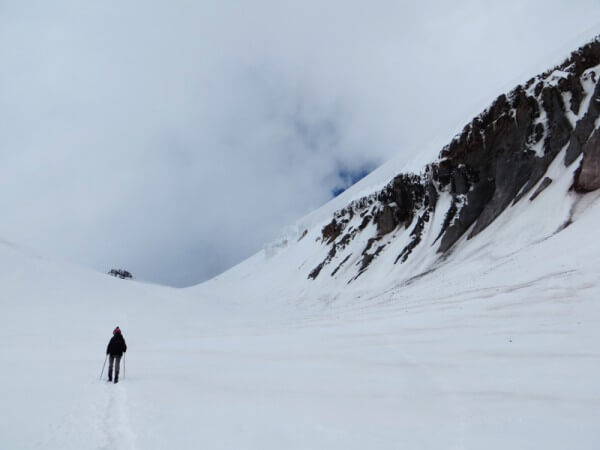 Mount Hmaura on the right
The road back is always faster and we got to the meteostation in 2 hours. We were tired, but we felt noticeable improvements.
That evening we decided to mount Kazbek next morning.
DAY 5
Meteostation, 3650m - Lower plateau, 4200m - High plateau, 4500m - 4700m
Covered: 15 km in 11 hours
I could not fall asleep. Alarm clock rang at half past one night. There was strong wind and darkness outside. I felt scary and uncomfortable. We made instant noodles for breakfast,drank tea with condensed milk and…. it was time to go. It was 3am when we came out of the meteostation and entered the darkness. Snow was covered with a crust of ice, it was a good idea to wear a crampons, as it was slippery! However, it was much easier to go on this ice, it was much like the asphalt.
For two hour we went in pitch dark, lighting our path by headlamp. We feel much more better than previous day, it was a good idea to acclimatize first, yesterday day wasn't lived in vain. We got tired much less. We reached lower plateau faster than yesterday, after that it was long steep climb.
With every new climb more and more mountains opened, it was so amazing...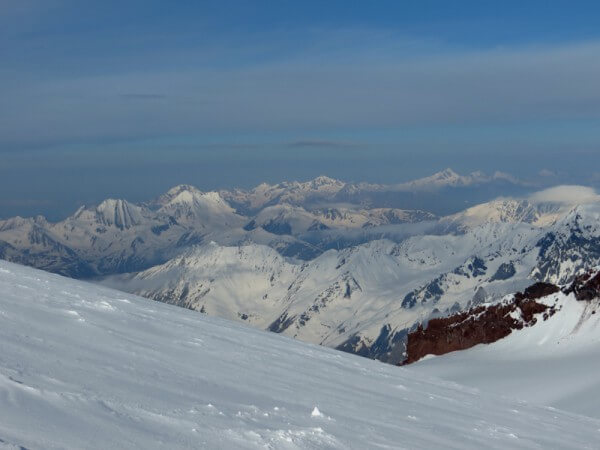 Amazing views on the way to Kazbek mount
But then suddenly the weather worsened abruptly. Clouds filled sky, there was zero visibility and very strong wind. The slope became even more steeper. At some point, when we went up to a height of 4700 meters, one of us made the decision that it was time to return. That's when I thought that, perhaps, sometimes we need an instructor...
This is how we didn't mount Kazbek, didn't reach five thousand meters. However, I did not regret. Life is more expensive than any climb.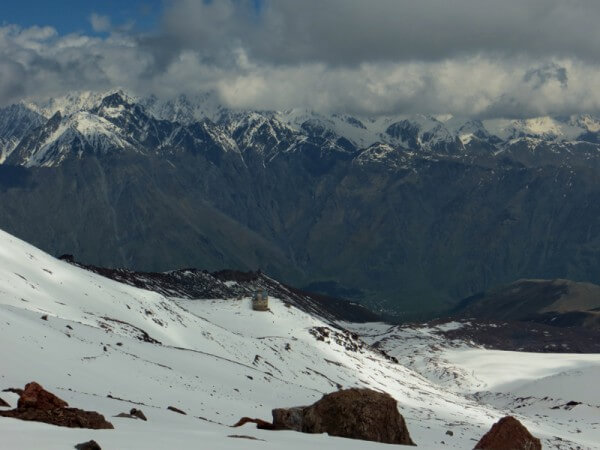 On the way "home", view of meteostation from the distance
As soon as we got down it became less cloudy. On the way back, on the lower plateau we saw the cracks in the glacier. Now they are abundantly covered with snow and is unlikely to pose a greater danger. But when the snow melt - everybody should be very careful.
DAY 6
Meteostation 3600m - Tsminda Sameba 2200m
It's amazing how quickly everything changes in nature. During the short time while we had been living in meteostation, trying to summit Kazbek, the glacier melted very much. The snow turned into a muddy mess. It was easy to descend. We choose another path along the canyon, it was so very nice there.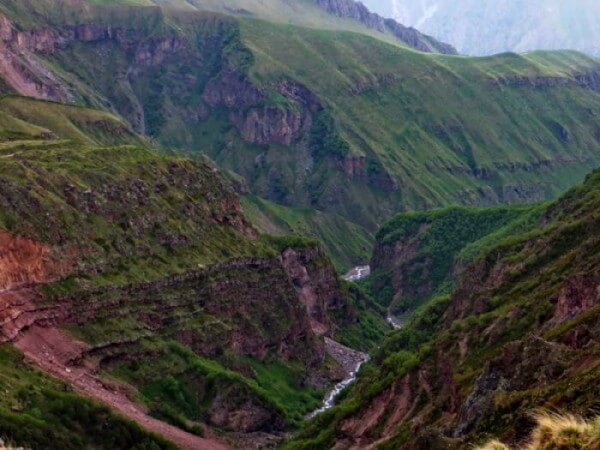 Beautiful canyon on the way back to Tsminda Sameba
We spent the night at the same place, not far from Tsminda Sameba church. Next morning we came down to the village and went to Tbilisi. And there was another story then …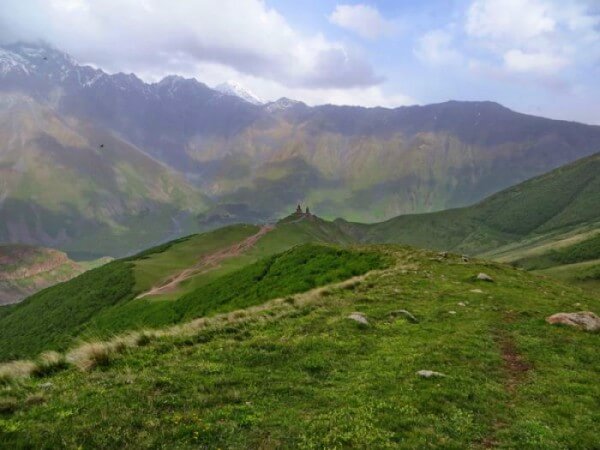 Tsminda Sameba church on the horizon
Useful things
Below is a list of thing that we had with us for the trekking:
2 fleece jackets
Waterproof and windproof ski pants (guys didn't put them, but I always wore them)
Waterproof and windproof ski jacket
thermal underwear
Sneakers (we have started climbing in them)
Hiking shoes (I wore them on the second day, guys on the third)
2 pairs of gloves (one fleece and one waterproof)
overshoes (to prevent shoes to fill in with snow)
crampons (very useful, especially at night, when the snow was covered with a crust of ice)
Ice axes (we didn't use them)
Raincoats (very useful, it rained a lot)
Trekking poles (I like them very much, for me it is much easier to walk with them)
Sunglasses (!!!! Always wear them above 3000m, sun is very active atop)
Sun cream (must have thing! You will get burnt without it on high altitudes)
Hope you enjoyed my story! Please don't hesitate to leave the comments if any questions/doubts!