This summer we hike in greek mountains in Zagori region. Zagori region is situated in the north-west of Greece in the Pindus mountains.
I assume this is one of the most beautiful places in Greece. Once you turn from the main road near Ioannina - mountains are all around you. Small mountain villages, curved roads, fresh air - all these gives me a remarkable feelings of adventures and freedom. We stopped for the overnight wild camping on the small glade near someone bees - it was quite place with very nice view over Tymfi mountains range.
There is one very nice place to visit if you go to this region - natural pools with cold refreshing water.

It is situated between villages Papingo and Mikro Papingo (GPS coordinates: 39.974112, 20.726011). Take towels with you and enjoy clear water and amazing nature there.
There are plenty of places for wild camping in this region. Just turn off the road by one of the numerous dirt road into the forrest and find the place you like. But please, respect the nature, take all your garbage with you!
1 day: Mikro Papingo - Astraka Refuge - Dragon lake
Date: 4th of June, 2016
Starting point: Mikro Papingo, 990 meters above sea level
End point: Astraka Refuge, 1911 meters
We reached Mikro Papingo about 8am, put on our hiking boots and were ready to start. We parked our car near the church in Mikro Papigo.
There are many parking places in Mikro Papingo, some are just near the church, another are in several meters down, near cemetery (there is a sign to the parking there).
Path starts from Mikro Papingo village, we went along old stone houses and taverna and then go up where we saw the sign that says it will take 3 hours to Astraka refuge.
Path from Mikro Papingo to Astraka Refuge is very well marked with "03" signs all along the trek. There are three water springs along the path all situated about an hour of walking between them. Path is not very demanding and will suite well for the people of all ages and physical abilities. There are nice resting stops all along the road, the path is not steep and very pleasant.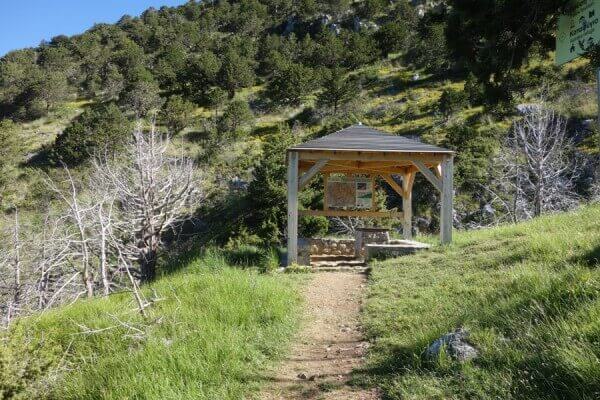 Good place to take a rest
It was rather cold in the morning, so I wear hat and fleece jacket. But during the day it becomes really warm and most of people wear just t-shirts and shorts.
Although we walked very slowly and all other hikers outrun us, we reached Astraka Refuge in 3 hours.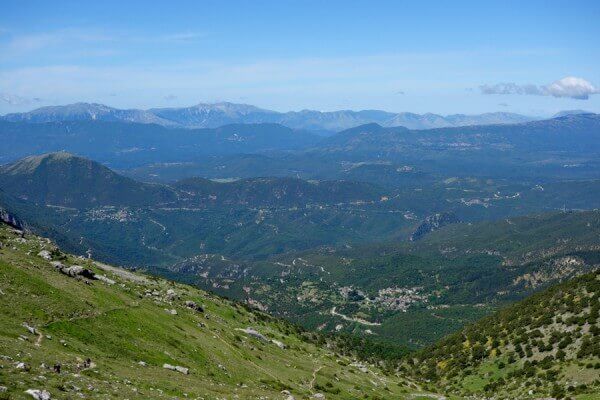 Views along the trek to Astraka refuge
Refuge is very nice building, it was renovated recently. It stands on the ridge, overlooking Astraka peak and valleys.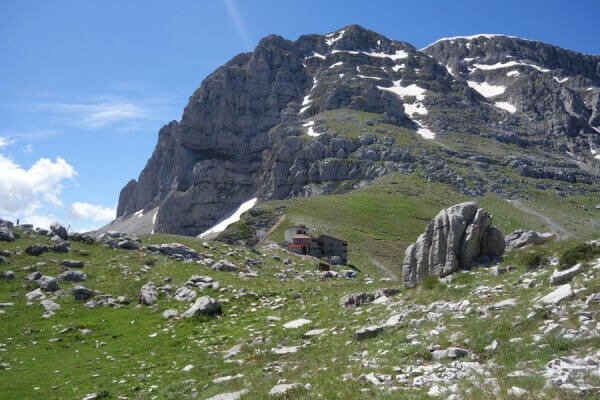 Astraka refuge and Astraka peak
Overnight stay in refuge costs 13 euro per person. Refuge GPS coordinates: 39.9787, 20.7687
We wanted to put the tent somewhere near the refuge, so we walked a little bit further along the ridge and found very nice flat place for the tent.
We carried with us a small gas-burner and gasbag, so we made a hot tea with sugar that restores our strength very well and ate bread with meat. After lunch we sleep for a while. It was so nice to nap under the warmth of the sun on the grass.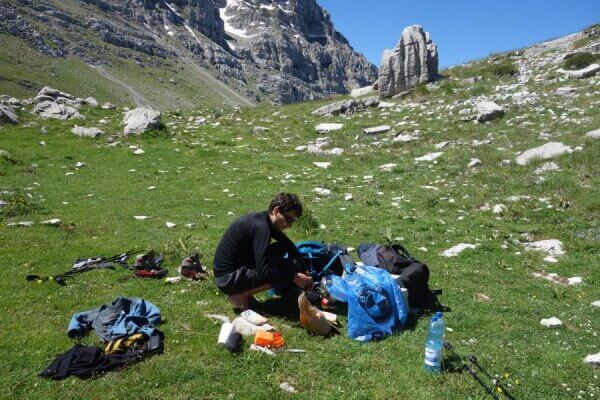 Preparing lunch
It was only 2pm when we woke up after short sleep and we decided to walk to Drakolimni or Dragon Lake. It was written on the sign that it will take about 1 hour and 15 minutes to reach the lake from refuge, but in reality it took about 2 hours for us. Again, we walked very slow. First we went down by rather steep path to the valley. Path is dotted with small stones so there is a risk of slipping. Poles are really helpful there.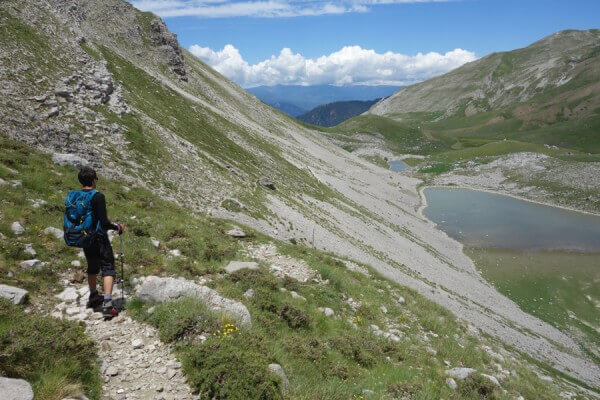 Descent to Drakolimni
Once we crossed the valley then we ascended to the lake. Suddenly lake appeared before us. It is very nice there.We got round the lake and sat to rest on the edge of abyss.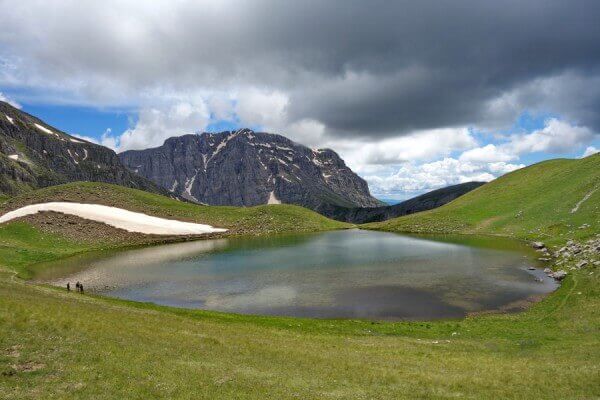 Dragon lake
Small creatures called alpine newt live in the lake. They are very cute, like small lizards.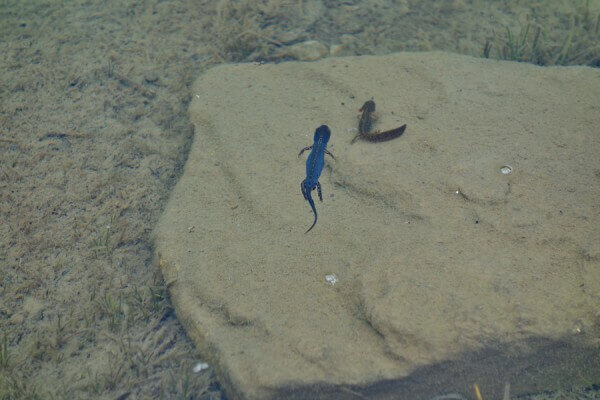 Alpine newts in Dragon lake
On the way back to our tent we asked about the water on the reception of refuge. Host told us there is a water downstairs. Downstairs it was toilet and a sink with faucet. Water was very cold so we gained full bottle of water and where very happy to know that we have unlimited amount of water nearby.
When we came back to our tent the sky was covered with dense clouds, it got cold at once without sun. But suddenly sun appeared in the gap between the clouds and we decided to have a dinner. We heat water and made instant potato pure with canned fish. After that we drank tea, and walked here and there until nightfall.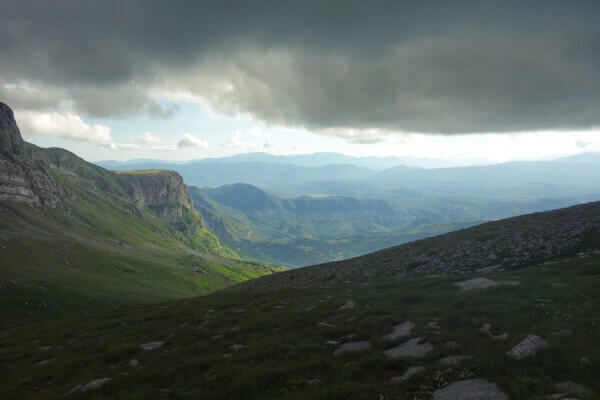 Evening in Tymfi mountains
It was rather warm in tent, also we had warm sleeping bags. So tired, fed and happy we fall asleep soon. But at the middle of the night I woke up and then it was hard to fall asleep again. Our small tent was absolutely wet inside because of our breathing. It became very cold, I wrapped in sleeping bag with my head. Not soon, but finally, I felt asleep again.
2 day: Astraka Refuge - Astraka Peak - Mikro Papingo
Date: 5th of June, 2016
We woke up when the alarm rang. It was 7 o`clock. Sun reached our place about 7.30, when we started to have a breakfast.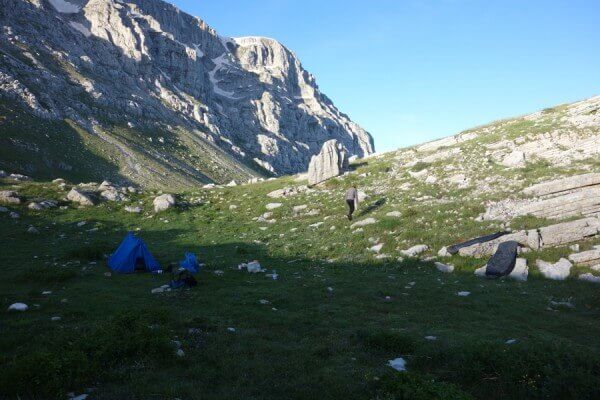 Our tent in the morning
After breakfast we hit the road. It was 8am. Again, first we descended from the refuge by the same path as we did yesterday when go to the lake, but on the half way we turn right and go in another direction. There is a sign to Tsepelovo that we followed.
Path led us to the wide plateau, rarely met in the mountains.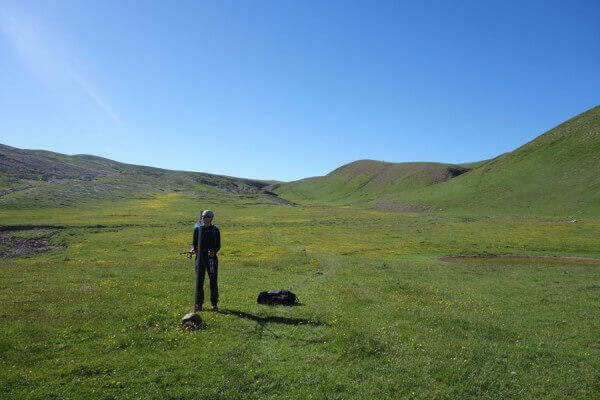 On the plateau
We crossed the plateau, then turned to the right to the impregnable mountains. Path is lost there, it is almost invisible. We use our gps navigator app in smartphone and understood that we are on the right way by stone pyramids and old faded signs on the stones. First there is a steep ascent, then path gradually rises to the very top of Astraka peak.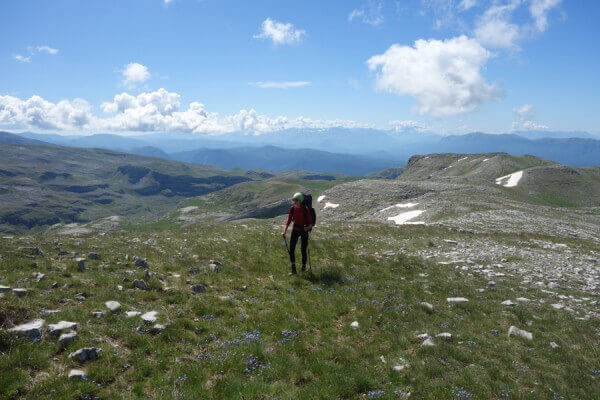 On the way to Astraka peak
There is still snow somewhere on the slopes. We were tired when finally reached Astraka peak. Clouds hide the view over refuge for a while but then they parted and we saw small refuge on the ridge and path that led to it. Views are very nice there. We even saw dragon lake in afar.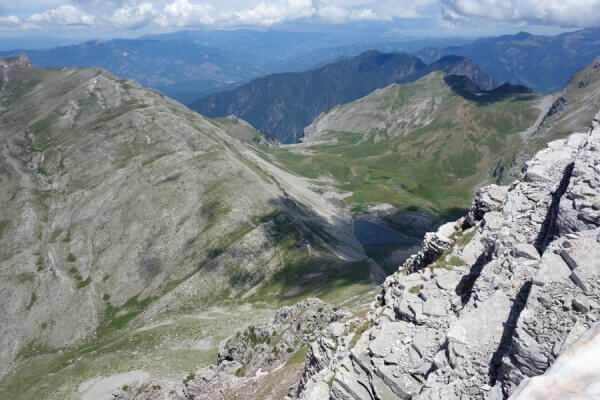 View over Astraka refuge and Dragon lake from Astraka peak
We stopped for the rest and lunch there.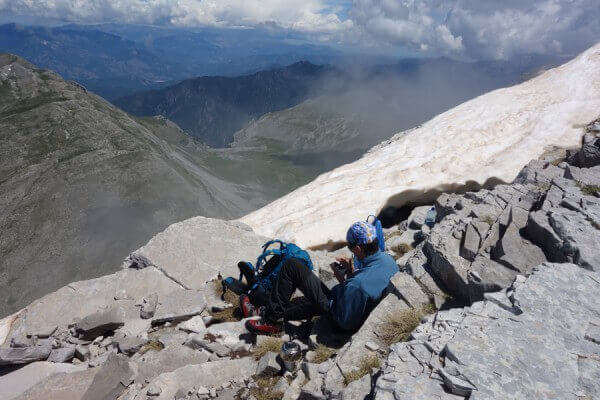 Lunch with exceptional views on the abyss near Astraka peak
After that it was very long way down. I was totally tired at the end. Part of the road is quite pleasant, but then steep part of the path began and we went down slowly and carefully.
However, it was very nice trip into the mountains. And if you want to rest a little bit from the sea and - it is a good gateway.
Many people made one day hike - to Astraka refuge and then to Dragon lake and back without overnight sleep, it is a good option too.