We have spent four nights on Corfu and I want to share my experience with those who are interesting in cheap holidays on this nice island.
Corfu is a popular destination among tourists but don't be afraid - there are a lot of secluded places if you like privacy. You can find there whatever you like - from bays with azure water to crowd clubs.
Contents:
How to get to Corfu
The main gate to the island is marvelous city of Kerkyra, the main city of Corfu. There are numerous ferries to Kerkyra port from Igoumenitsa (Greece), Bari (Italy) and Sarande (Albania). However, the cheapest way to get to Corfu is to take ferry from Igoumenitsa to small port in Lefkimmi. The ticket for car (the same price for caravans) and 2 adults was 40 euro.
You can check this site for actual prices and timetable for the ferries to/from Lefkimi. Also there is a good site for ferries around the world for those who are interested in other routes.
There are many flights to Kerkyra international airport, as well. There are taxi and bus stop outside the terminal so you could easily get to Kerkyra town.
Beaches on Corfu
Below is the list of beaches that we have visited. Of course it is better to rent a car as most of them are difficult to reach by foot and public transport.
1. Porto Timoni beach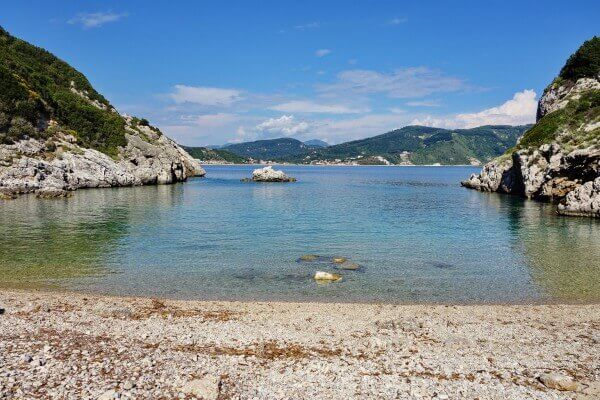 Porto Timoni beach
GPS: 39.7152, 19.6579
Rating: 5/5
Beach: pebble
Accessibility: moderate (around 30 minutes of walking)
After you will park the car near small village of Afionas there is rather long walking to this amazing bays, but believe me - you won't regret. This is probably one of the best beaches in Corfu, very peaceful, with marvelous blue crystal water and very nice views.
It takes about 30 minutes to get to this two small bays. The path is not very evident, as there is also a path that goes up to the sunset viewpoint from where there is no descent to the beach, it is easy to get lost. Also there is no signs to Porto Timoni beach, just follow the narrow path, that goes down from the village. This path is shown in openstreetmap so you should be prepared before you go there.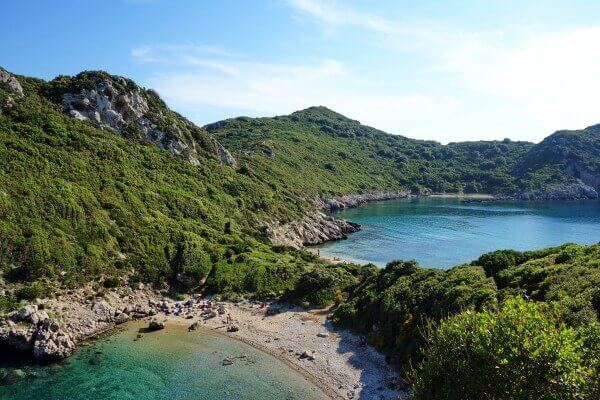 Porto Timoni wonderful bays
It was almost evening when we reached Porto Timoni beach, but there were still some people, despite the long way to the bay. I think it is not as secluded as you may expect during the day.
Don't forget your mask (as we did) - almost everybody was swimming with mask and we even saw some fishes in the water around our legs. Water is so clear and so blue. Take some water and snacks with you as there is no infrastructure there.
2. Mirtiotissa Beach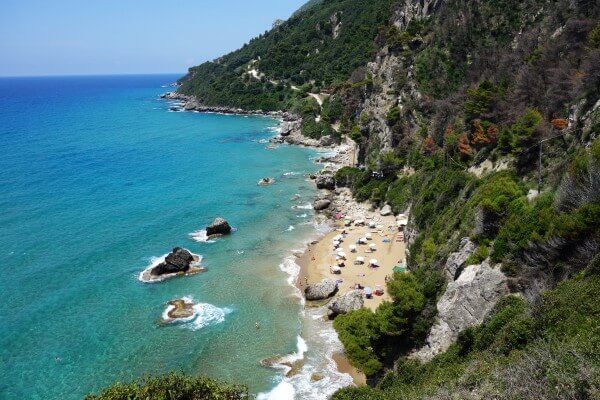 Mirtiotissa beach
GPS: 39.5955, 19.7994
Rating: 5/5
Beach: sand
Accessibility: easy (by car, parking available)
One of the best beach on Corfu, Mirtiotissa really worth visiting. You can park the car just nearby the beach (however almost everybody parked the car on the upper parking from where there is a quick but steep descent by the road) to the beach.
There is a nudist beach, but there were some textile as well. The atmosphere is very nice, it was one of the best nudist beach we have ever been to. There is a small cafe with some drinks and sandwiches on the beach. Recommend, especially if you are fond of naturalism.
3. Cape Drastis beach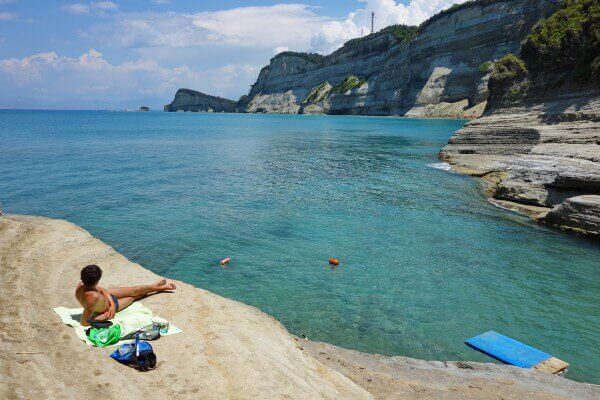 Drastis cape beach
GPS: 39.7972, 19.6738
Rating: 5/5
Beach: rocks
Accessibility: easy (by car, unpaved good road)
You can drive your car just to the beach by the unpaved buy good road, there is a sign that said something like "boat tours" or "beach" - follow the signs and you will find yourself in the small marvellous bay surrounded by white limestones rocks. Lay just on the rock, there were few people in June so there were plenty of place to lay down.
There is no very convenient entry to the sea, just be careful - stones are very slippery under the water. The water is so blue and nice, but it was rather cold in early June. There is not much snorkeling here, but place definitely worth visiting.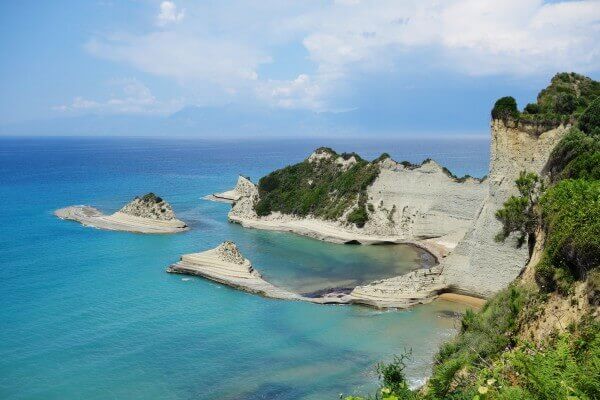 Breathtaking views on the way to Drastis cape beach
Don't miss a view-points along the way to the bay - views from them are amazing.
4. Canal d'Amor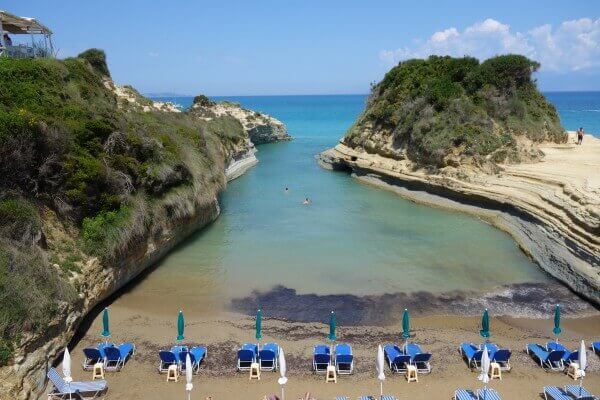 Canal d`Amor beach
GPS: 39.7970, 19.6984
Rating: 3/5
Beach: sandy
Accessibility: easy (by car, parking is available in 5 minutes walking to the bay)
There is a cross-cutting hole at the end of the right side wall (if facing to the sea). There is a belief if a couple will swim thorough this hole together, they will get married soon. That is why this bay is called Canal d`Amor.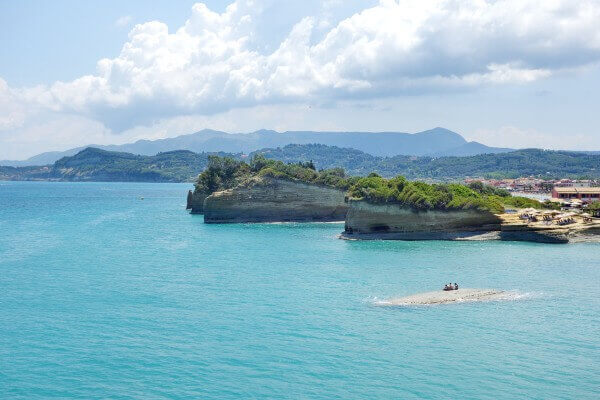 Views from canal d`Amor
It is a busy place with a lot of people. It looks rather good, but there were no desire to stay there for a long time. Water was not clear. There is free parking nearby. If you want to eat with view over the sea - there are many restaurant along the coast.
5. Arillas beach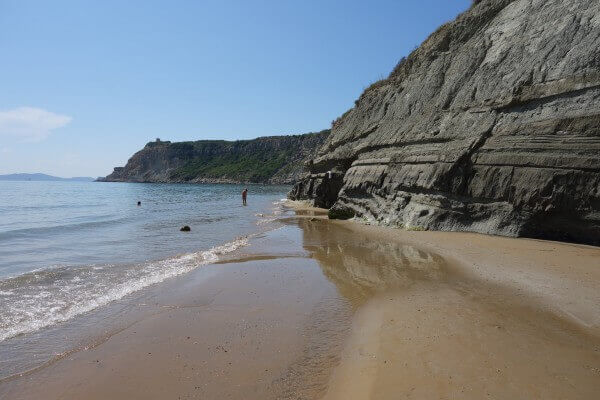 Arillas beach
GPS: 39.7442, 19.6475
Rating: 4/5
Beach: sandy
Accessibility: easy (by car, parking available)
This is a good beach with easy access and nice views over the rocks. The sea is very shallow there and the beach is totally sandy. You can go further to the north where there is a nudist part of the beach.
People mix pieces of the rocks with water and then cover their bodies with the mud. Not sure that it is really useful, but it is very funny. However, my skin become really very smooth and soft after this mud mask.
You can park your car just along the dead-end road that lead you to the beach.
6. Beach near Agios Stefanos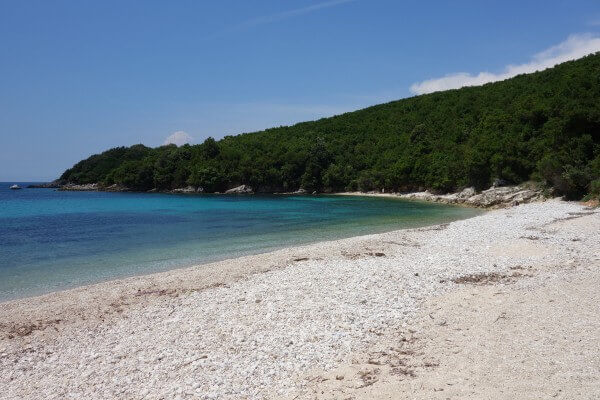 Secluded bay near Agios Stefanos
GPS: 39.7822, 19.9431
Rating: 4/5
Beach: pebble
Accessibility: normal (walking for 10 minutes by path in shadow of the strange trees)
We left our car on the huge parking area and went through dense forest with strange trees. It is very easy 10 minutes walking to the nice bay where we were alone, despite it was the midday. Water was blue, there were not much snorkeling (however we saw an octopus in the hole between stones). Swimming was excellent.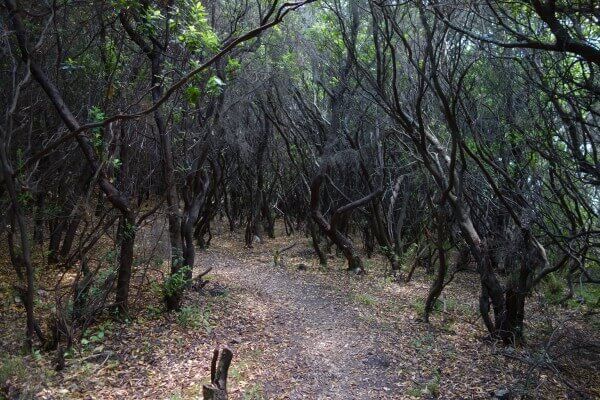 Path through the forest of strange trees
Recommend as a secluded easy-reaching bay with beautiful views.
Ale brewery near Arillas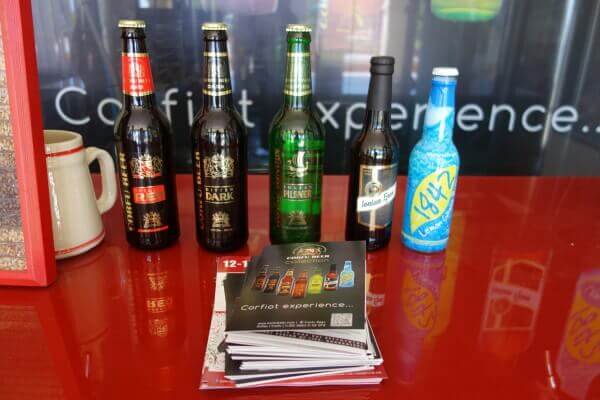 Different kind of ale in brewery near Arillas
GPS: 39.7496, 19.6567
If you want another experience rather than sunbathing and swimming you can try a tour to the Corfu's brewery that produce ale. However, the tour is only on Saturday at 11 am, so you should be lucky enough to manage it. We have tried to buy ale in the local supermarkets, but we didn't find it anywhere, also unfortunately there is no shop near brewery itself.
Where to stay
If you have your own car or you are going to rent a car on Corfu there are plenty of cheap hotels in June. Most of them are equipped with kitchen where you can cook by your own. However, when booking cheap hotels, be ready that they will be located quite far from the sea (however, most of the hotels have swimming pool).
Hotels we have lived in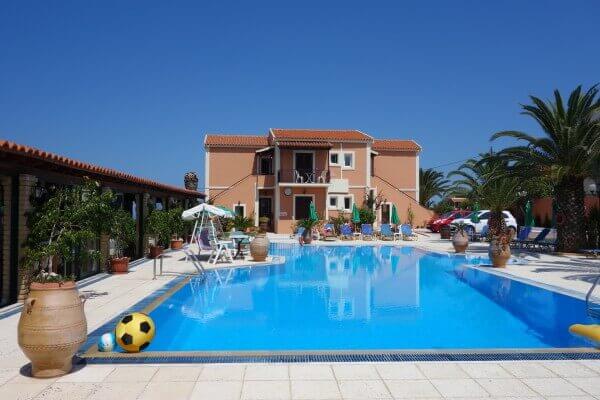 Villa Voula
1. Villa Voula
Price: 19 euro
Our rating: 5/5
This was our best hotel on Corfu. Very nice swimming-pool and restaurant. Rooms are cosy, but furniture is a little bit old. Our balcony has view over the sea. Good equipped kitchen. Good wifi. Recommend! Link to the hotel
2. Haroula Apartments
Price: 20 euro
Our rating: 4/5
Good hotel with balcony and equipped kitchen. Swimming pool and wifi were good. Link to the hotel
3. Yianetta Complex
Price: 18 euro
Our rating: 3/5
Simple room with balcony and kitchen. Situated near Kavos city with clubs and bars. Wifi was working only near the pool. Link to the hotel
4. Campsite Karda Beach
Price: 17 euro
Our rating: 4/5
Nice camping with many pitches with shadow. Pool is closed very early and the sunbeds costs additional 2 euro. Campsite is located not by the sea, but there is 1 minute walking to the seaside with restaurants. Link to the campsite
My notes about Corfu
1. Lemon trees - I have never seen so many lemon trees before. There are many of them all around the island, almost in every yard there is a lemon tree with a lot of lemons. Several times we stopped near draw trees and gather lemons from the ground - they were very tasty, we used them for lemon tea.
2. Tourists - Of course, Corfu is very touristic island. We heard a lot of Russian language as well. But you can always find a secluded place if you want, especially in the north of the island.
3. Roads - There are many roads on Corfu, but few of them are good enough. Others are very curved and very narrow. We always had a feeling that we are going a wrong way because of the road, usually it is confusing what road to choose when looking on the map. Pay attention to the signs - they always point to the better road. Navigator is useful, but rely on yourself and signs more.
4. Hotels - In June hotels were cheap, we pay 20 euros for apartments with bedroom, kitchen and balcony. All hotels were with pool, but situated far from the sea.