Must visit temple caves, added to the World Heritage list, located just in 30 km from Aurangabad. Below you will find my own experience of our one day trip to Ellora Caves. I am sorry for my photos, they are not as impressive as this place is, but believe me you won't regret if visit it.
We spent 5 hours in Elllora caves, it is big and impressive complex. The most impressive is cave number 16 called Kailasa Temple, that stands in the middle of the complex. I can hardly imagine how people in 8th century, using only hammer and chisel created such a masterpiece from the solid rock.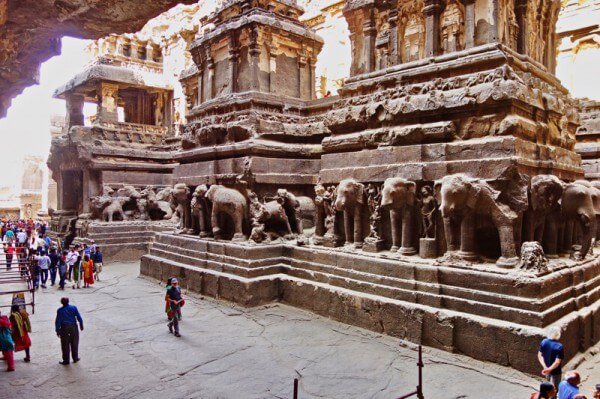 Elephants of Kailasa Temple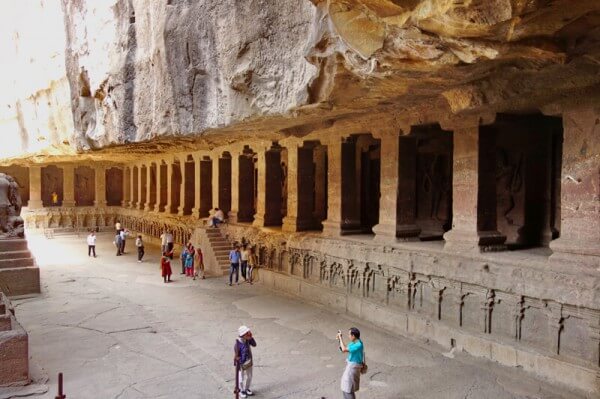 Gallery carved from solid rock around Kailasa Temple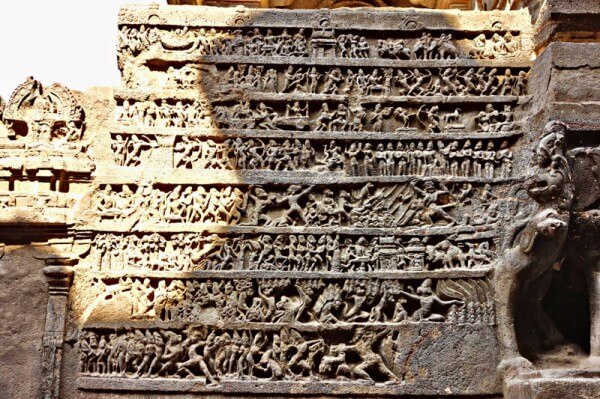 Finest carvings of Kailasa Temple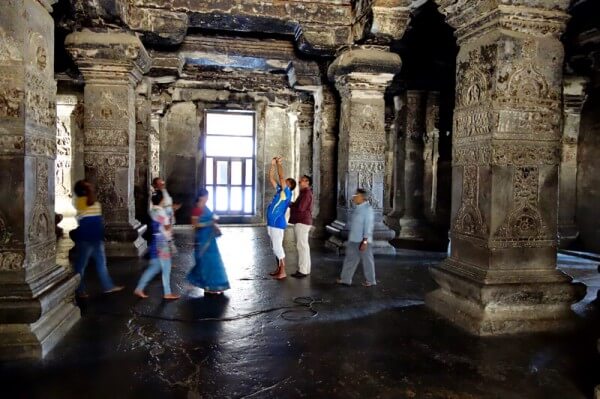 Inside Kailasa Temple
The uniqueness of Ellora complex is that it houses three types of caves - hindu caves, buddhist caves and jain caves. Jain caves were closed during our visit.
Hindu caves (on the left of Kailasa Temple, caves from 13 to 29) are decorated with columns and different carved pictures of Hindu Gods. Some caves are really big with second and even third floors!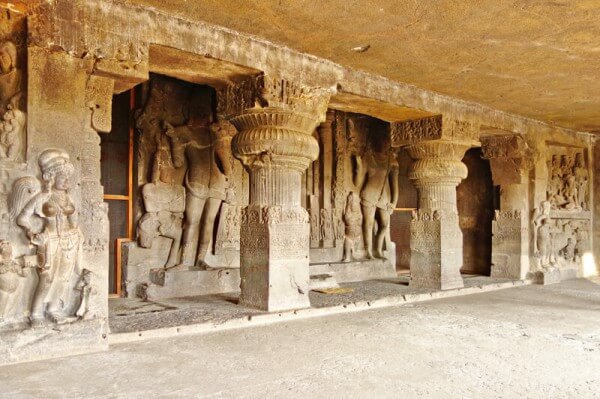 Hindu Cave with carvings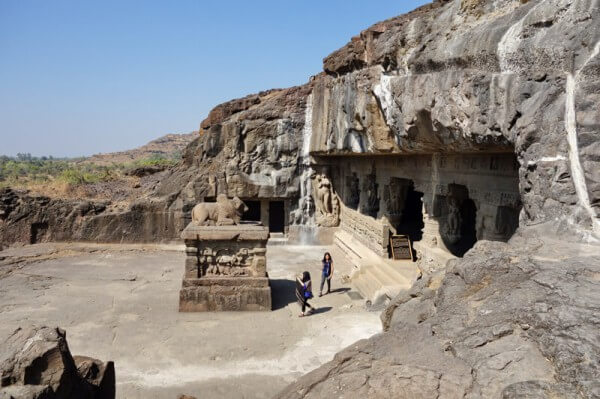 View over hindu temple with sacred cow in the center
Buddhist caves seemed more elegant with more fine carvings. They are on the right from Kailasa Temple (caves from 1 to 12). Some caves are decorated from the outside, cave number 10 is most impressive with big statue of Buddha.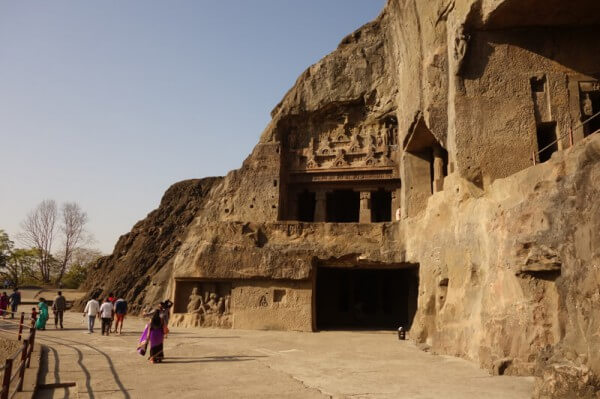 Buddhist Cave
There is a restaurant near entrance to Ellora caves and a lot of stalls with street food in case you come hungry. There is no food available once you enter the caves, but the water is still available inside the complex.
Entrance fee is 500 Rupees(8$) for foreigners and 30 Rupees for hindu people.
Timings: 6AM to 5:30PM, closed every Tuesday.
How to get there
We got to Ellora caves by public bus. You should go to the central bus station in Aurangabad and ask for a bus to Ellora. Buses are frequent and you will probably wait for 10-15 minutes until the bus come. We were the only tourist there waiting for the bus, but the bus was full with locals. I have managed to have a sit, however my friend stand in the bus with many of other passengers. We were lucky that it takes only an hour to reach Ellora. Ticket for the public bus from Aurangabad to Ellora costs 60 Rupee per person one way and is sold on board.
We returned by the type of indian minibus, a long jeep, he stopped near us while we were waiting for the bus. Price for the jeep is higher - 100 Rupees. Jeep will take other passengers on the way (usually much more than it can accommodate, there were four of us on the two front seats). But it was a part of our funny journey :)
If you want more comfortable way of getting to the caves you should ask for the taxi or tuk tuks. Every hotel offers taxi. We met one man on the bus station who offered us a tour to ajanta and ellora caves, together with Bibi ka Maqabara and Daulatabad fort for 3000 Rupees (45$) per car. He had new comfortable suzuki car and a polite driver - it is a good option, but we wanted something more adventurous.
Where to live
Aurangabad is a good base for visiting Ellora caves, this city can offer variety of hotels and restaurants. We have lived in hotel Pearls and recommend it a lot! More information you can get in my article about Bibi Ka Maqbara (mini Taj Mahal), located in Aurangabad.
Also a day trip to Ajanta caves is possible from Aurangabad, you will find more useful information about Ajanta caves and my own opinion what complex is better here.
Enjoy you travelling to Ellora caves and leave comments about your experience below!