1. Trekking Himalayas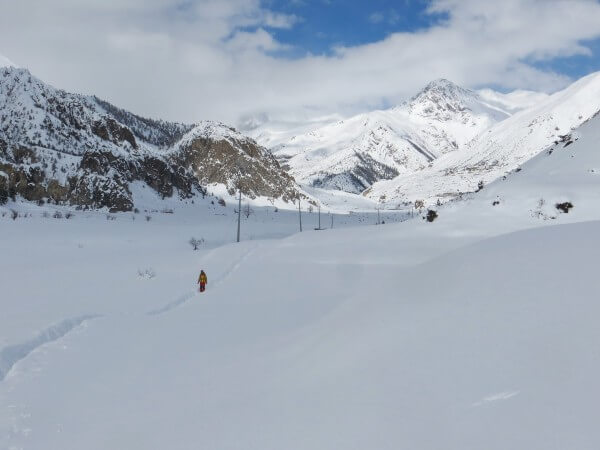 Nepal is a home to eight of the fourteen eight-thousanders and it has the highest mountain range in the world.
Tourists all over the world come to Nepal to try their selves in trekking. The most popular trekking routes are Annapurna circuit and trek to Everest base camp. Keep in mind that they are overcrowded during high season in April, May and October.
2. Bhaktapur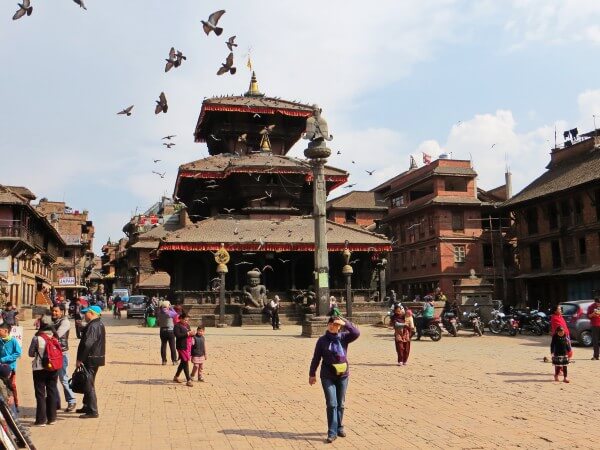 One of hundreds temples in Bhaktapur
Bhaktapur is a marvelous small town in 13 km from Kathmandu with unique atmosphere, wonderful temples and old charming buildings.
Bhaktapur is called an open museum and it is absolute true as each building in this charming town is a sight, with old wooden carved windows and doors. Bhaktapur is much less touristic than Kathmandu and Patan, here you could feel the true Newari spirit, where life flows completely different.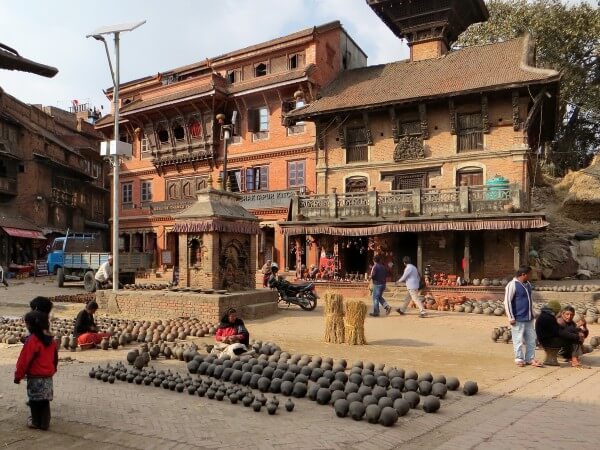 Bhaktapur is easily reached by bus from Kathmandu Ratna Park bus station. You should pay 1500 NPR(15USD) to enter the center of the town. This ticket is valid for as many days as you want, just asked an officer to mention this on the ticket. There are many hotels inside the city center.
We spent in Bhaktapur three days and it became one of my favourite places in Nepal.
3. Pokhara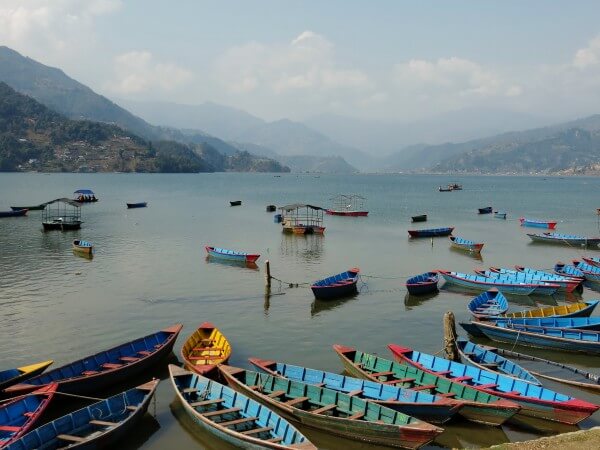 Beatiful Phewa lake in Pokhara
Pokhara is the second largest city in Nepal but it is absolutely different from what we have seen before. This is tranquil, calm city with beautiful Phewa lake, a lot of hotels, wide main street with various restaurants and shops. If you are tired from noise and dust of Kathmandu – it's time to go to Pokhara - ideal place to relax in Nepal.
It is not much to do in Pokhara, but you could visit World peace pagoda located on the hill over the lake with stunning views over the city and mountains on the horizon. This is one of more than 80 Peace pagodas scattered around the world, united by the idea of peace and antiwar. Most of these pagodas were built under the guidance of Buddhist Japanese monk Nichidatsu Fujii, who carried out this idea.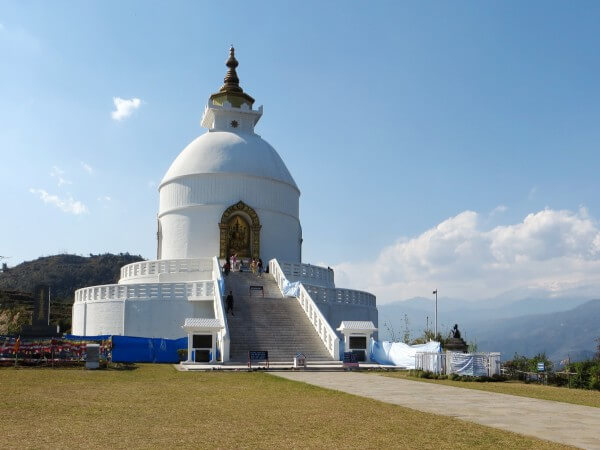 World peace pagoda in Pokhara
Pokhara is also a popular spot for paragliders, where you could dare to fly over the city (that is not a cheap attraction as you may guess).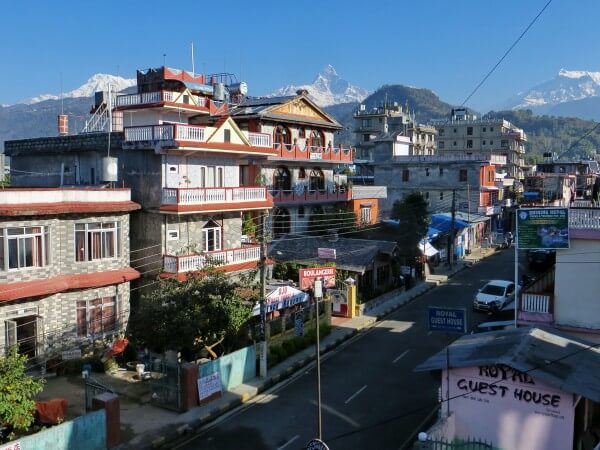 Hotels in Pokhara. View from our balcony in perfect and cheap guesthouse Pinguin
You could reach Pokhara either by bus or by plane. We went by tourist bus that departure not far away from Tamel and cost 700 NRP (7 USD) for person in one direction (We bought tickets in one of the numerous travel agency in Tamel, but be careful when you will buy tickets. Always ask for ticket with mentioned seat and plate number of bus!)
We liked Pokhara a lot and spent there overall more than 10 days (before and after trekking).
4. Patan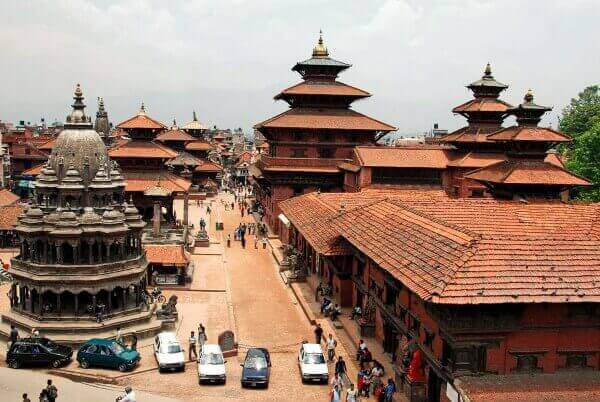 Durbar Square in Patan
One of the largest cities in Nepal, popular tourist destination, Patan attracts visitors by its Durbar square with many temples, statues and palaces.
Patan is easily reached by bus from Kathmandu Ratna Park bus station. There are not so many hotels nearby city center (probably because tourists come here for a day trip).
We didn't like Patan, as it seemed too touristic and without that magic atmosphere like in Bhaktapur. PIctures of Patan are really amazing, but indeed something is missing in this popular city. Durbar square is nice, but expensive. Again we were caught by policeman (we accidentally entered the square by narrow backside street) and asked to pay or leave the square. We didn't want to pay. However, we sat down on the bench and watch the life on the square for free.
5. Kathmandu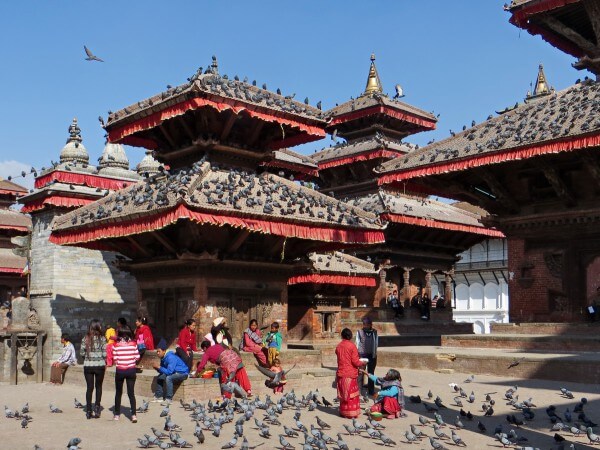 Durbar Square before earthquake
You won't skip dusty, bustling, overcrowded capital of Nepal – Kathmandu, even if you want, as every travel around Nepal begins here. You may not love Kathmandu at first sight, but later you will realize that this city has something special…
Of course the main attraction in Kathmandu is Durbar Square with its unique architecture of wooden temples. Unfortunately, Durbar Square suffers a lot during severe earthquake in April 2015, some buildings are turned into rubble…
You will probably live in Tamel – the most popular district among tourists in Kathmandu, with narrow streets and endless shops that sell cheap clothes and shoes.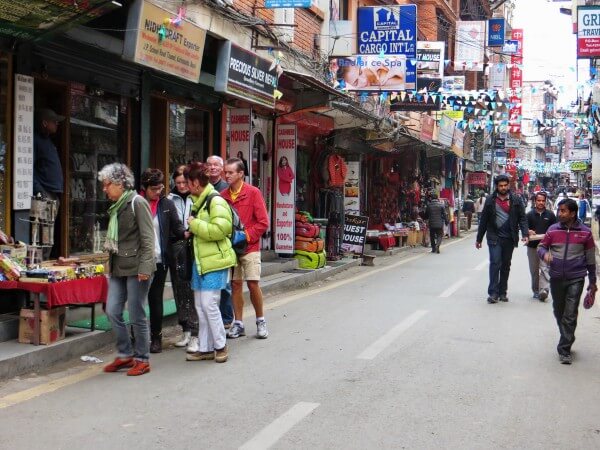 One of the streets in Tamel with lots of shops
Visit Pashupatinath Temple complex with its more than 500 temples and witness cremation ceremony (keep in mind that entrance to the complex is rather expensive)
Get over 365 stairs and reach Swayambhunath complex situated atop the hill with picturesque views. Swayambhunath consists of stupa, temples and several shops – complex is small but very cosy and colorful.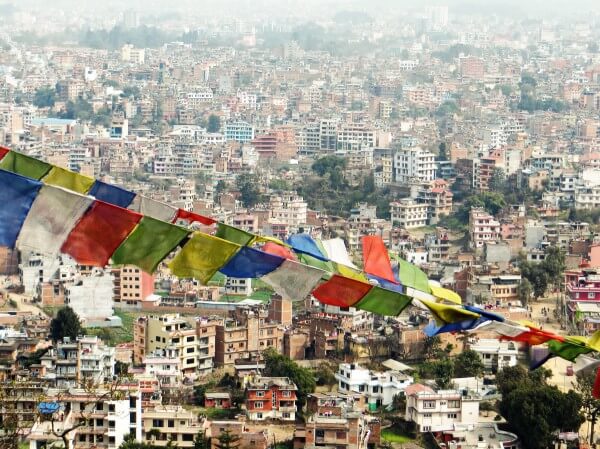 View over Kathmandu from Swayambhunath
Go ahead to Boudhanath and make a circle around the largest stupain Nepal. Boudhanath stupa is surroundedby marvelous colorful houses and the whole atmosphere of this place is just amazing.