If you are going to travel around Southeast Asia you will probably do backpacking. That is why it is essential that your backpack will be light. Every time you want to pack one more thing, recollect that sometimes you will carry the rucksack all day long on your poor back.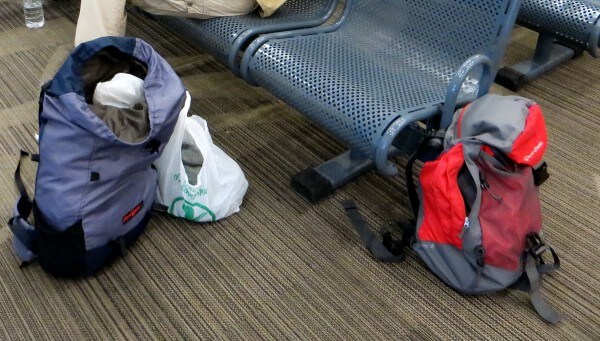 Our backpacks, mine is red. My boyfriend carries grey one. Each one about 5 kg weight
If you are not going backpacking, it is another story, however this list will be useful for you as well as it describes the most important things for traveling around Southeast Asia. You just may afford to take everything in large numbers and add several beauticians for doing make-up.
Clothes:
Lightweight pants

One of the main rules – no jeans. Forgot them at home and wear light pants that will dry quickly and will be comfortable and cool. Usually I have only one pants – it is enough for me.

How we dress in SA

Some travelers wear shorts, but I consider pants more comfortable. I feel free to visit any temple or sacred place in such cloth. I didn't look defiantly.And also my legs won't be burnt.

Light shirts (better with long sleeves)

As for me, two shirts are more than enough (I also bring light singlet to sleep in). Long sleeves will protect your arms from sun.

I had one very comfortable and light tunic, but unfortunately it tore and I bought another one on the local market in India.

If you don't have proper shirts and pants – dress some old clothes and buy new one in the country of your destinations. It may seems not so convenient at first, but believe me, in several days you will be free to buy everything on local markets. Prices there are much cheaper.

Comfortable shoes

I wear gumshoes, last one I bought on local market in Nepal. They are quite comfortable and durable. Some travelers wear boots but I consider them very hot and heavy.

Flops

Flops may seem redundant and there was a time when we didn't take them, but if you get them you will not regret!It is so nice to take off your shoes in the evening and wear flops! Floor is not as clean as you may expect it to be in South Asia (and it is cold sometimes as they used tile very often), so wearing flops at hotel is a good idea.

Light jacket or sweater

Depends where you go, but nights may be cold. I usually take both, fleece jacket that warm me up and light waterproof jacket, which weights very little and takes up very little space as well but gives me additional warm if needed and protect from rain. By the way, if you are planning to rent a scooter, don't forget that it feels much colder when riding.

Underwear, socks, swimsuit

Usually, I took two pairs of socks and two pairs of underpants. And one swimsuit.

Sun glasses

We bought cheap sunglasses in Indonesia as we forgot ours at home and it was hard to drive motorcycle without glasses.
Others important things: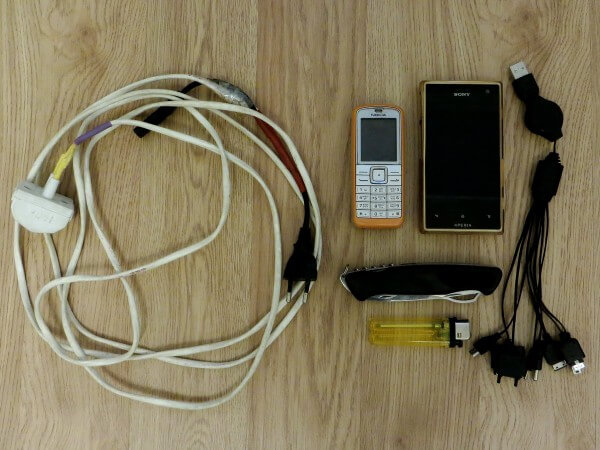 Tee with long cable, 2 mobile phones, charging, lighter, and knife
Passport + laminated color copy of passport + driving license

Laminated copy of passport is very useful. Actually you could hide away your original passport in the far pocket and show it only on the cross bordering. In all other cases show laminated copy (as in hotel or when renting a scooter). We rent the scooter using laminated copy in India (however owner was suspicious but finally accept it)

Cash + several credit cards

I don't like to travel with big amounts of cash (and of course who likes…) but we always take about 1000USD and usually use them in critical situations or when paying for visa. I also take USD credit card. I didn't notice something wrong with ATM in SA. There are many of them and we didn't have any problems withdrawing money.

However, keep in mind that using credit card could cost you some extra money.For example in Thailand all ATM will withdraw extra 150 Baht(~4 USD) for using ATM. (Till February2014 the only ATM that didn't withdraw these extra money were AEON ATM, but now they also begin to withdraw extra 150 Baht).

Medicine chest

Everybody knows well what medicine will be useful the most for you. I usually take something from cold, poisoning, diarrhea, analgesic and broad-spectrum antibiotics. However, it is very hard to foresee all situations that may occur with you. There are pharmacies all over SA if you would need something special. For example, we bought medicine for altitude sickness in Nepal as there is no such medicine in Ukrainian pharmacies.

Water heater + cup

Making tea with two water heaters, Nepal

For me this is indispensable things in every traveling. I liked to drink tea a lot and even if we usually had a dinner at the restaurant, we came back to hotel and drink tea. Also our morning started with a cup of coffee – isn't it nice? This thing save us a lot of dollars as well :)

Laptops +charging

I travel together with my friend and we carry two laptops, as it is like private space, you know what I mean. I have been thinking for a long time about traveling with a tablet (as it's lightweight), but I am afraid there is not enough functionality for me in a tablet…

Mobile phones +charging

I have very old durable mobile phone and my friend has Android smartphone. We travel with both; smartphone is very convenient for using maps and different applications (weather, booking, cleartrip).

Photocamera

We have DSL photocamera but we leave it at home when travelling to SA. First of all it is very heavy and occupies a lot of space in backpack. Another big reason – it's expensive thing and we don't want to look like rich package tourists…So we usually travel with small Canon Powershot SX 240. Photos made on this camera are of course far away from photos taken on DSL, but it is enough as a memory…

Knife

Mostly for cutting fruits :) Don't forget it in your hand luggage!

Eating papaya in hotel

Soap+shampoo+toothbrush+toothpaste
Anti mosquitoes cream
Raid antimosquitoes plug in
Tee

Very useful thing! It's common situation that there is only one socket in the room but you need to charge two laptops, mobile phone and photocamera…. As well as make tea with water heater.. Here it comes – tee!

Lighter
Needle and thread
Sun cream
For girls (my minimum list):
Epilator
Moisture cream
Cleanser
When traveling in India (I know it is not SA, but pack list is almost the same)
Sleeping bag

Mostly we used it in trains for sleeping. Also several times we used it instead of very dirty sheets and blankets.

Lock

Some hotels have special rings on the doors to close it with your lock. We usually used it when leaving hotel.
Wish you happy and light travel!