I slept badly, woke up many times during the night, i feel anxiety. We couldn't wake up for breakfast and missed it, finally got out of the bed almost at 13:00
We saw the funny dog on the car from our window.
After extemporaneous breakfast of home-boiled tea and cookies we decided to walk around the neighborhood and explore the way to the nearby subway.
It is very difficult to walk on the roads in India, there are no sidewalks for pedestrians, so you have to walk on the roadway. There are a lot of cars, that produce too much noise.
We even crossed the road (i am serious, it was quite scary) and reached the subway Delhi Aerocity eventually.
There are many beautiful and expensive hotels near the metro station Delhi Aerocity, like Ibis, Holiday Inn, etc, with nice area around the hotel, full of flowers and guards. We asked for the room in Ibis, it costs around 100USD
It was around 2pm and we decided that it too late to go to center of Delhi, so we came back to the hotel. We have seen a lot of things along the way.
Someone was standing beside the road and baked bread. We came closer to the baker and immediately small dirty child ran up and clutching the leg of my friend asked for money.
On the way back we found small sized supermarket, where we bought instant noodles, tea and biscuits.
We decided to had a walk on a very busy street with lots of stalls. Here and there people sold something, like food, clothing, sundries. We saw a man who cooked something that looked like crepes with filling. We ordered one such crepe stuffed with potatoes for a lunch, called masala dosa as we read when come back home.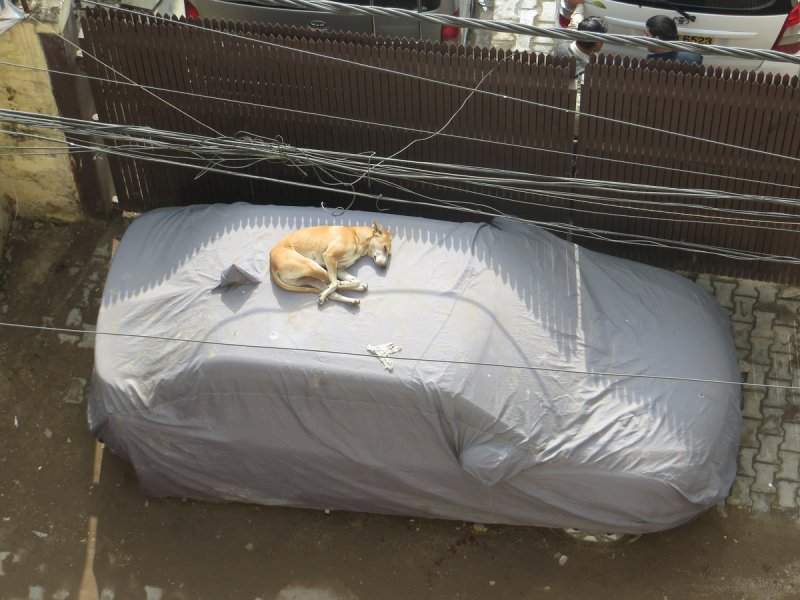 What is masala dosa?

Masala dosa is one of the variations of dosa, very popular dish in India, especially in the south states. Dosa looks like crepe, made of rice batter and black lentils, fried on the hot borderless pan.
Masala dosa is dosa filled with potatoes, onions and spices, folded in half or rolled like wrap.
Dosa is always served hot with different sauces.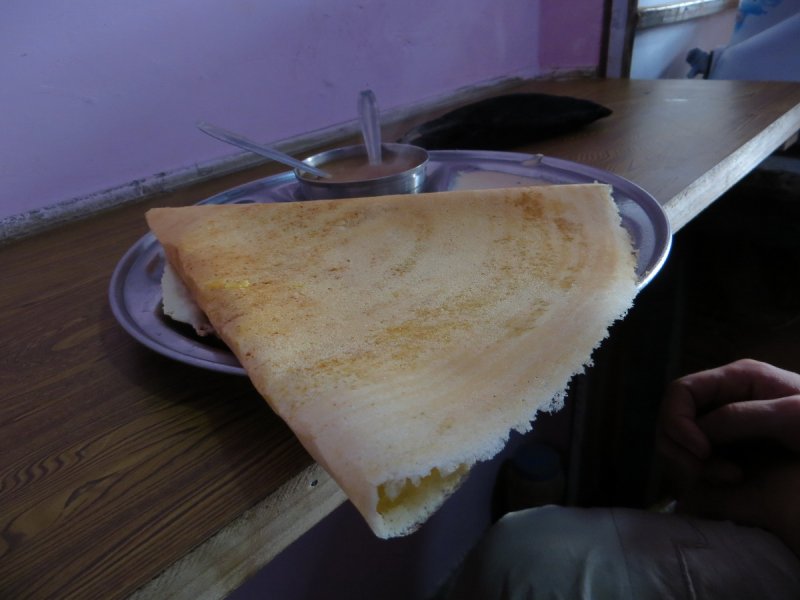 The place was gloomy, I tried not to be considered how they cook and wash dishes. It was scary for me to eat that meal, though it tastes and looked rather good. But my friend was hungry enough to ate. By the end he even dipped masala dosa into the sauce that we were served within the meal. I have had several bites of masala dosa.
What do I feel? I do not even know how to describe my feeling.
It seems as I have safety valve which does not allow me to absorb all of that at full power. I am afraid of anything all the time. I try to relax, take it as it is. But the feeling you need to be cautious at all times keeps on the alert.
We returned to the hotel about 16:00, when it was getting dusk. By 18:00 it became quite dark. I wanted to eat. We drank tea with cookies. Later we made the worst instant noodles in my life, that we thrown out. We drank more tea, it was black and delicious with some spices.