It was eventful day today. We got up early in the morning, around 7 am and went to have a breakfast that was included in the price for the room in our hotel. As I previously said we lived in the hotels chain called OYO rooms, but there was no restaurant in our hotel, so the boy from reception led us to another hotel of this chain, I considered. Restaurant wasn't the cosy one, but the breakfast was good. We had the opportunity to choose from the menu what do we want.
I ordered fried eggs and my friend chose something like omelet. Also we were given milk tea that I liked it too much.
After breakfast we returned to our hotel, packed our backpacks and checkout. We intended to catch a tuk tuk, but drivers didn't want to bargain and asked 50 Rupee for the trip, although it was a 2 minute drive… So, failed with finding someone to drive us to the metro station, we decided to go there by foot.

What is tuk tuk?

Tuk tuk is an auto rickshaw, three-wheeler vehicle, that is very common throughout Asia nowadays. But few people know how three-wheelers appeared in Asia. First auto rickshaws were exported to Thailand by Japan in 1934 year. Furthermore, Japan made a gift of 20 thousands of used three-wheelers to Southeast Asia. Although auto rickshaws in Japan went out of use in the second half of 1960, in Asia they are still an indispensable mode of transport due to their very handy size for the narrow and overcrowded streets in Asia. Tuk tuks are used as a local taxi that is cheap and convenient way to get somewhere in the city.

The whole sky was covered with one continuous cloud-like mist. Because of this cloud, it was not clear it is evening or morning now. Light was scattered and it seems that all colors are muted. It was not hot at all, generally it is rather cool in Delhi this period of the year, especially in the mornings and evenings. I usually worn light tunic, one fleece jacket and light jacket. And frankly speaking, sometimes I would like to pull on something more.
So we finally got to the Delhi Aerocity metro station. India's metro is modern and very nice.
First we bought two coins in the counter. It costs 80 Rupee (1.3 USD) per person to get to the Delhi center.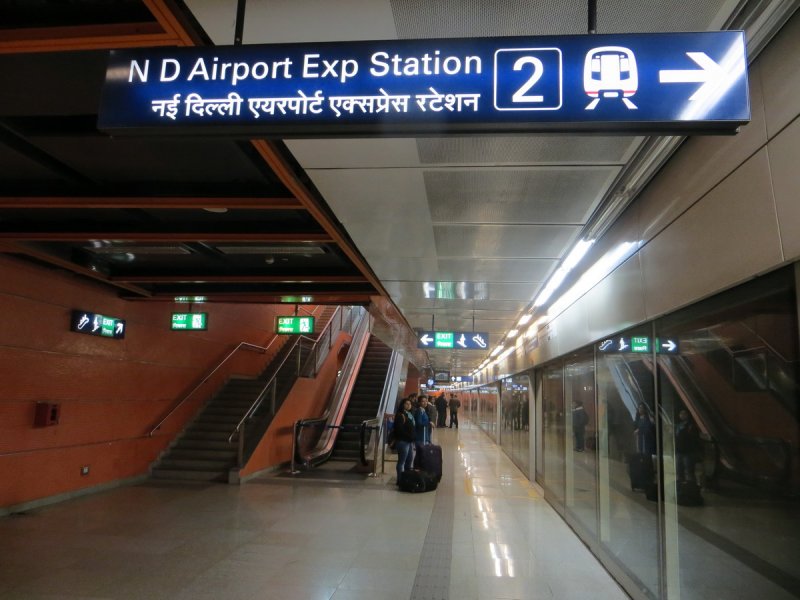 Delhi metro

Opened only 13 years ago (December 2002) Delhi metro became an essential part of the public transport in the city, carrying more than 2,5 millions commuters per day. Cost of the trip in Delhi metro depends on your starting and destination points. In average we spent around 20 Rupees (0.3 USD) per trip per person (for about 6-10 stations trip).

The most expensive ticket will cost you 100 Rupee (1.6 USD) per person for using Delhi Airport Metro Express, although it is very convenient way to get directly from the airport to the city center in only 15 minutes without any traffic jams.

There are five lines in Delhi metro but it is very easy to navigate inside the metro. Everywhere there are metro maps and signposts, along with convenient highlighting of the current and next stations in the coaches.

If you buy single trip token first you need to apply it when entering for opening the gates and then to throw it into the hole while exit the station.
Once we go out from the metro we crossed the street and found ourselves in front of New Delhi railway station. We intended to get to the main bazaar street, tourist heart of Delhi and so we crossed the railroads by long and overcrowded pedestrian crossing. And here we are.
By the way it is not evident at all (at least it was not so for us :) how to cross railways. You should enter the main building of the train station, come across checking of your bags and then you see upstairs - go there and you find yourself above the railways.
The Main Bazaar street is not wide one, there are plenty of stalls from the both sides, selling principally different clothes. First we want to leave our third backpack with unnecessary things that we took for nepal trekking in the luggage store.
Where to leave luggage in Delhi?

There is good and tried luggage store on the Main bazaar street. To find it first go to the Vivek Hotel (28.641096, 77.212622), just opposite the hotel you will find very narrow street - get ahead there. Just in 100 meters you will see the signboard "Luggage store". It costs 5 Rupee per day to leave your backpack there. Indian boy will give you a bill and carry your luggage into the dark room with other backpacks. We leave our backpack there for a month and everything went fine. Luggage store open from 8 am till 8 pm.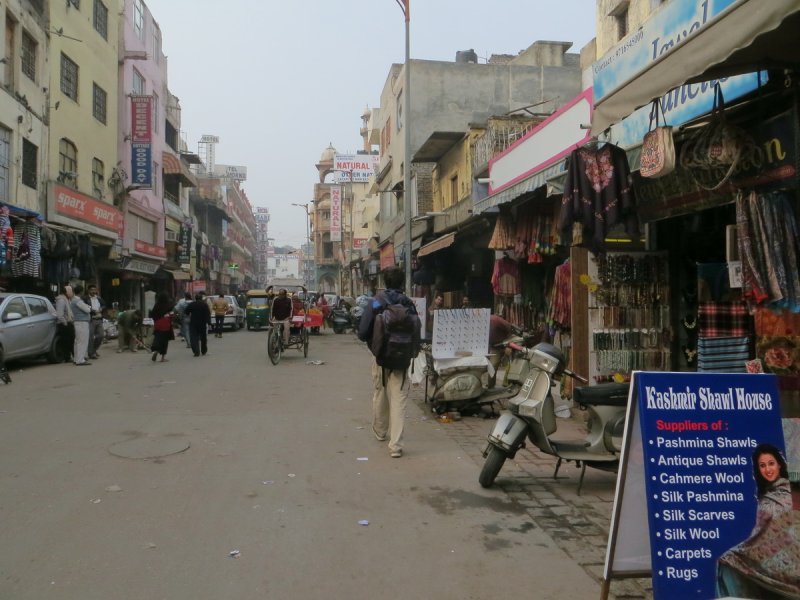 After we successfully found the luggage store and got rid of heavy backpack we decided to have a cup of masala tea in one of the stalls along the main bazaar street.

What is masala tea?

Masala tea is a traditional beverage in India, very popular among both tourists and the locals. It is made of milk mixed with water, black tea, sugar and spices, such as cardamom, cinnamon, ginger, black pepper. It is interesting that there was Great Britain, who taught indian people to drink tea. In the early 19th century the British got worried a lot about chinese monopoly on tea and that is why they began to cultivate tea plantation in India. As a result, in the beginning of 20th century all tea of chinese origin was fully replaced by one, grown in India and Ceylon. In order to populate tea among locals Indian Tea Association (despite the name, owned by British) promoted the tea breaks for workers in factories.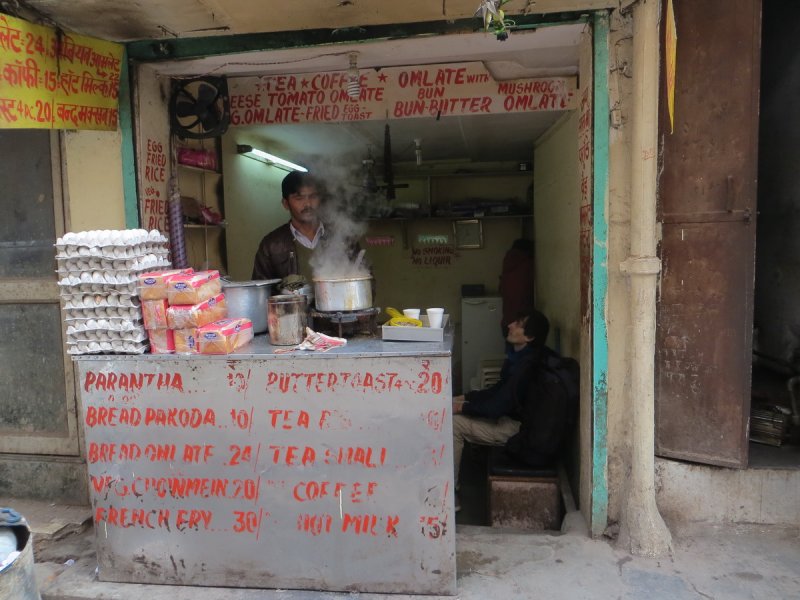 In a small kennel, we sat on the couch and sipped tea. It seems that everything does not happen to me. We thanked for the tea and go further, to the Old Delhi railway station. I assume it is not too far away, but it turned out that this is not true.
We walked for a long time on several streets, nothing changes from street to street. All around еhere were old dilapidated buildings all around, everywhere people see something - vegetables, fruits, clothing. They cooked and washed the dishes right there in terrible muddy water. Tuk tuks sped past.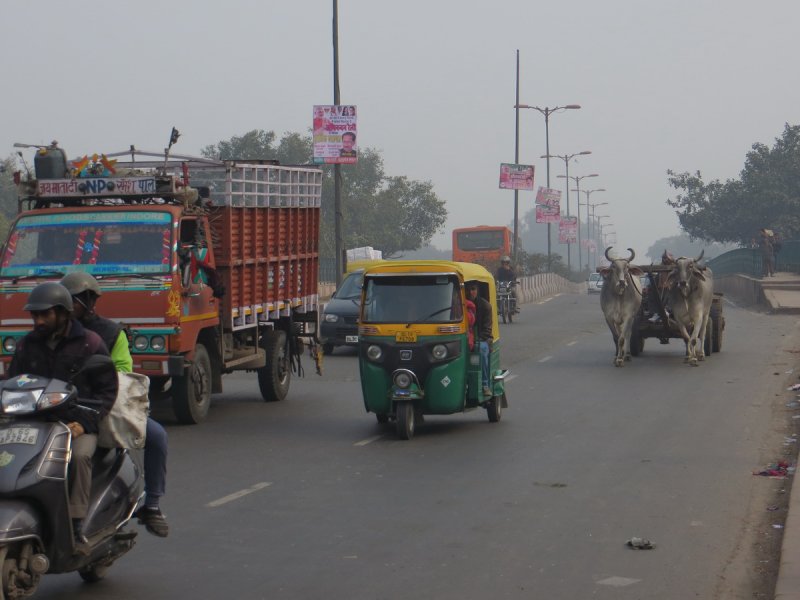 My head was buzzing because of the noise and number of people on the streets. I just wanted to close my eyes and see nothing, just mute all the sounds. After some time, we finally got to the station. The station building from the outside looked quite nice. In front of the main entrance, people were sleeping on the ground covering with blanket, another people were sitting or eating.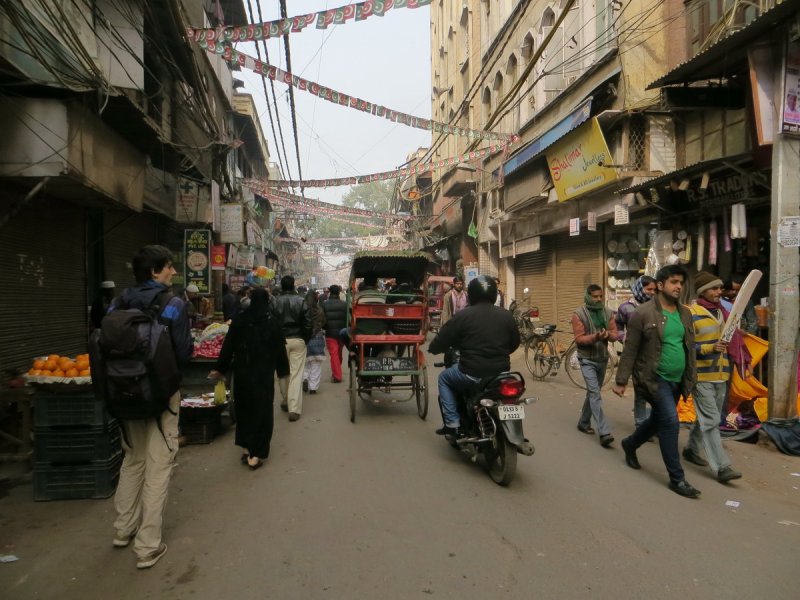 We enter the building, wanted to find ticket counters. We go back and forth inside and outside the railway station, until we saw the small room next to the main entrance with sign «Registration Enquiry». There were windows inside the room beside which people crowded. There were no too much people near one of the window, so we decided to ask about our ticket and reservation (at that moment we even were not absolutely sure that our train to Jaisalmer departs from this station).
The man checked something in the computer and scribbled something unclear on the piece of paper. Although he wrote it with confidence, so we calmed down, realized that we are on the right train station and we have a valid ticket. We had four hours 4 hours before train departure, so we decided to go for a walk.
We didn't read about Delhi before our trip, so we didn't know exactly what to do there. My friend found on the map in the navigator some rather large pink rectangle, not too far from the station and we decided to go in that direction, thinking that pink colored rectangle should be something interesting. And it was true.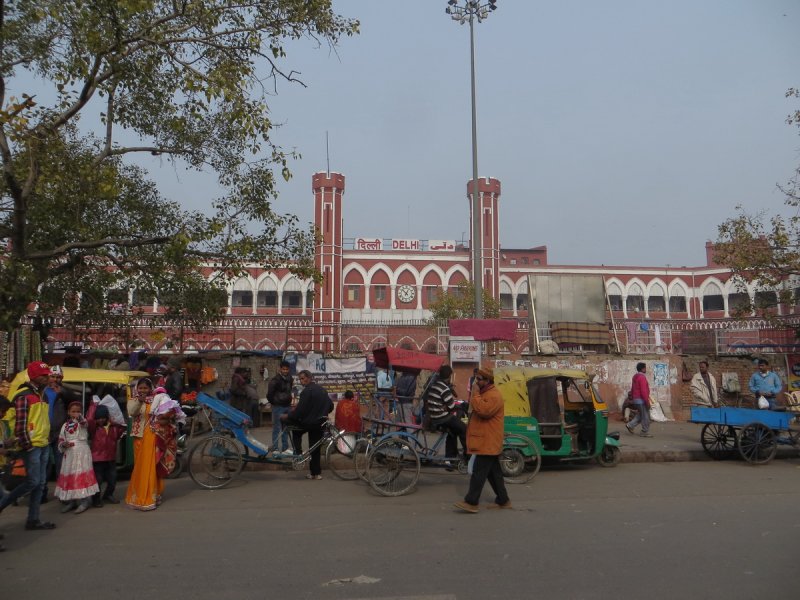 So, absolutely by accident, we found the Red Fort in Delhi, impressive beautiful fort, which walls were really red. We noticed that people are standing in a long line to get inside the fort. We decided to return to the fort on another occasion, as we had not much time for unhurried visit.
Slowly, we came back to the station. Nothing changed - the same noise, dirt and crowds of people everywhere along the way. We bought roasted peanuts on the way to the station. Peanuts are prepared here in a very funny way - they bunch the peanuts and insert into the pile a hot pot.
At the railway station there is a McDonald's where we decided to wait for the train and eat something. It was very funny when we asked for hamburger and cassier couldn't understand us. So we ordered some other burgers as egg burger - that were the cheapest ones. Eating burgers we realized why there is no hamburger here. Cows! Cows are sacred beings here - that is why there is no meat of cows and as a result no ham burgers.
We found our platform and it was around 15 minutes prior departure. Some train was standing on our platform, but the scoreboard showed another train number and departure time, so we decided this is not our train and continued to stand upstairs. We were waiting when this train depart, but then the inscription on the scoreboard changed by highlighting the name of our train. Only 5 minutes left to the departure of our train, but that "another" train on the platform was standing still.
Suddenly friend of mine said, "Listen,what if this train is ours". In a hurry we went down to the platform and saw Jaisalmer on the train's plates. We found our coach and came in. In a moment some man, I guess it was a trainman, asked me for a ticket. I showed him our tickets with an unclear notes of that man on the station from the "Enquiry window". Train man had a quick look at our tickets and then said, "Go, go, go" and we rushed through the narrow aisles of the train. Finally, we stopped in front of the compartment, too beautiful for the second class. But the trainman aggressively shoving us into it, so we gave up, plopped down on the soft seat and looked around.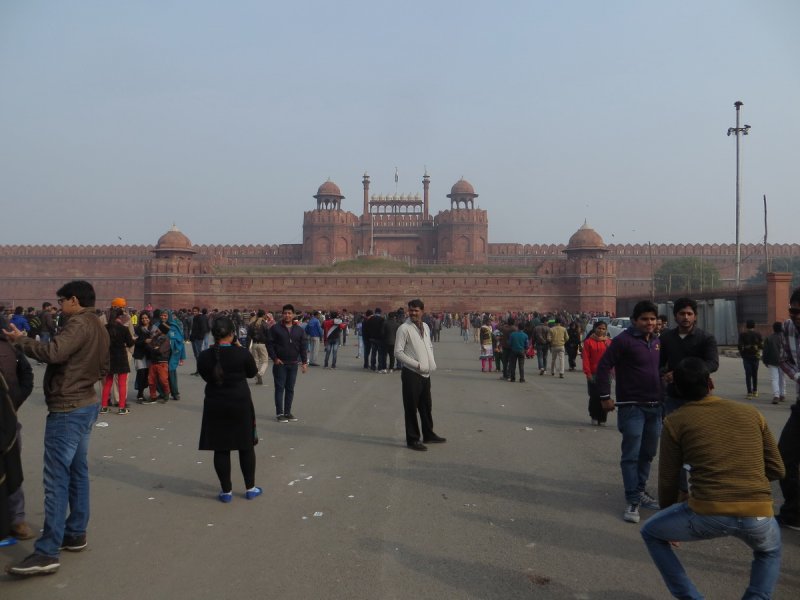 The coach was old but still rather good - wide soft (and only four) berths, sockets, a table and a door (with no side berths as I read about second class). It was for sure not the second class coach!
Very neat appearance indian man was sitting in front of us on the other lower berths. He said us that this is the first-class coach. We showed him our tickets, he explained that sometimes this happens if there are empty seats in the first class, second-class passengers are shifted to free berths. Wow, how lucky we are! Out of the blue, we were riding in the first class!
Some indian man went through the coached and offered a dinner but we hadn't ordered it and drink tea with biscuits. We stared out the window, and different pictures flashed before our eyes. Unfortunately, it got dim quickly and night turned the landscape into the pitch dark.
It seems it is time to sleep. Tomorrow morning we will continue to stare out the window.