This was our last day in Jaisalmer (we were very sorry for this because we really fell in love with this small nice town and if we could change our plans we would stay here for a longer period…. but...we have already booked all hotels and trains). This day we decided to devote to the Jaisalmer itself, visit its fort and well-known haveli. So in the morning after a cup of coffee in the hotel room we went to the fort that was only in 10 minutes from our hotel.
I liked the fort too much! It is hard to express and to describe my feeling when we pass through 4 massive gateways and finally reach the heart of the fort, small town in town, with its own dwellers, houses, shops (most of all sell some tourist stuff) and life. Inside, fort appeared to be not as big as I thought.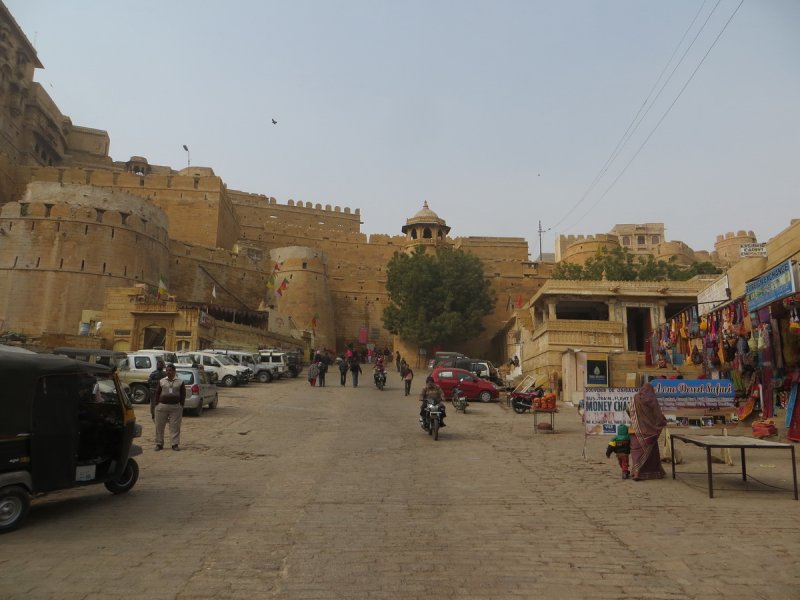 In a slow pace we came round all its narrow streets, we even saw where people live and how they wash clothes. I was mesmerized by the beauty and antiquity of the building decorated with carvings, by nice balconies, jain temple and the atmosphere of the fort. I felt like I suddenly found myself in the fairy tail with all these smells, colorful streets and old golden houses.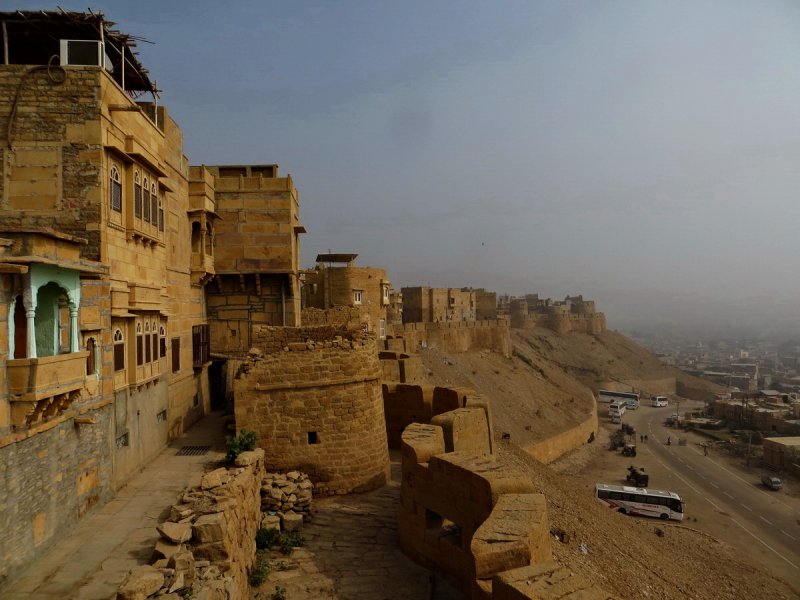 When we walked enough we drank masala tea on the stairs of royal palace on the main square of the fort situated just beside the fourth gate.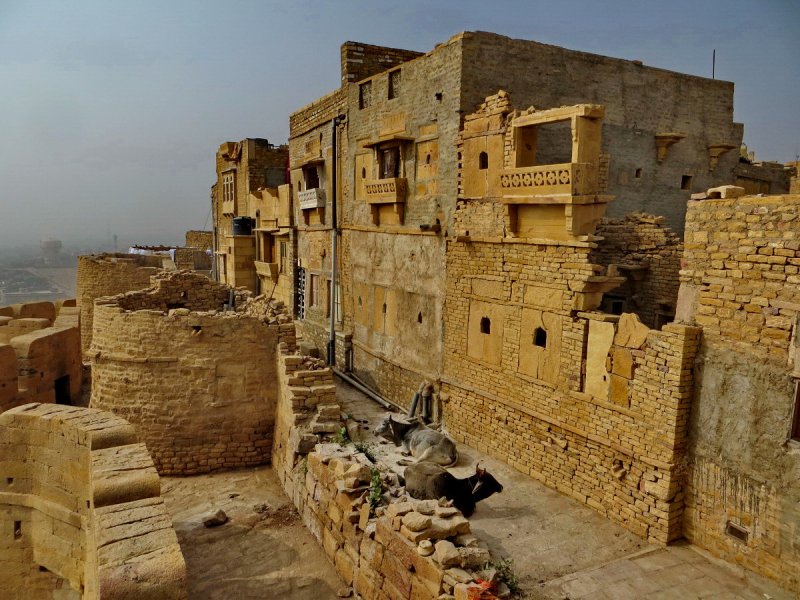 We had enough time to visit Havelis in the town, so we told goodbye to the fort and continue our exploration of Jaisalmer. Haveli is a name for a houses of significant beauty and architecture that were usually built by rich locals to live in there. Haveli is a masterpiece itself, decorated with painting, frescoes and carvings, adorned with sculpted windows, doors and a small balconies, it looks like pearl. Havelis have a lot from Islamic architecture and usually were like status symbols for family.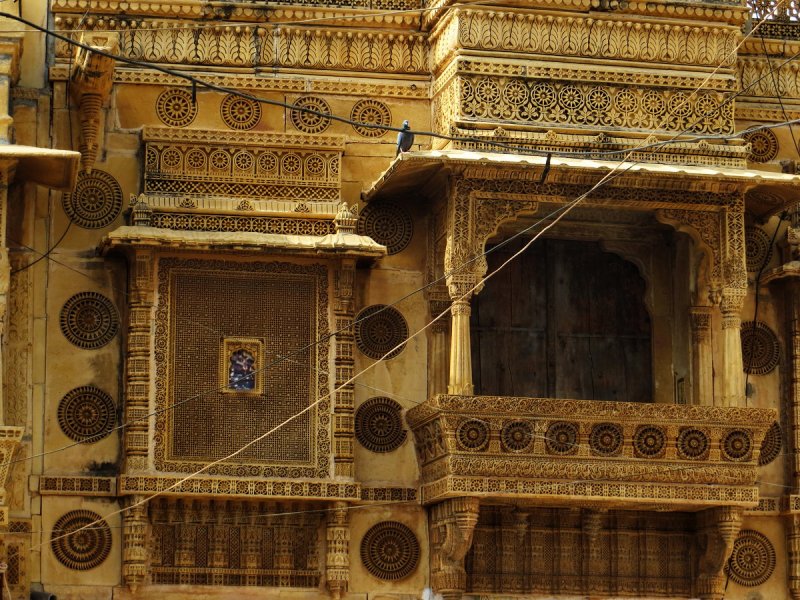 So we kept going to one of the most beautiful buildings in Jaisalmer - Patwa Haveli (26.916421, 70.914326). Patwa Haveli or Patwon Ki Haveli is situated not far away from Jaisalmer fort in the net of narrow streets among small houses of dwellers. This is the first haveli built in Jaisalmer which unlike others havelis, is not as one building, but consists of five havelis of the small size. This first house was build at the beginning of the 19 century, while others were built during other 50 years. This is marvelous honey-colored building, with amazing carvings and small balconies. We sat down on the bench and enjoyed the view of the finest architecture. It is hardly imagine that this was created by the human, havelis seemed to be some fairytale creation.
There is a museum inside haveli, so you can visit it for 100 Rupee (1.60 USD) from 9am till 6pm. We haven't gone inside the haveli, as we read it is not much to see there.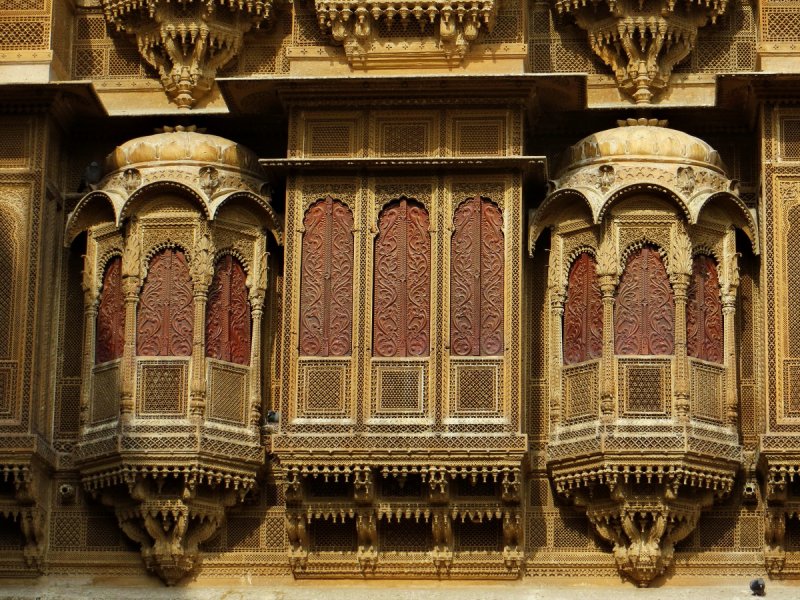 So, we finally took leave of Patwa haveli and kept our feet towards another famous haveli in Jaisalmer Salim Singh Haveli. But on the way I saw the man fried something in a big vat. It looked and smelled very tasty, so we stopped and witnessed around.
Man standing beside me asked whether we want to buy something. I said, that we are interested in that triangle-shaped fried pie. He explains that this "fried pie" called samosa and has a filling of potatoes and onions inside. We bought two hot samosas (for 15 Rupee each), took a sauce and made a decision to come back home to have a lunch.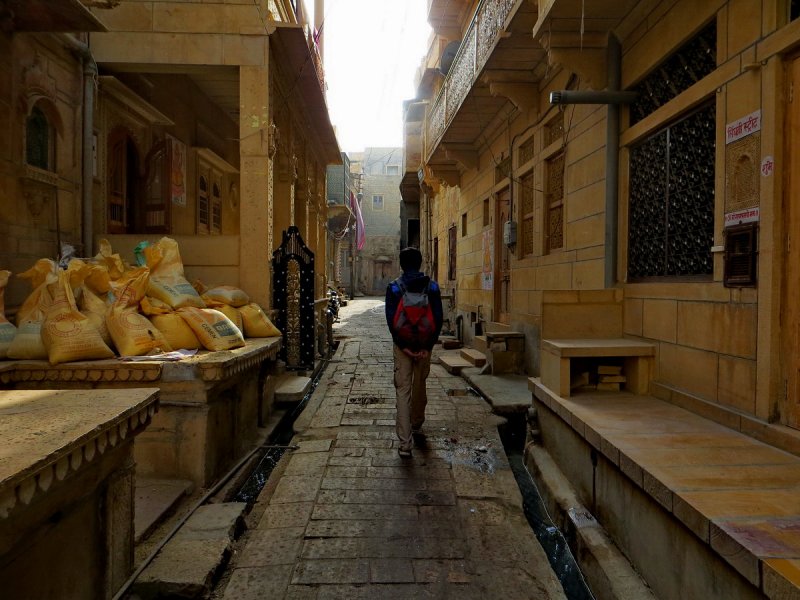 What is samosa?
Samosa's history comes back to 10th century when it was cooked up in Iran. Lately in 13 century samosa was brought to Indian continent by traders from the middle east. This is a triangle fried pastry usually filled with mashed potatoes, onion, green peas and sometimes green chili. Usually it is rather hot spicy, when I ate it for the first time there in Jaisalmer, tears flowed from my eyes…
Samosa usually served with different sauces. We liked samosa a lot and it became our favourite snack. It is very popular in India so it was easy to find hot samosa in every town. Soon we realized that our stomachs are not used to such fatty spicy food and after about two weeks of everyday samosa lunch our stomachs began to hint strongly to change somehow our traditional lunch.. So we decided to declare off samosa for a while to let our stomachs have a rest.
After a lunch we went to see Salim Singh Haveli. This haveli impressed us much less than previous one. So we walked around for a while and returned home for a rest
Tomorrow we leave Jaisalmer at the morning, driver of the hotel promised to drive us to the train station