All night long I was laying and living through how we will manage tomorrow. What if driver forget about us and we miss our train. What if we don't hear the alarm… i know it is so stupid but still I was nervous about all this things.
I want to be relaxed and calm, i don't want to worry about all this staff, i just want to let the life go as it is. But I can't. It is so hard for me, I want to control everything that happens with me.
My travels look like fighting with myself, with my fears. It seems that while travelling I am gradually faceted like gemstone, I want to believe I am….
Alarm rang at 5 am. At 5:20 we went out from the room, the driver was already waiting for us. We had a train at 6.15 to Jodhpur, but we got to train station very quickly, so around 5:40 we were standing on the platform in pitch dark.
It was cold. We went back and forth on the platform. The platform is gradually filled with people, but the train did not come.
6:15, 6:30, 6:45. It's cold. We found out that right on the platform there is a tea shop selling hot masala tea for a cheap price. We drank a couple of cups and it became slightly warmer.
7:00. We went into overcrowded waiting room to warm a little. There were no place to si down but anyway it was better than outside . Hindus spread out cardboard boxes right on the floor, sat down on them, and played cards.
7:30. Dawn. The air was filled with wet fog, it felt as if we were sitting in a big cloud. It felt like it became even colder.
8:00. Finally the train came. We were waiting for about 15 minutes until the passengers came out of the train and while train conductors were cleaning the car. We took a car of the 3rd class in this train, that was the highest in this train, all other cars were sleepers class. It was warm in the car and we want to sleep. We took out our sleeping bags and climbed to the very top shelf (there are three shelves on each side in this type of car). I fell asleep very quickly, even though we slept together on one shelf and I felt a little constrained.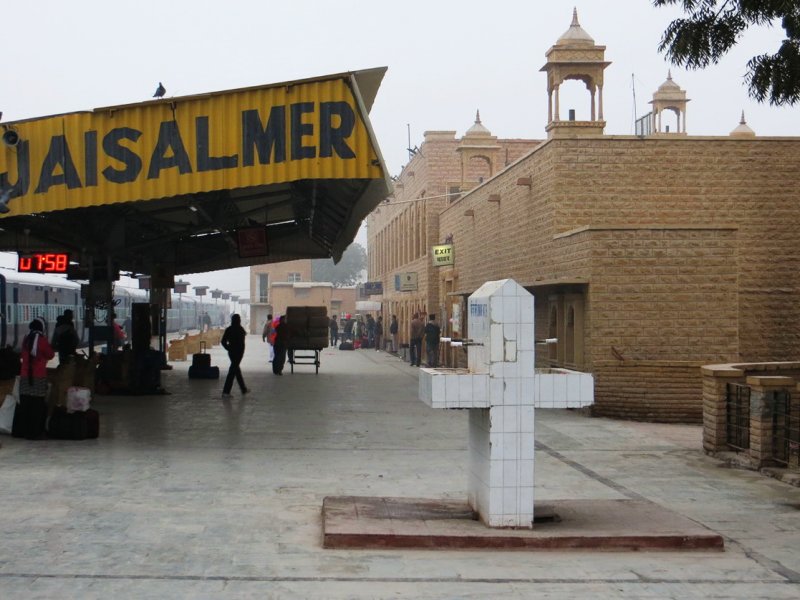 I slept for 4 hours, then sat down and stared out the window, read Murakami and Lonely Planet on the laptop. it is very convenient that there is a socket in each compartment.
Because the train was late we arrived to Jodhpur at 15.00 instead of 12 o'clock.
Our hotel Hari Niwas was situated far from city center and railway station. But we decided to have a walk to the hotel.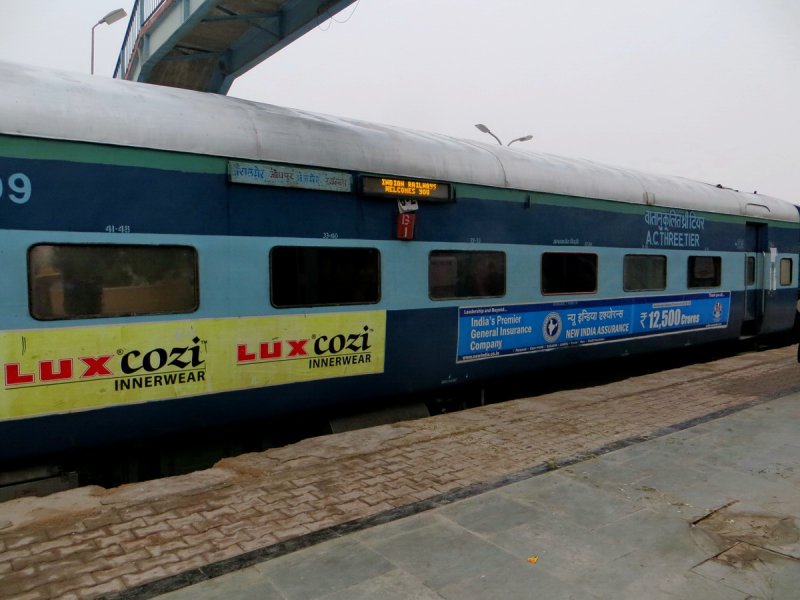 The hotel itself was a good one, but it seems we're the only visitors there. After we drank tea, it was obvious that it was too late to walk out to the city center, as we still were not ready to wander the indian streets in the dark of the night.
So, we decided to have a look for food and walk to the bus stop, which turned out to be too far away. Food was not found on the way, but we successfully reached the bus station and got to know about the schedule of the bus to Ranakpur. At the station we bought water and biscuits. We wanted to back home on a tuk tuk, but the driver asked for 100 rupees, instead of 50 Rupee that we were ready to pay. We came to another driver, but he also wanted 100 Rupee. At this point, a crowd of drivers gathered around us, all of them interrupting each other.
Suddenly, one of the driver, a young boy, started a tuk-tuk, waved his hand and said, "Let's go". We jumped into tuk tuk and rushed.
This was our first time we ride in tuk tuk and I liked it. It was very funny and felt like riding roller coaster. In sharp bends it slightly tilted. Due to the fact that everything is open in tuk tuk, the feeling of riding is much stronger than in the car.
We've got very quickly to the hotel by tuk tuk. Restaurant in our half-dead hotel didn't work, so we decided to have a walk along the main road not far away from the hotel to search for some cafe. Fortunately, we found one not so bad place for having dinner, eventually. We ordered two masala dosa, that appeared on our tables quite soon. It was delicious, fresh and warm food - what else do we need.
After having dinner we came back to the hotel for a cup of tea before falling asleep.