Distance : 20.0 km
Hours spent: 11h 20min
Starting height: 792m
Max height: 1966m
Average speed: 1.9km/hour
During our travel in Albania we wanted to visit picturesque Albanian Alps. There are two main starting points to make hiking in Albanian Alps - Theth village and Valbona village. We choose Theth villlage. How we get there and where we live you could read here.
Thanks to Wikiloc website we found the ideal route from Theth village around Harapit mountain – it was cyclic and for the whole day. You could download route in different formats (we downloaded kml file and used Locus software for Android for navigation, recommend it)
When alarm clock rang at 5 o'clock in the morning it was pitch dark… But while we gathered our backpacks and had a breakfast (muesli with milk) – it became lighter with every minute. So when we started our trek at 6.20 it was quite light and sun slowly aroused above the mountains.
We had two light-weight backpacks; I carried some food and photo camera, and my friend carry gas cylinder, gas-jet, jackets and water. We took 3 liters of water and it was not enough….
First 5 km trek goes along the wide road for 4x4 cars (so if you are lucky enough you could shorten the trek for 10km, but I assume this road could be passed only by 4x4 cars).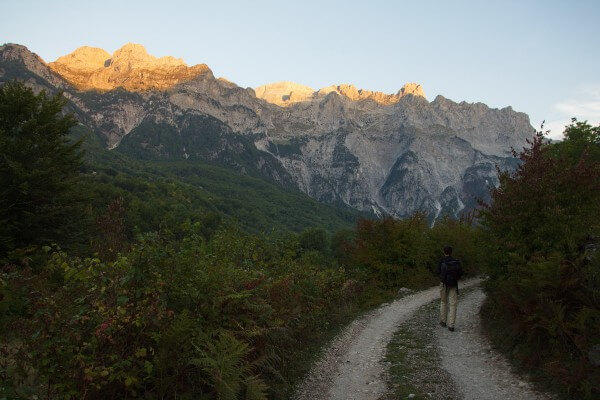 There are some buildings and hotels along the road.
In 5 km there is water source (GPS coordinates: 42,4276885, 19,7618589), the last place where you can draw water . We made this part of the route (from Villa Gjecaj to water source) in 1 hour and 20 minutes. We drank water there and continued moving….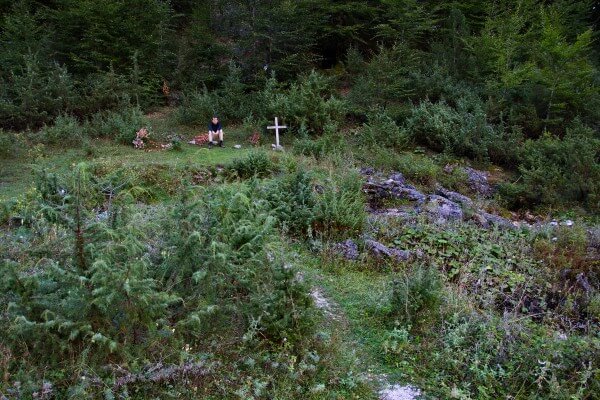 There are some nice places for tents as well, just beside the spring.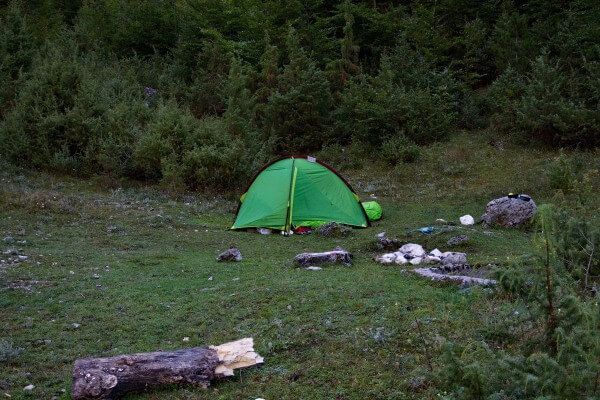 We moved clockwise, so we should find a path on the western side of Harapit mountain. After the water source we crossed the small forest with low trees and find the beginning of the path marked with new white-red-white signs.
This path is well-marked so we follow the signs and began to ascend. First path goes in the forest. The ascent is steep and seemed rather difficult for us, we moved slowly.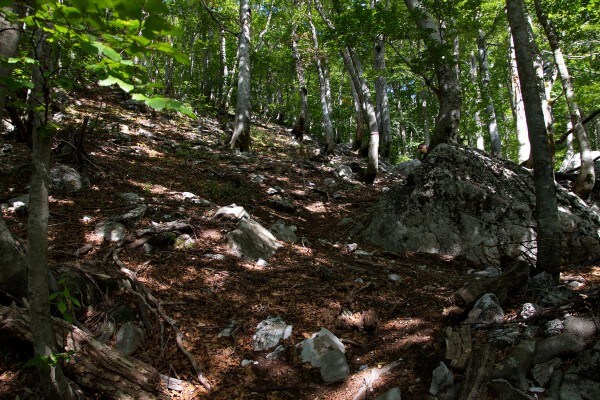 After we climbed on the height of 1700m we decided to have a rest and lunch (it was already 11 o'clock) with a beautiful view on the mountains.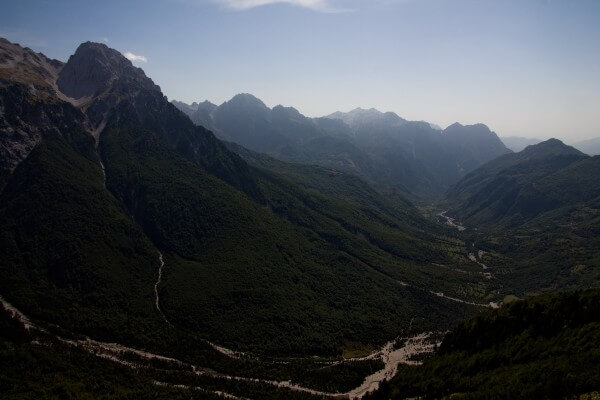 We had a breakfast included in the price of our room in guesthouse, but because we were going to departure early in the morning, hostess gave us some food in the evening – bread, cheese, boiled eggs. All that we carried with us and we had very nice lunch.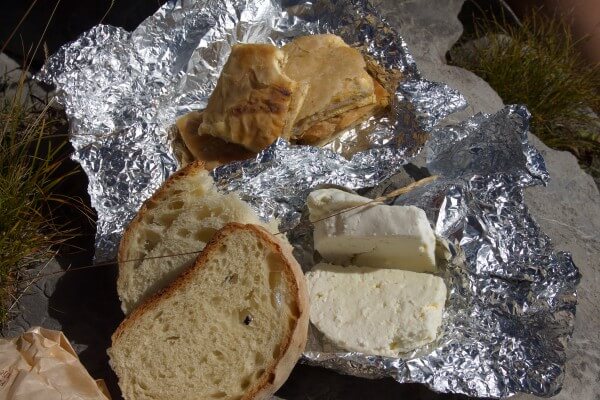 After lunch with renewed energy, we moved further. From here we saw Harapiti mountain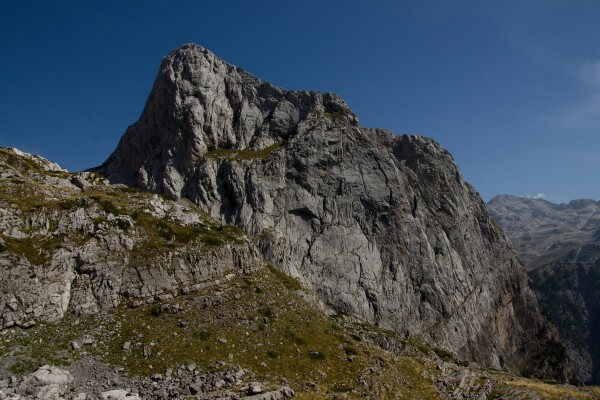 The path here is stony but not so steep as in the beginning.
We forget to turn right in order to make circle around Harapiti. Marked path go further and we followed it, but finally we decided to check if we still follow the trek and understand that we went too far afield. But the views were so nice that we didn't regret, just took some pictures and moved back.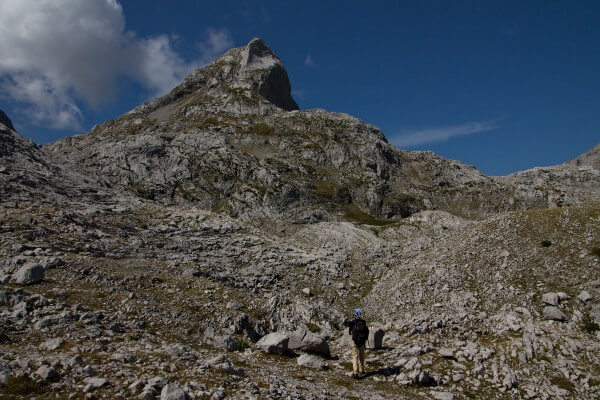 Harapiti
From here there is no marked path around Harapiti. At first it was easily to walk by stone fields. Views were really great!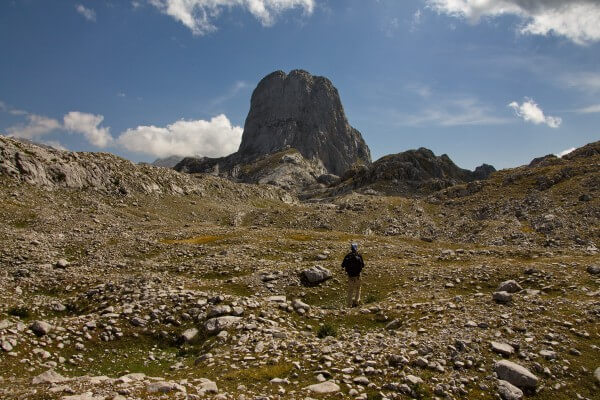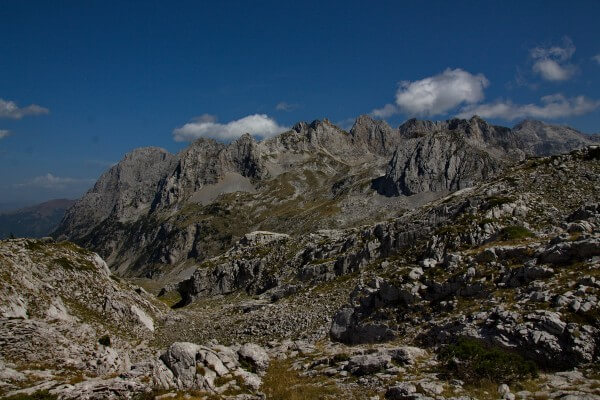 View on mountain range Jezerce
But then the hard descent began….. It became even worthier at the end when we chose the wrong way and it was too hard to descend because the slope was very steep. And there were a big stones with crevices all around. We moved very slowly and lost a lot of time and energy on this descent.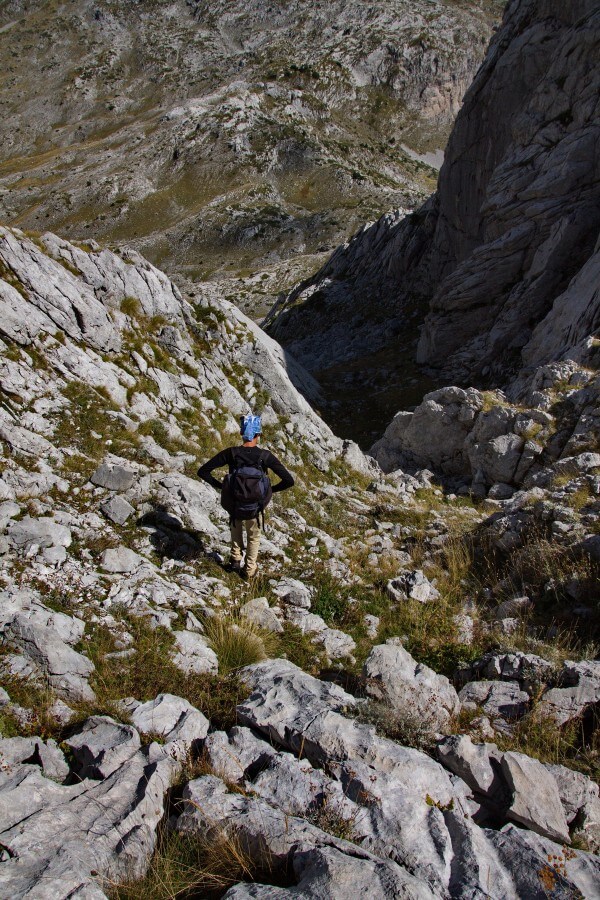 But finally we went out to the marked path near two small lakes.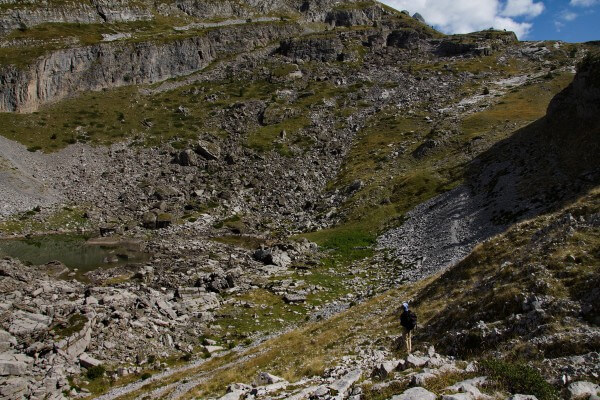 From here it is short easy ascent to Qafe e Pejes where we decided to take a rest and drink tea with cookies. We were really tired and our water supplies dwindled.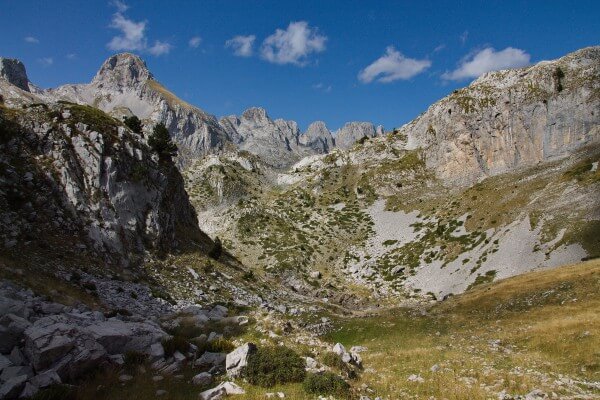 View from Qafe e Pejes
It was about three kilometers to the water source. The path here is well-marked but again steep and slippery because of the stones. We moved slowly with speed 2 km/hour.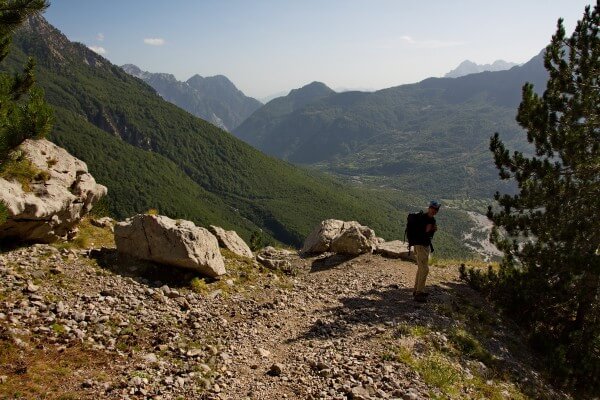 It took 2 hours to descend from Qafe e Pejes to the water sourse, from 1700m high to 1000m. We drank water, rest a little bit and continued walking. From here the easiest part of the route begins, but we were so tired and our legs hurt that it was still hard to move quickly. It took us 1hour and 10 minutes to overpass last 5 kilometers.
Conclusions: trek is very picturesque but demanded. It's too little time to go slowly, staring on the mountains, taking photo etc… We were always in a hurry as we didn't want to come back at night.

The part without marked path is difficult. Other parts of the route are moderate with steep descents and ascents.

The only negative experience was when we met barking dogs in the village. One was barked and ran freely behind the very low fence… Another dog barked very aggressively, but luckily it was on a leash. Then when we started ascent through the forest we heard that several dogs run quickly in our direction and bark. At first we were afraid but then it became obvious that they are hunting dogs and they are not interesting in us at all.