This year I decided to try surfing. This decision came to my mind very spontaneously. I quit my job and was thinking about travelling alone to Lisbon, city of my dreams (you could read here how I spent 4 days in Lisbon). One day my friend showed me the link with information about surf camp in Portugal and in one second it became clear that I should combine my travel to Lisbon and surfing in Portugal.
The camp was held in small village Casais do Baleal, situated near Peniche, well-known place to do surfing, kitesurfing, etc. There are many sandy beaches, both crowded and secret one where many people enjoy waves and amazing views.
Peniche is in 100 km from Lisbon. To get there from Lisbon by public transport, you should go to the metro station Jardim Zoologico, where bus station Sete Rios is situated. You could check bus timetable here. It takes one hour and a half to reach Peniche. From where you could catch taxi (for approximately 10 euro) or take a bus to get to Casais do Baleal.
Our organizator Anna rent a house for all of us (there were 16 people overall in the house and 15, except Anna, who had surf lessons). We lived in Baleal Guesthouse - nice three-storey house, with kitchen and everything you might need to cook or grill, with living room where we used to sit and listen to music.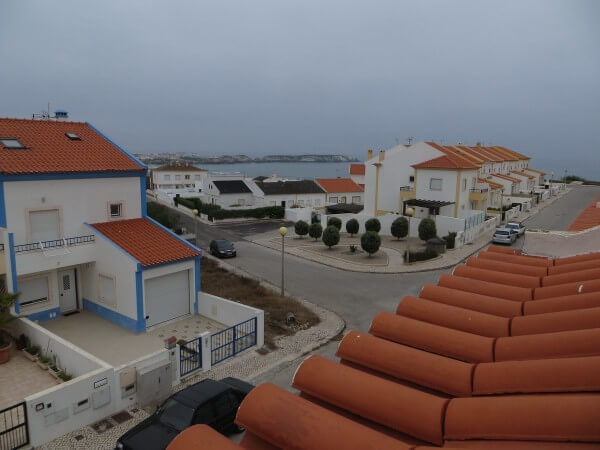 View from our balcony in one of cloudy day
There are shared rooms on the third and first floor and rooms with double bed on the second floor. House is situated near supermarkets, beach and bars.
Day 1: June, 29 2015
On our first day surf classes began at 12 o'clock. We went to the surf school called Peniche surfcamp situated in 5 minutes from our house. First, instructors and director of the school introduced themselves, then every of us got his own surf board and wetsuit.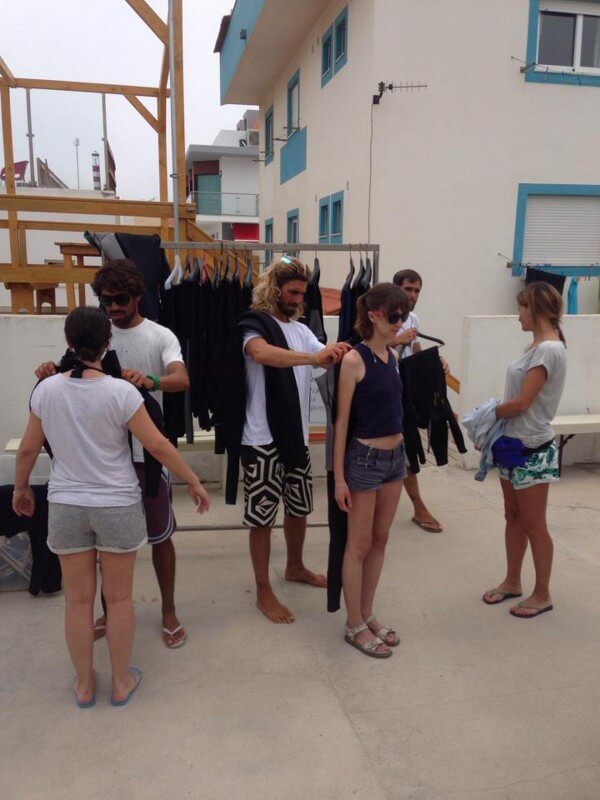 After that we sat into the school cars and went to the beach for our first lessons. Every day we will have two sessions, two hours each and a break for a rest and lunch.
At the beginning of each session we had a warm up to prepare our body and muscles for the next loads. After the warm up we were divided into three smaller groups, so that one instructor had 5 students.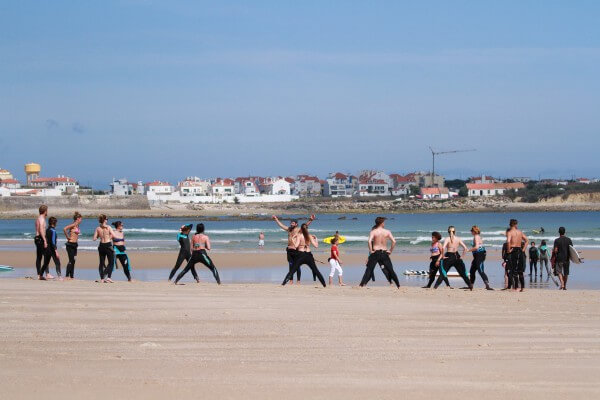 We had a very-very nice instructors. Most of all I liked mine instructor - Capile, who was very easygoing, cheerful and attentive. Another very good instructor was Tiago Moura. We had one more instructor, guy from Argentina, with appearance like he just came down from the magazine cover - Archi. What I liked the most in all these instructors - is their heartfullness. They were sincerely glad for our successful attempts.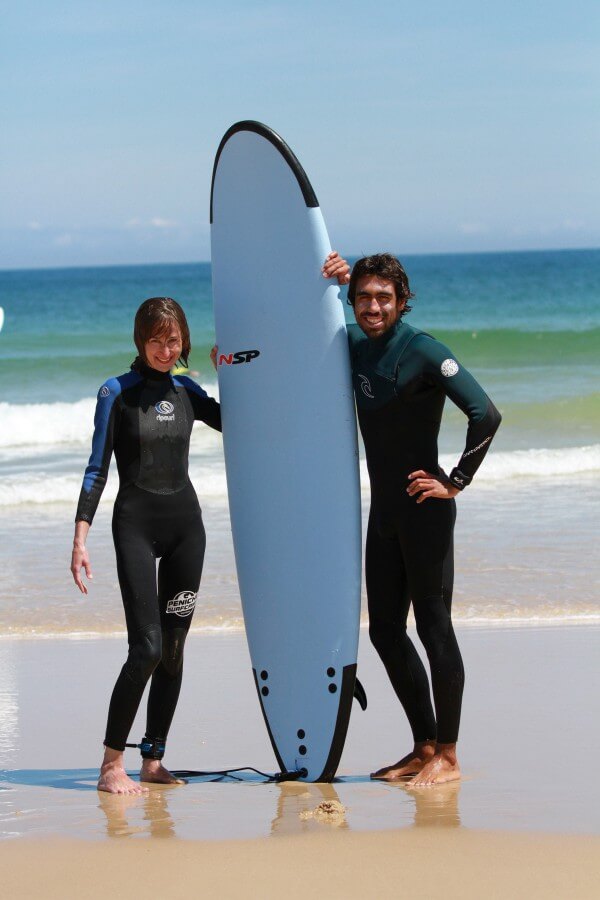 Me and mine istructor Capile
Instructors notified us that surf is one of the most difficult sport to learn, so that we wouldn't fall in despair when we had problems during our classes and when it seems that nothing came out. Hang on and don't give up!
At the beginning we taught the first exercise. We should learn how to lay on the board, how to paddle and then if we were lucky enough to catch the wave, we should get up on the straight hands. The purpose was to try to feel the board, balance and power of waves.
After some practicing on the sand we went to try the same into the water.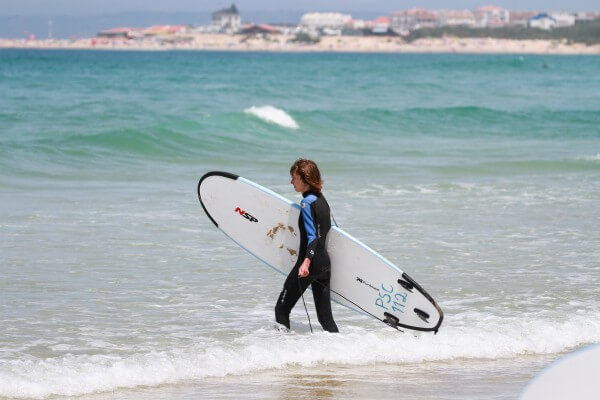 Waves were high enough and they were very frequent. It was even hard to come into the sea. We tried to lay down on the board and then to drive a little on the straight hands, catching the waves.
It was cloudy day. Water is cold enough (around 19 degrees) even in this period of year and even in the wetsuit I've got cold.
When the first session finished we had a lunch. I fell asleep, because I was very exhausted by so much physical loads.
During the second session we were expected to start to learn how to stand up on the board. But it was obvious that we still could hardly lay on the straight hands so it was senseless to teach us taking off, and we continued practicing to catch the waves and then trying to lift our chests up by straightening arms.
After the second session we were very tired, but still we have to find last pitiful remnants of energy to carry our boards back to the cars - it is also a little bit challenging. Later we understood that it is much more easier to carry boards in the so called "body system" - when you carry board in pair - one person in front and other at the back. So you carry two boards, but it happens to be really very helpful.
In the evening we had party to get acquainted with each other. It was very nice.
Day 2: June, 30 2015
This day was cloudy again. Water seems to be even colder. Our instructors choose a secret hidden place for us to surf, so we dropped into the cars and went to surf. It was really very nice place, sand beaches with red rocks all along the shore and almost nobody around you… Very peaceful and nice place, but waves - they were not so perfect as we expected them to be. Again they were to high for us… But we came here to surf, so we were going on….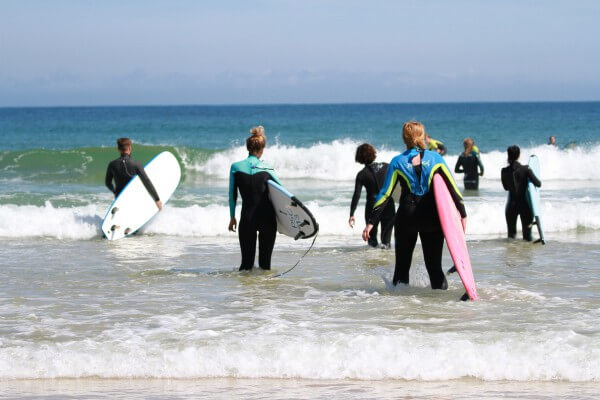 Warm up, practicing on the sand, then on the board on the sand and then in the water.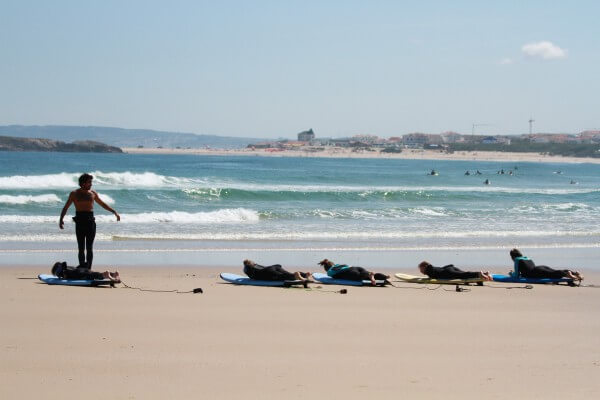 Today we have to learn how to stand up on the boards. Instructor spent all his time together with us in the water, pushing us and correcting our mistakes.
After the first session (the hardest one among all our classes, due to the waves) we had a lunch. Next session was declined due to the heavy waves. Instructors were afraid that we can injure ourselves because of such waves.
Results of the day: we could lay down on the waves and lift up on the straighten arms. It's still almost impossible to stand up on the board.
Day 3: July 1, 2015
Today we have a lazy day, without surfing lessons. Our body should have a little rest and after it we assume to train better.
Day 4: July 2, 2015
Today we have a pleasant sunny day. Waves are good enough for training. Our lessons started at 8 o'clock in the morning.
After warm up we had exercises on the sand.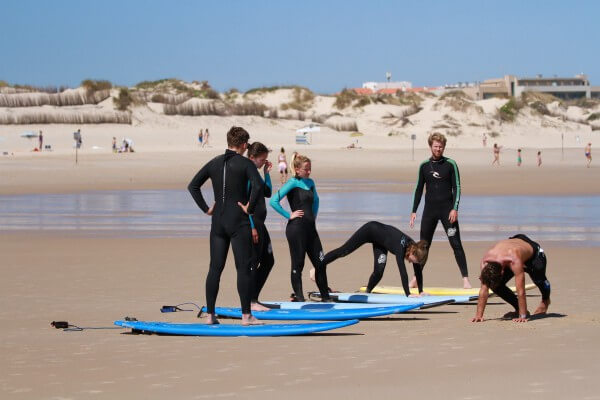 The main aim of this day - try to stand up on board. We practice a lot on the sand to improve our stand. Instructor told us several hints to make our stand better so that we have more chance to stand on the board in the water.
Beside improving our stand we should learn how to paddle, how to catch the wave and then how to take off the board in three steps. First we did it on the sand, then on the board on the sand and then trying to repeat the same in the water… Fuuuf. Hard enough. Still nobody from our group stand on the board. However, some guys from other groups successfully stand up (some of the guy has experience with body surf and another two are good snowboard riders)
Day 5: July 3, 2015
Sunny day again and we are driving to the same place with nice waves.
As usual we had a warm up and then practice how to paddle laying on the sand and then how to take off in thirs steps.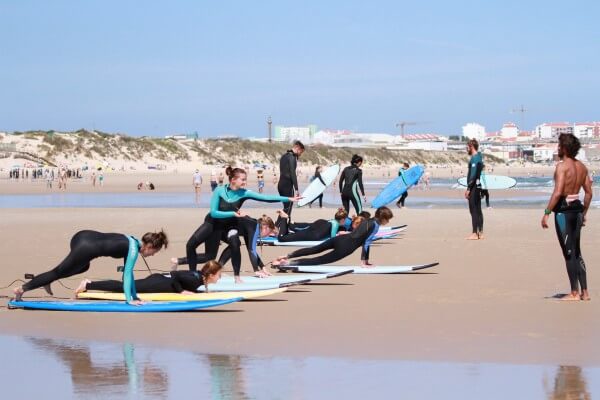 One thing I understood for sure is if you want to be a good successful surfer you should train your arms a lot. You can't paddle decently if your arms are weak (as mine are :)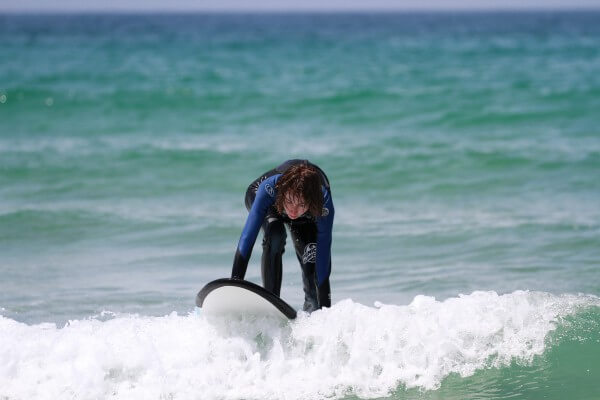 Trying to take off
Nevertheless I catched the wave and ride on it standing up at the end of the second session! Hooray! (No need to say it was more accidental than regularly :)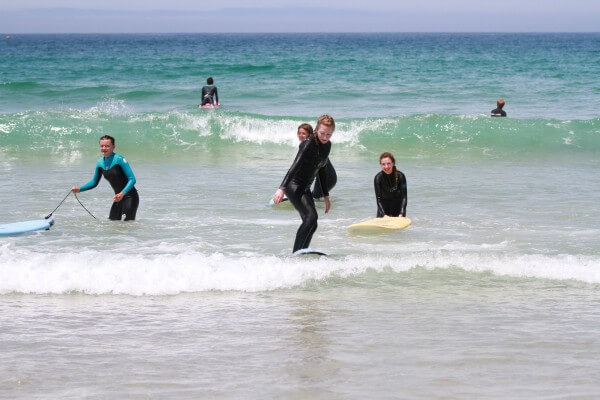 Vera riding on board
Result of the day: Most of us stand up on the board and catch the waves at least several times.
Day 6: July 4, 2015
Today is our last day with surf lessons….. All of us could stand on the board somehow. Guys ride on the waves quite good for the beginners. During second session we were riding on our own without any help of instructors, practicing and practicing…..
Conclusion: I enjoyed every minute during my stay in Baleal. Frankly speaking, surfing was not the most important part, because everything else was too good - our instructors, atmosphere in our house, yoga on the sunset, parties, dancing on the beach at night…..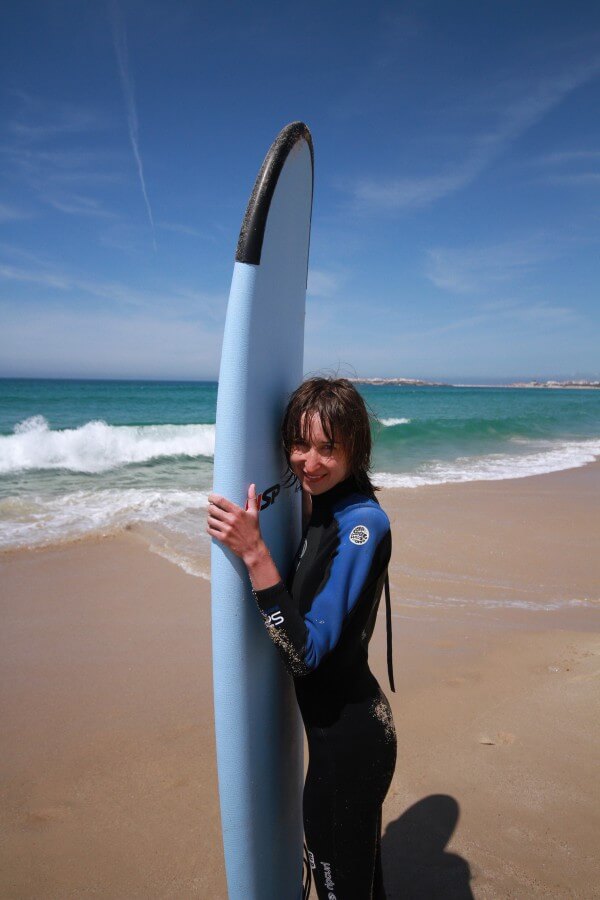 I want to thank Anna Tsukur, who organised this surf camp for all of us. Thank you Anna and all who share with me all that unforgettable moments.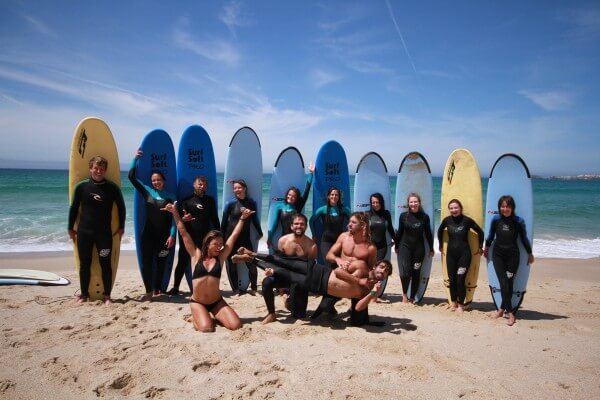 All of us together with instructors