In this article I want to tell you about different kind of transport in India and how you may move around the country.
We have been travelling in India with backpacks for one month using only public transport.
It is rather easy and convenient to use public transport in India, but there are some specific details you might want to know before travelling.
Contents:
Trains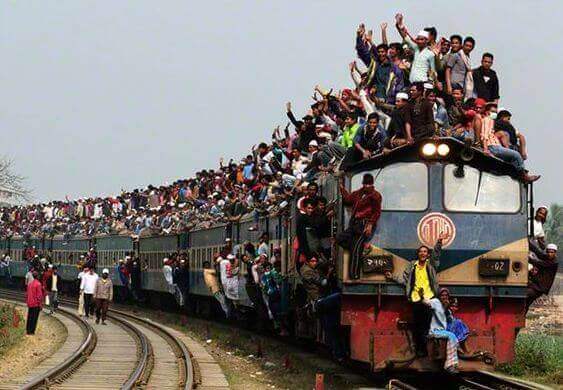 Don't be afraid, indeed it is not that situation described on this foto!
You can buy tickets online while planning trip at home. There is very convenient and liable website http://www.cleartrip.com/ that cooperates with official Indian Railway reservation & ticketing system (IRCTC) and charges only 20 Rupee (0.3$) in addition for each ticket for their services.
You may want to buy ticket on the official IRCTC website but it is not so friendly and you should have Amex payment card issued in specific countries (fortunately, including Australia and UK).
You can read very nice article about trains in India and how to buy a ticket through Cleartrip here http://www.seat61.com/India.htm
If you are planning to go by train (especially for a long distance and in the specific class of the coach) you should buy tickets as far in advance as possible (as tickets get sold out rather quickly).
What are classes in Indian trains?
There are many classes of coaches in the Indian trains. We usually choose second class (AC2 or 2A) for long distance traveling (during the night) and sleeper class for day trip (that were usually not so long). In my opinion, there is not so much difference between 3rd (AC3) and 2nd class (AC2). You have only 5 neighbours (2 side berths and 4 in your compartment) in 2nd class instead of 7 (there are two additional berth in your compartment) in 3rd one but it is not a big deal while price differs quite significantly.
Once, we have been allocated to the first class (although, we bought tickets for the AC2). Of course it was better than AC2 and AC3. The biggest advantage as for me is that there are no side berths and there are doors to close your compartment. Moreover, usually this class is used by more wealthy Indians who are more pleasant to spend a night in one compartment. But prices for this class is big for us.
As for the sleeper class (SL) I was afraid to use it for the first time but in generally it appears to be not so scary. All passengers there has their tickets with a reserved seats, therefore they could occupied your seat or the whole berth, but you can kindly ask them to free your seat. As for me, sleeper class is a good option for day trips as it is much more cheaper.
Public Buses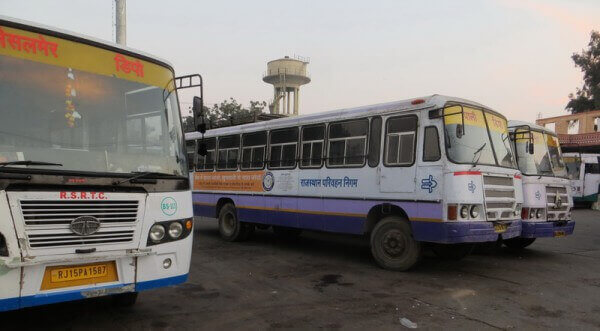 Bus station, Jodhpur
We used public buses rather frequently while traveling in India, because they go almost anywhere you may want to go. In most cases you couldn't buy ticket in advance, you just come to the bus stop before bus departure and at the best, buy ticket in the counter or buy ticket in the bus (there is always the man who sell tickets along with driver).
All this means you won't have a guarantee seat and it could be confusing sometimes.
Some buses are overcrowded, some are not - so it depends on where and when you want to go.
We spent rather much time in public buses. Our longest trip was from Palitana to Ahmedabad that lasts for more than 6 hours. But there is nothing that anybody could stand. Bus stops several times for 15 minutes to allow you to drink and eat something and you may want to go to the bathroom, too.
Private Buses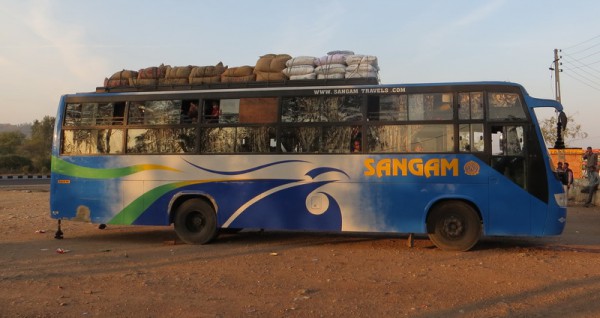 Private bus, Ahmedabad - Udaipur
It is really hard to advise whether or not to use them. We have both good and bad experience with private buses. As we concluded, it's better to buy tickets for such buses in advance using website redbus.in
Advantages you will get are:
reserved seat
you can choose best rated bus company
you could buy tickets in advance.
Buying tickets for private buses in the travel agencies in town is rather challenging. Once, we had completely bad experience when we bought ticket from Agra to Delhi bus. We didn't have reserved seats, bus was very uncomfortable, it departed 2 hours late and dropped us off far away from Delhi city on the unknown bus stop.
But usually situation is not so dramatically bad with private buses. They are more comfortable than public ones. Moreover, there are sleeping buses with rather comfortable berths where you can spend night.
Price for private buses is at least two times higher in comparison with public ones.
Among the disadvantages:
private buses usually depart (and arrive) not from the city bus station, but wherever it is convenient for them, which is not always convenient and clear for you.
price is higher
Have a nice trip to India! Open yourself to the world and it will respond you the same.
If you want to know about main advices for the first-time travellers to India, please read my article India travel tips.
Information about best seasons in India you will fint in my article When to go to India.