I had been dreaming about and planning my first travel to India for more than 2 years. There are many frightening reports of other travellers all over the internet about India, that is why it was a challenge for me to go to India.
Fear and curiosity, desire and concerns overcame me, but finally I'm here, in India.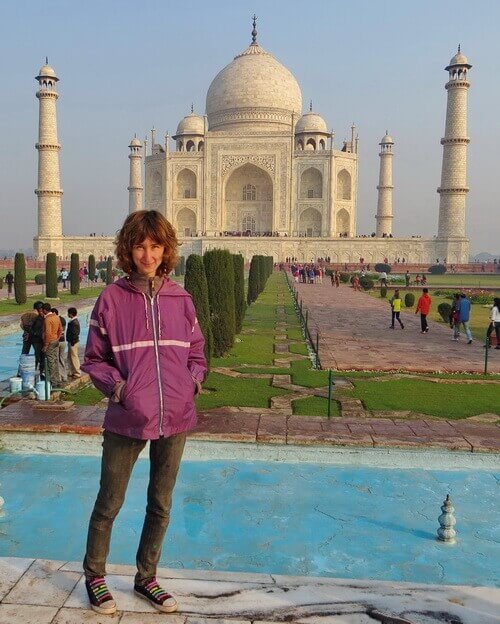 Taj mahal and me
I spent only one month here, but it was one of the most exciting and breathtaking days in my life. We have been travelling together with my friend on our own, independently. Everyday India didn't stop to surprise us in different ways, but with each new day I feel that India and I became much more closer…. So I think we became friends in some sense at the end of my trip.
We got a lot of life experience and practical knowledge that I want to share with you. Hope it will be useful for those of my readers who are also going to India but have some doubts, as I had.
To begin with the most important tip: don't be afraid! Now, after a month of traveling in India I understand that all my fears were exaggerated a lot.
Leave your doubts at home and go to India! You won't regret!
Just be ready to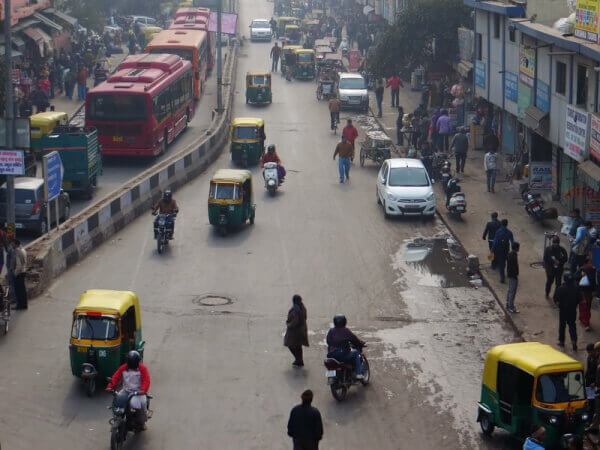 Road near Main Bazaar, New Delhi
noise
It is hard to sleep in India if you have a dog-sleep because it is really very noisily either in the hotel (because it is usually very bad soundproofing and very noisy staff) or on the streets (where life begins early in the morning)
It is hard to talk on the streets as it is very noisily there because of the cars, buses, motorcycles and tuk tuk that beep continually trying to commit more noise than other vehicle.
unpleasant smell
There are streets where smell is hard to stand. It is not about that all India smells bad, but it happens sometimes that you want to pass this street as quickly as you can.
India men used to go to the toilet at best in the urinals that stand along the road or in any convenient nearest location.
obtrusiveness
Indian people are very obtrusive. Just try to keep calm. You won't be able just to stand in the middle of the street and figure out where you should go. At once, somebody will come to you offering his help (it will be driver of taxi, tuk tuk or, seller or anybody who want to talk with you).
You won't be able just to examine anything in the shop - at once seller will come to you offering this or that.
And so on and so on….. Sometimes it becomes very annoying, you definitely want to left you alone, become invisible. But this is India and it have to be accepted and loved somehow.
suprise
Don't forget about:
drink only bottled water. Even when brushing your teeth use water from bottle.
use sanitiser for hand every time before eating
What to eat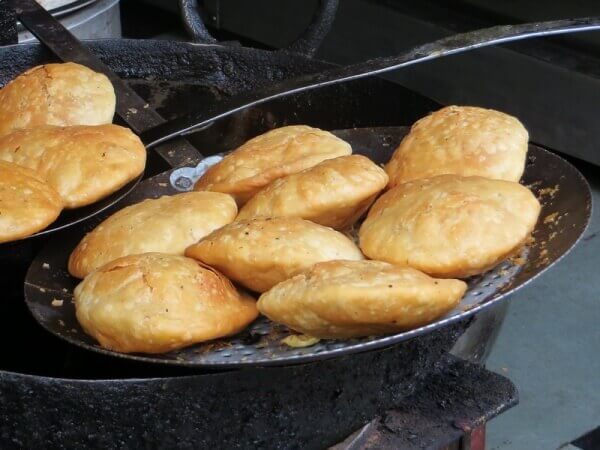 Kachori in Udaipur
As soon as you relax and allow yourself to eat street food you won't be hungry in India anymore. Street food is everywhere and sometimes it's really hard bypass it as it looks like very mouth-watering. Fortunately, we didn't have any troubles (as diarrhea, nausea) during our traveling, although we always ate street food. Among our favourite meals in India are:
masala tea - it is very very tasty, with milk and spices. we drank it a lot, always when there was an opportunity to.
samosa - fried triangle pastry usually filled with potatoes and lentils, served with some sauce. We chose carefully what samosa to buy and always bought hot ones, that were fried with us.
kachori - fried round pastry, similar to samosa but with slightly different filling and sauce
palak paneer - a gravy made from spinach and paneer - indian cottage cheese. We usually ordered this meal at the restaurants with roti or chapati - indian bread.There are many variations of sauces with paneer, such as Mattar paneer (paneer in tomato gravy with green peas) or Khoya paneer (paneer in sauce with onion, garlic, etc) but palak paneer stayed our favourite.
indian bread has many many variations, there are roti, chapati, naan, paratha - all are tasty!
Thali - we ate tasty unlimited thali while traveling in gujarat region. Usually thali consists of plain rice, indian bread such as roti, mix vegetables and of course dal - soup made of beans.
masala dosa - a big rice crepe with potato filling, served with sauces
lassi - it is tradition drink, similar to yogurt, made by blending yogurt with water, ice and fruits. There a many kind of lassi - salted lassi, banana lassi, mango lassi, etc. Our favourite was banana lassi.
If you want to know what is the best time for visit India, please read my article When to go to India.
How to move around India you will find in my article Trains and buses.