if you are still in doubt whether to go to Bijapur or not, I will definitely advise you to visit this town! Bijapur is a treasury full of architectural monuments, but two of them - Ibrahim Rouza and Golgumbaz are the "must see" if you are traveling in India. Please find my experience from traveling to this nicest city below.
Contents:
How to get to Bijapur
Railway station in Bijapur make it easy to get there by train, there are several express trains connecting Bijapur with Mumbai, Bangalore, etc. There is also a bus stand where you will find buses to even more destinations.
We got there by night train from Pune (AC tier second class).
Hotels in BIjapur
We have lived in Hotel Pearl. I didn't visit other hotels but I think this option is good. First of all it is very near to Golgumbaz (5 minutes walking) and to railway station (10 minutes walking). There is good restaurant in the hotel, called "Qaswa Hills" with decent prices and very tasty food (we tried aloo paratha, paratha, kulcha, palak panner, malai kofta, paneer hyderabadi, cream of mushroom and everything was good).
First night we lived in the room facing another building and it was bad, frankly speaking. There were no daylight, it was very noisy as it faces backyard of the kitchen and there is no fresh air as next building is very-very close. But for the next nights they gave us another room facing road with balcony and big window, it was a little bit noisy but I liked the room though.
Hot water is only in the morning and in the evening. Wifi was ok. Recommended.
Places to visit in Bijapur
Ibrahim Rouza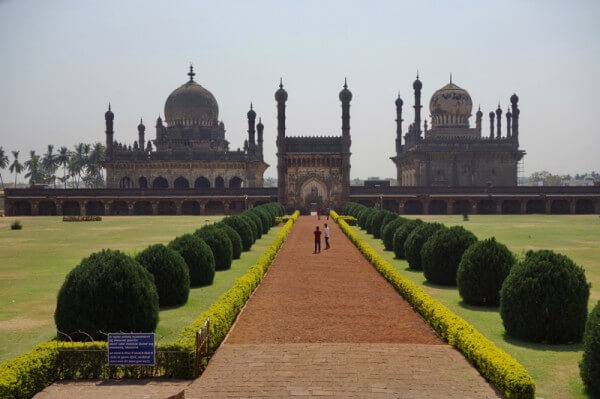 Ibrahim Rouza, tomb on the left, mosque on the right
If you asked me to describe this places of interest in one word it would be just "magnificent". It was exactly that occasion when reality is much more better than photos. Located on the other side of the town, 4 km from our hotel, so we got tuk tuk (for 50 Rupee) to reach it. It was midday, it was very hot but it was almost nobody there, what a chance to explore this marvellous complex in silence and solitude!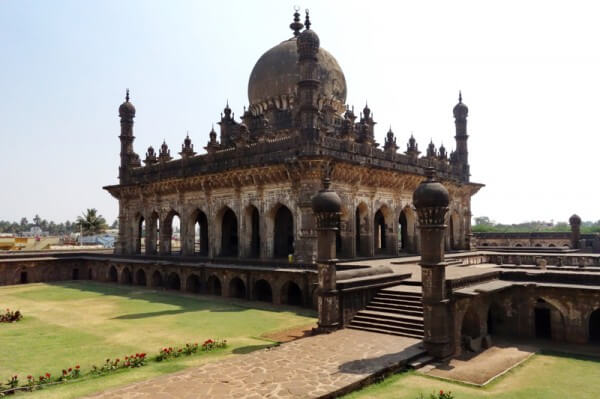 Magnificent tomb of Ibrahim Rouza
Ibrahim Rouza consists of two buildings, tomb and mosque. Once I saw the tomb I was impressed with the beauty of this building, carved with arabic ligature, with wooden doors and shutters, with arches… Everything was so much amazing that I just stood for a while trying to capture all this beauty, to keep in my mind the every small detail… But I know that ruthless time will erase all this beauty from my memory in a while.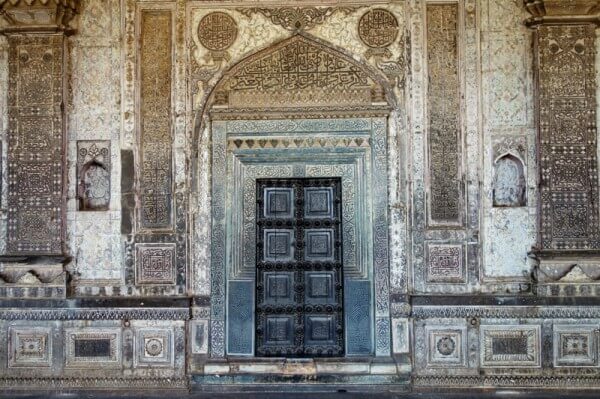 Doors in Ibrahim Rouza tomb
It is said that Ibrahim Rouza prefigured the grand Taj Mahal. And I could easily believe this.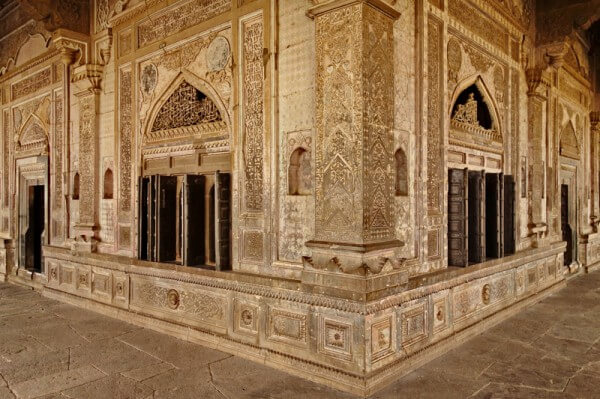 Carved walls of Ibrahim Rouza tomb
Mosque is also very nice, but its beauty fades in comparison to tomb.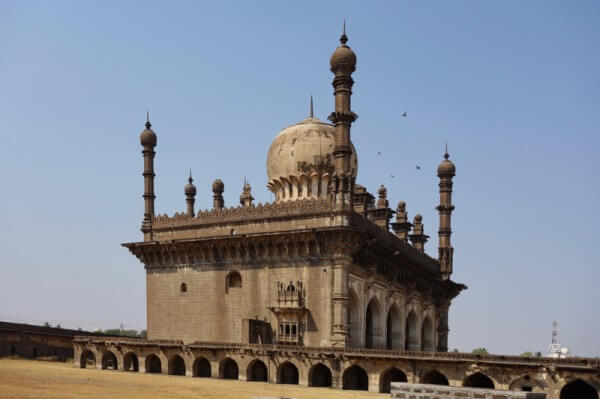 Mosque
Entrance fee is 200 Rupee (3$) for foreigner.
Gol Gumbaz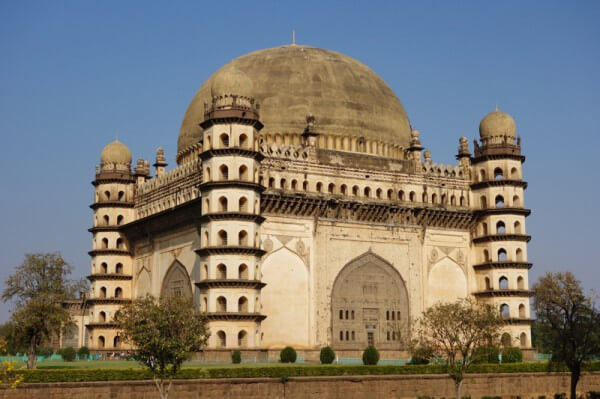 Golgumbaz
Gol Gumbaz is another must visit place in Bijapur. First of all it will impress you with its size, it is really so big! Its dome is the largest in the world after St Peters Cathedral in Vatican. It is not so much beautiful as Ibrahim Rouza but it has some very interesting secrets inside!
We got there before sunrise and for a while we were the only visitors. Soon some groups of hindu people come, but there were a few.
Once you ascend to the very top by staircases in one of the tower, you will find yourself near the dome. There are several entrances that leads inside.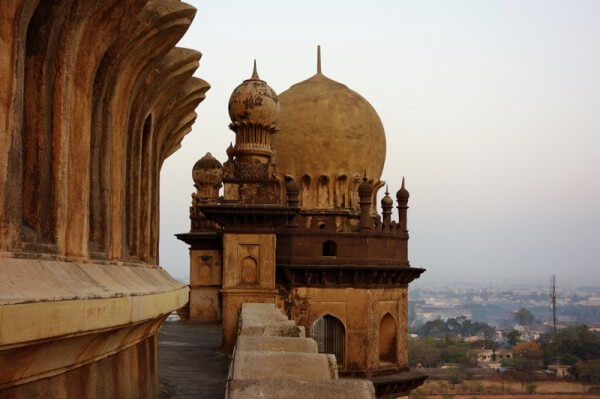 Path around the dome of Gol Gumbaz
So what are the secrets? First of all it is echo. I haven't heard such echo never before, it so clear there and repeat many times. Just try to cry something or just clap your hands.
Inside Gol Gumbaz
To realise another secret you and your friend should stand (or you can sit on the benches that are located properly for this secret) precisely opposite each other and try to say something. Your friend on the other end of the dome will hear you very clearly despite there is 38m between you (38 meters is a diameter of the dome)!
Bara Kaman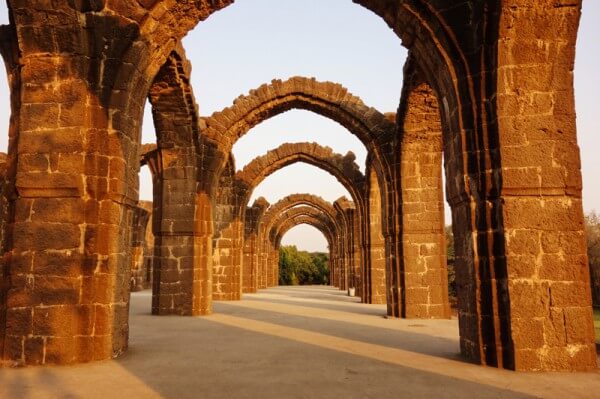 Bara Kaman during sunset
Bara Kaman are arches of the ruined mausouleum surrounded by nice green area. It is located not far from the Main Bazaar that is also a good place to visit.
Malik-e-Maidan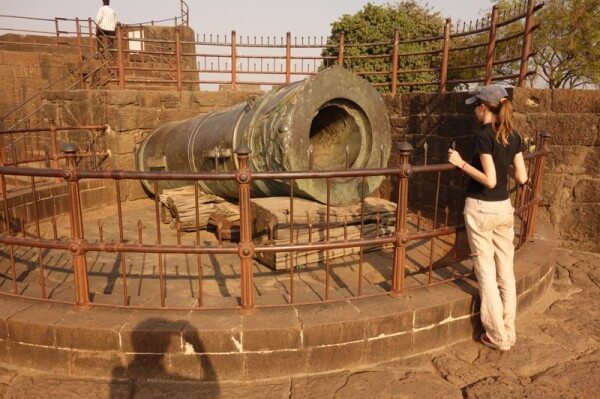 Malik-e-Maidan gun
A big gun located one of the numerous towers of the walls surrounding town, it has 1.5 meters and diameter and 4 meters in length.
Jod Gumbad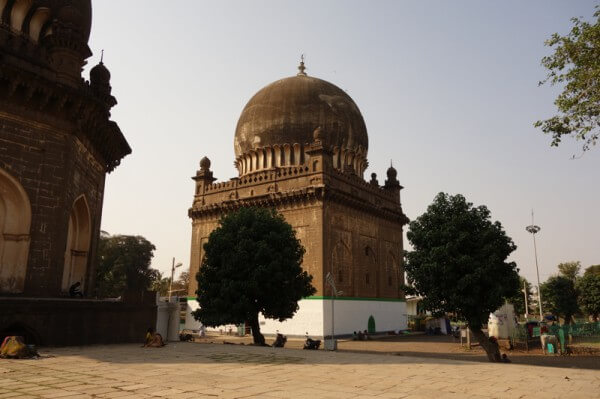 One of two tomb
These are twin tombs, located in not very friendly surroundings. So we hurried to leave this place as it didn't seem to be nice.
Jama Masjid
Unfortunately, we didn't visit this place, as a lack of time, but it seems to be very beautiful when we passed it by.
Enjoy your travel to Bijapur - real gem of central India!