Probably the first question that arise in your head after you have seen the photos of Mandu - should I visit this place? Frankly speaking, it is hard to answer this question, as you know that everything in this world is very subjective, but yes, Mandu is very-very nice… Believe me or not, but it is a unique place.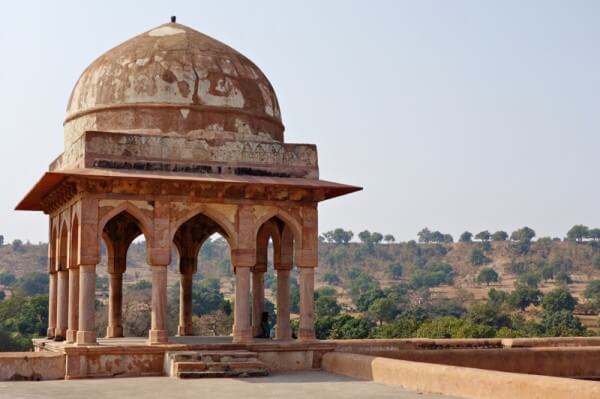 Contents
How to get to Mandu
To reach Mandu you should go to Indore first (there are a few trains from Mumbai, Delhi and Bhopal) and get to Gangwal bus station. Theoretically, there are some direct buses to Mandu, but there are a few, so you will probably (as we did) first catch the bus to Dhar (around 2,5h, 60km, 60 Rupees=0.8$) and after that another bus to Mandu (1,5h, 30 km, 30 Rupees). Yes, it seems not so easy way but try to make it and you won't regret.
Once you reach Mandu you will find yourself in the center of the market, opposite to the old mosque among smiling Hindu people. Take a rest, drink masala tea and realize that finally you are here, in Mandu.
Hotels in Mandu
For sure you need to live somewhere, right? Oh yes, I forgot to say that in my opinion you need at least several days for visiting Mandu.
There quite many options where you can spend the night or several in Mandu and of course as usual it depends on your budget. First of all in the very center of Mandu there are very simple yet cheap rooms for about 300 Rupee per night, ask for Rama Guesthouse.
If you follow the main street to the north you will find Shivani hotel and opposite it Gurukripa hotel. Shivani hotel has spacious rooms, some are with big window overlooking pasture. We lived in this hotel and like it (however, first we asked to change all linens because it was too dirty), hot water is 24 hours but there is no wifi. Price for double room is 1000 Rupee (15$). Recommend!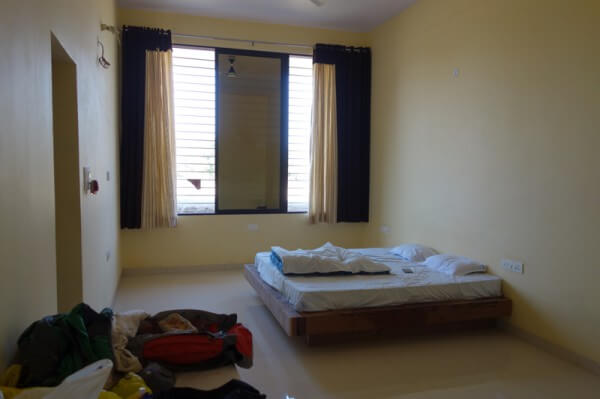 Our room in Shivani hotel
Gurukripa hotel has a little bit gloomy rooms, they also promise water and the price after bargaining was 700 Rupee.
If you want more luxury stay than you should choose Malwa Resort, situated 2km south from the center of Mandu. There you can relax with views over the lake, however be ready to pay 4000 Rupee per night.
Where to eat in Mandu
I was really surprised that Mandu has even several options for dining (all have quite similar prices). The worst and nearest to the center option, restaurant called Kaka situated just on the corner of the market square, but we didn't like the food there (we ordered chapati and paneer special daily).
Shivani hotel has its restaurant situated on the opposite side of the street, we tried thali there, but didn't like it a lot, however, it is not bad option.
Our favourite option was restaurant Gurukripa, it has the best atmosphere. We had dinner there twice, and both palak paneeer and mutter paneer were good, together with butter chapati. Gurukripa restaurant situated on the main road, opposite Shivani hotel in 200 meters from the center of Mandu.
Places to visit in Mandu
Probably you have already known that Mandu is situated on the plato and is full with finest examples of Afghan architecture. Here and there you will see tombs and mosques. And don't miss the great baobab trees, Mandu is one of the few places in India where you can see this unique trees!
Rani Rupmati Mahal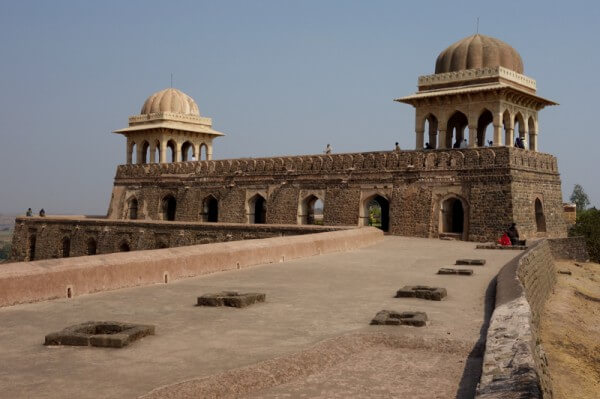 Rupmati Pavilion
4km south of the center of Mandu lays Baz Bahadur palace together with Rupmati Pavilion. When I read reviews about Mandu almost all travellers wrote that this complex of ruins is the most impressive. So in the morning we rented a bicycle (there are several places renting bicycles along main street in Mandu, opposite Shivani hotel, for 80 Rupee = 1.1$, but bicycles are old and in the bad condition, so check them carefully before travelling) and headed to Rani Rupmati Mahal. Road is quite good, there are no hills and it is pleasant trip where you will see small tombs scattered in the green wheat fields, clay houses of locals and funny buffalos.
Road in Mandu, don't miss baobab trees!
There are almost no places where you may have a lunch, except restaurant in Malwa Resort complex or several stalls with masala tea along the road. There is one cafe with snacks (samosa, kachori, tea) just near entrance to Rupmati Pavilion, after the ticket counter and quick ascend (we have tried masala tea and samosa there, it is not bad).
Entrance to Rani Rupmati Mahal complex costs 200 Rupee for foreigners (15 Rupee for Hindu people).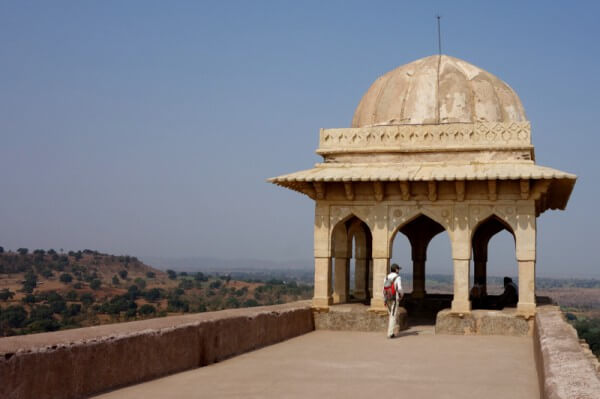 Mirador of Rupmati Pavilion
I was a little bit disappointed of what I saw there, probably because of my high expectations. Rupmati pavilion is actually two miradors with really nice views, but not so much impressive….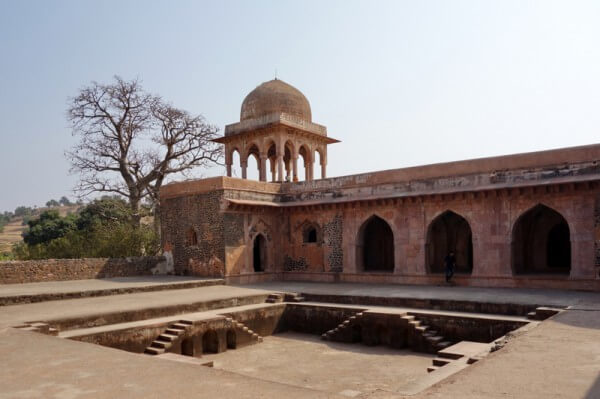 Inside Baz Bahadur Palace
The same ticket covers entrance to Baz Bahadur palace.
Jahaz Mahal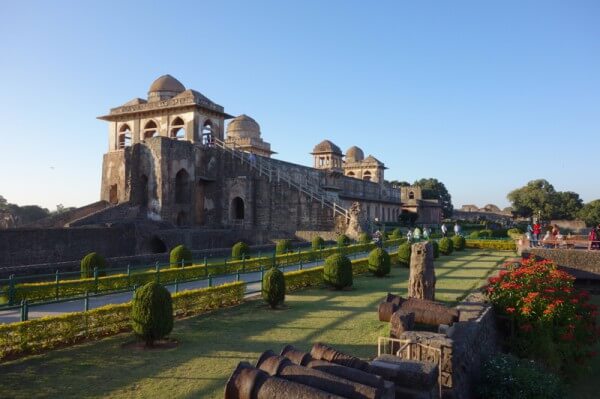 Jahaz Mahal, ship palace
1 km from the center of Mandu, located this huge complex with marvellous Jahaz Mahal, called ship palace because of its shape - palace is narrow and long, resembling ship between two water tanks.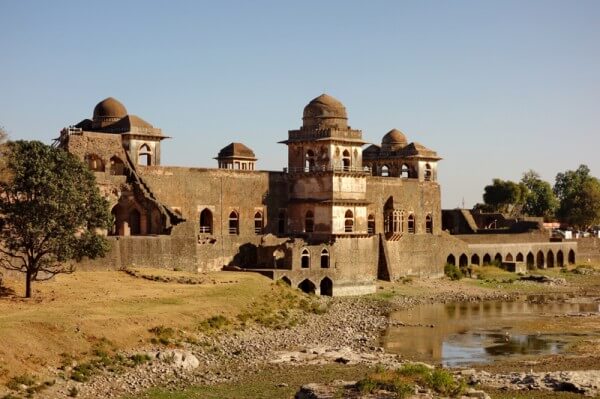 View over Jahaz Mahal from the water tank side
Also you will find there swinging palace called so because of its sloped walls, old hamam, mosque, stables, water tank, etc. Complex is really big, very nice and worth visiting.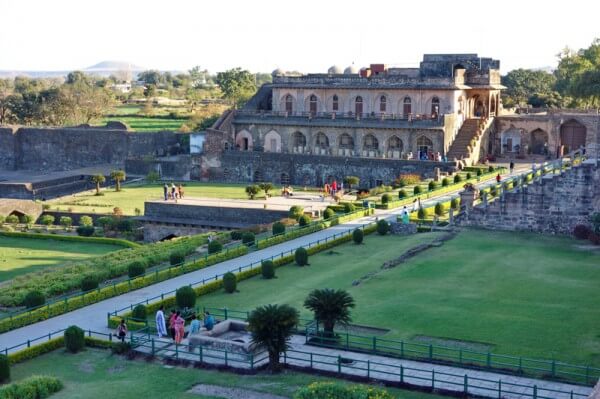 Stables
Entrance fee is 200 Rupee for foreigners (15 Rupee for Hindu people)
Jama Masjid
Big old mosque in the center of Mandu is considered to be the largest Afgan architecture building in India. There is the oldest marble building in India, snow-white Hoshang`s tomb situated behind Jama Masjid. Entrance fee is 200 Rupee for foreigners (15 Rupee for Hindu people). We didn't visit Jama Masjid because of lack of time.
Dai Ka Mahal
Free of charge complex consists of caravan sarai - middle-age hotel with big space inside and small rooms. Malik Mughith`s mosque that was built in 1452 and belongs to the earliest buildings of the muslim architecture in this region, that were built from the materials utilised from hindu buildings.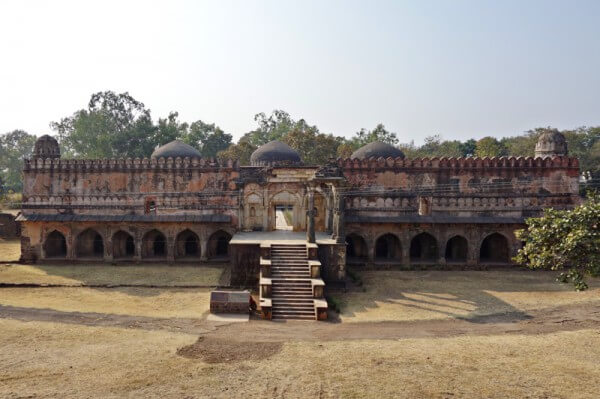 Malik Mughith`s mosque
And Dai Ka Mahal - tomb with pink-white dome. Don't be missed!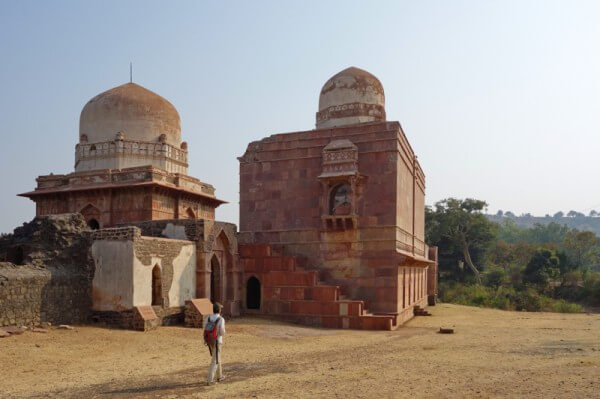 Dai Ka Mahal
Darya Khan Tomb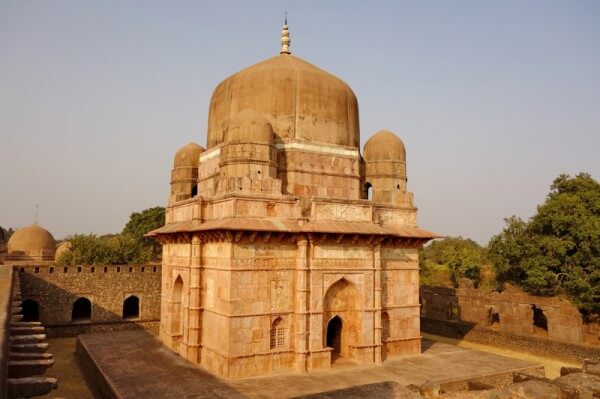 Darya Khan Tomb
Don't miss this free of charge complex with pink tomb!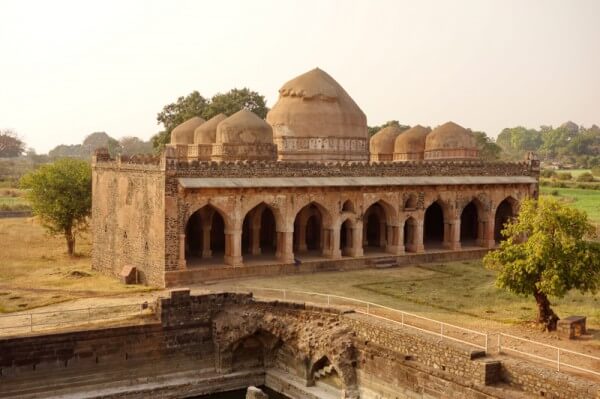 Old Mosque stands near Darya Khan Tomb