Still don't know where to travel in Asia? This article will help you to make the final decision!
I have been asked many times what is the best country to go in Asia.
That is why I have decided to write this comparative article of all countries in Asia that I have visited. Hope it makes easier for you to decide where to go in Asia next (or first :) time.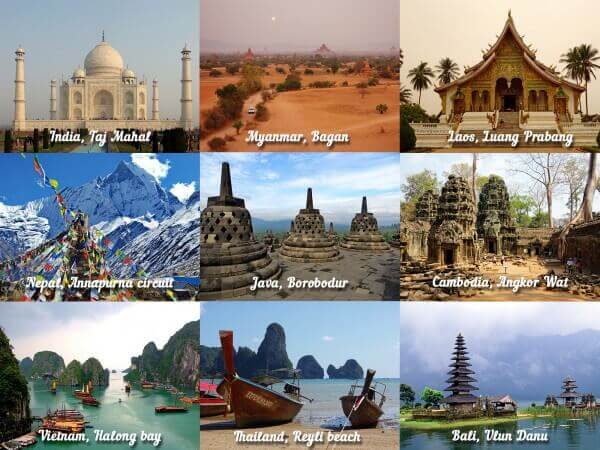 Contents:
Overview of all countries with comparison table
Where to go in Asia - it is really hard question to answer - as every country has its cons and pros and it depends much on what do you like the most. So please first of all take a look on the first column in the table that described what this particular country is good for. (Yes, everything described in this article is my subjective point of view. You are welcome to express your thoughts in the comments below the article)
Now, when the article is more or less completed, I can say this was my longest one… I have been writing it for at least several months, shelving it and then returning again.. That is why it is very important for me to know your opinion about it.
Below is a comparative table with all countries, briefly describing the main aspects of each country. (Please note: on mobile devices table is not displayed entirely because of lack of space)
Under the table I will describe each country in more details.
Country
Good for...
Hotels
Transport
Food
Places of interest
People
India
- meditation in the monasteries
- those who wants more
There are many offers for every budget.
Price starts from several dollars per person per night.
Plenty of trains and buses around the country. As a big advantage - you can buy tickets online.
Street food is cheap, but not very health. Food in restaurant is very tasty and varied, but not for meat lovers.
Whatever you like - you will find something very special in India. Temples, forts, palaces are amazing.
Of course, people are different as everywhere, But there are many of pesky vendors who want to trick you. Just be ready!
Nepal
trekking
There are a lot of nice cheap hotels in Kathmandu and Pokhara. Less in other towns of Nepal.
Price starts from 5 USD for double room.
There are some tourist buses between main places of interest. We have used tourist buses for long distances and public buses for short one.
Nepal cuisine is not varied. Momo, traditional dumplings, are cheap and wide-spread
Usually, people travel to Nepal to go trekking around еру highest mountains in the world.
Nice, kind people. They are very different from people in India. Vendors are not pushy at all. They seemed to me honest and more closed.
Myanmar
those who are searching for off the beaten track
Hotels in Myanmar are expensive and low level.
Be ready to pay at least 20$ for the double room.
Overall, transport network in Myanmar is good enough. You will easily get to the most visited places by bus or train.
It shouldn't be the problem to eat in Myanmar as the cuisine is quite varied. There are many cafe and street food. Don't miss pickled tea!
There are much to see in Myanmar! Beginning with well-known ancient city of Bagan with its more than 2 thousand temples. And ending with some hidden gems such as Inwa.
People in Myanmar are one of the best around Asia. They are kind, friendly, frank and sincere.
Thailand
- the first visit of SE
- for swimming
-for those who like ancient temples
You can find both cheap and high-level hotels in Thailand.
Usually, price for double room starts from 10$
Transport network is very good in Thailand. There are both trains and buses. Also there are many ferries to the islands. So you are free to move around.
As for me, food in Thailand is one of the best throughout Asia. It is quite cheap, there are many of fruits. But give yourself the time to get used for the food and its variation.
There are many to do and to see in Thailand. It depends on what do you want. Most of the tourists get there for swimming and relaxing, but there are amazing ancient complexes worth visiting.
People are nice and smiling.
Laos
- for relaxing
Overall,hotels in Laos are cheap, especially in tourist places. For example, on Dot Det island you can rent a bungalow for 2 person for only 5$, but don't expect much from such cheap places!
There are no trains in Laos, but there is not so bad tourist bus network. Almost every hotel and travel agency will offer you buses to many destinations
The most popular fast food in Laos is baguette with chicken. Price varied from 1$ to 2.5$
If you want something more healthier - try traditional Lao rice noodle soup.
Have you known that there are coffee plantations in Laos? And that there is still the remains of old temple complex of the times of Angkor Wat?
Nice people, especially children in the remote villages. It seems I will remember forever their joyful "Sabaideee" following our scooter.
Vietnam
- for something new in Asia
Hotels in Vietnam are probably the best in Asia - you will get very nice room for cheap price. We paid 20$ in average for the double room and that were our best hotels in Asia.
Trains network in Vietnam is rather good.
Trains are comfortable, but not very cheap. You can buy tickets online beforehand.
I can't say that Vietnam is a food heaven. However, tasty soup Pho and vietnamese fast-food Bahn mi - what we usually eat - are rather good options.
Vietnam is great because places interest are very diverse there - from beautiful caves to impressive tombs and joyful aqua-park!
People are nice, we felt ourselves very comfortable in Vietnam.
Cambodia (Siem Riep
- for the first visit of SE
- for those who like ancient temples
Our cambodian hotels were just great. Not cheap ones (average 40$ per night), but there are plenty of proposals for every budget
Transport network is poor. There are some tourist buses but the condition of roads is so bad that it takes quite a long time to get from one point to another.
We didn't try traditional food, but pizza and beer were just excellent.
We have visited only Angkor Wat and I could say it is great… Yes, it is great despite all that crowds there.
All people that we met were very nice, hotels staff and tuk tuk drivers were welcoming and pleasant and tried to do their best.
Bali, Indonesia
- for surfing, swimming and relaxing
There are a lot of hotels in Bali for every budget. We spent 17$ in average for hotels and all of them were simple but good enough.
Public transport is not widely spread on Bali. It is much more fun to rent a scooter and drive by your own!
As for me, food on Bali is not great and not varied.
Bali is a heaven for surfers and ocean lovers. There is not much to visit there, besides some popular temples.
Java, Indonesia
- for off the beaten track, amazing volcanoes and ancient temples
Hotels on Java are expensive and very poor. Our average hotel's price was 21$ per night.
There is trains network that links the biggest cities in Java. You can buy tickets in advance
Rice is a main dish in Java. Try very tasty and cheap street food martabak!
There are unique and amazing places of interest in Java, that can't be found anywhere else in the world.
India (North)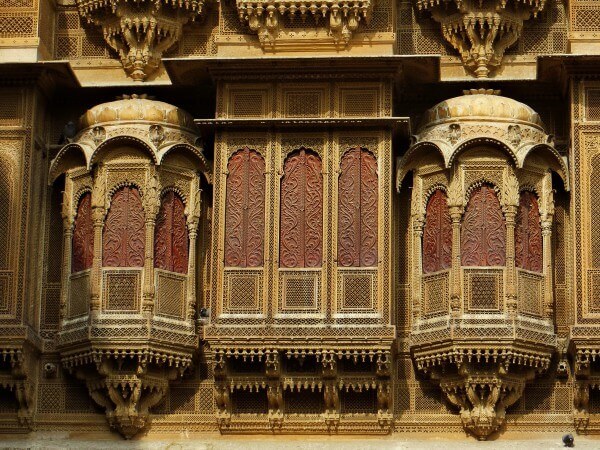 Jaisalmer, India
India is really huge country and everybody could find here what he likes the most - from secluded monasteries in the mountains for meditation to bustling tourist cities.
Hotels
Price start from several dollars per person per night. We booked all our accommodation in advance using booking or agoda, but there are numerous of travellers who prefer searching for hotels on the spot.
There are different kinds of the hotels in India that allow you to choose between comfort and money. There are many really very cheap offers for those who travel on a budget, but you should be ready for the appropriate atmosphere of the apartments.
We usually chose mid-range hotels, for the price about 15USD per room for two person.
Transport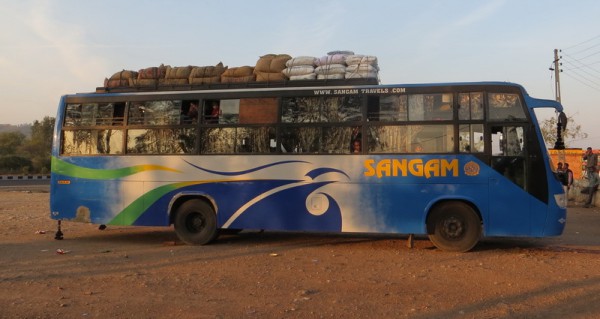 Bus, India
Public transport in India is very convenient and it makes travelling around this big country easier. There are several options of transport - trains and buses. There are different classes of coaches in trains depending on how much money you are ready to pay for it. High class coaches are rather expensive but comfortable. There are many buses as well, both public and private one's.
Please read my overview of transport in India for more detailed information.
And one more great advantage of transport in India - you could easily buy all tickets for trains and buses online. Read my article and you will know how easy to do this.
Food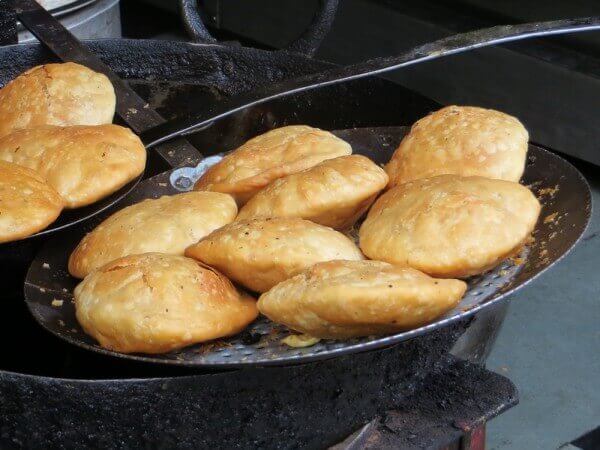 Fried street food, India
Cheap food like samosa is sold almost everywhere and it is very cheap and tasty (and very hot!). We ate them a lot as it was the easiest way to have a snack. However, we noticed that very soon our stomachs protested against such food. There are plenty of tasty dishes in the restaurants, but preferably without a meat, so this country is a heaven for vegetarians and hell for meat lovers.
Try chapati and palak paneer! And of course, nobody could leave India without tasting a cup of extraordinary masala tea!
As for the intoxication, we ate a lot of street food and drank many cups of masala tea. And we have never felt nausea. However, our stomachs were sick quite often, so we tried to eat not very hot food and preferable in the restaurants.
Prices: samosa - from 0.25USD, masala tea - from 0.15USD, palak paneer in the restaurant - around 2USD
People
Frankly speaking, sometimes we were tired of pushy vendors, but overall people are nice and kind. Every time somebody asked us something, it was hard to believe that person just want to talk to you, as it seems that everybody want to sell or offer you something in India.
Safety
We tried not to walk after the darkness, but sometimes we had to (for example because our trains arrived very early in the morning, or departed late at night) and we felt quite safely. There are a lot of articles about thefts in India, but it may happens with you in any corner of the world. Just be careful!
Must see places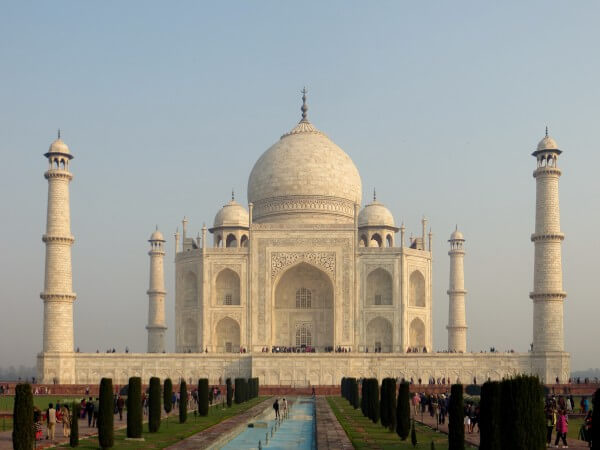 Taj Mahal, Agra, India
Taj Mahal - marvellous white mausoleum. It was my childhood dream to visit this place. The night before visiting Taj Mahal I could sleep, I was so nervous. I was afraid that my dream will come true and in what way? Is Taj Mahal so amazing as I imagine it in my head? Yes, it is…. It is even more impressive that I expected. Small tip: visit Taj Mahal in the morning, on the dawn
Jaisalmer - town among the desert with picturesque fort. Camel ridings in the desert are very popular among tourists. Spend at least several days here - town is very relaxing and the atmosphere here is so nice. There is a convenient night train from Delhi to Jaisalmer.
Gujarat region - this less known district among tourist is worth visiting for sure. I fall in love from the first sight with the city of Junagadh. Girnar temples in the mountains are amazing, as well as Palitana temples.
Ranakpur temple - far away from bustling part of India, this beautiful temple situated among green hills. Must visit for those who like temples and is tired of noisy India.
Udaipur - one of my favourite cities in India, it is rather big to have something for exploration and adventure, but not as big and crowd as Delhi and Jaipur. It is very tourist, with nice hotels and restaurant offering great views over lake. Spend here at least a couple of days.
Bundi - one more amazing small town with beautiful palace and fort, numerous hotels and very nice atmosphere.
Varanasi - unfortunately, I didn't visit this sacred placy by myself but it is in my bucket list.
Nepal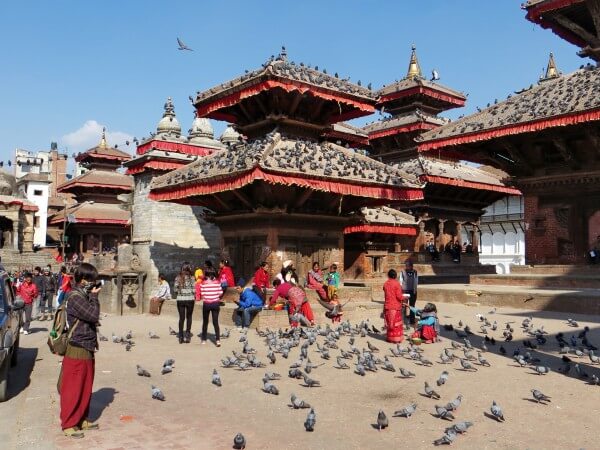 Durbar square, Kathmandu
Hotels
Kathmandu and Pokhara are very tourist cities and there are many hotels for every budget. It is better to find hotels on the spot, we found very nice hotels both in Kathmandu and Pokhara and there were twice cheaper than if book with booking.com
Food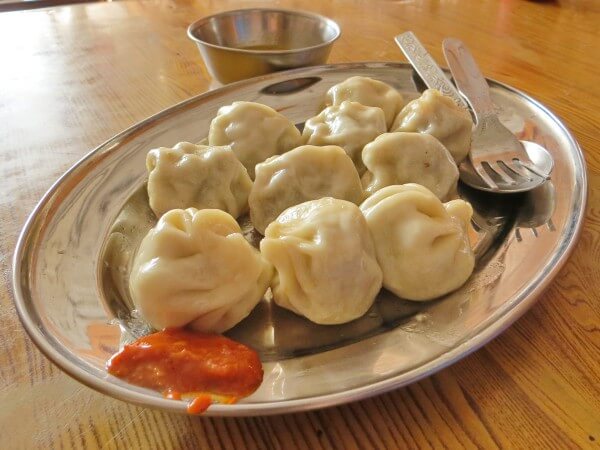 Traditional Nepalese dish momo
Nepal cuisine is not varied. The cheapest and tasty dish is momo - traditional dumpling with meat or vegetables. There are many cafe that sold only momo cooked in big vat. Also, there are many restaurants in Kathmandu and Pokhara where you can choose more varied food for quite reasonable price. Plate of momo (10 pieces) costs from 0.5 USD
Transport
Of course, there are public buses, but bus stations usually situated outside the town and it is hard to reach them. Also we read that public buses are unreliable and slow, so we used private tourist buses for long distances (e.g. Kathmandu to Pokhara). Tickets are sold everywhere in the city center in tourist agencies. Be careful - always check your tickets, it should contain bus plate number and number of your seat! There are a lot of scam in Nepal when buying tourist tickets.
We have used public buses for short distances, it was quite nice and adventurous. We had a ride from Kathmandu to Bhaktapur, Patan and Nagarkot.
Road conditions in Nepal are poor, so be ready to long trip even if distance seems short for you.
People
We came to Nepal from India and were very surprised by how much people in Nepal are different from the nearby India. It is noticeable everywhere, but most of all it was felt on the market. All vendors had been sitting or standing calmly while you looked for something in their shop. Everybody was very affable and honest.
Must see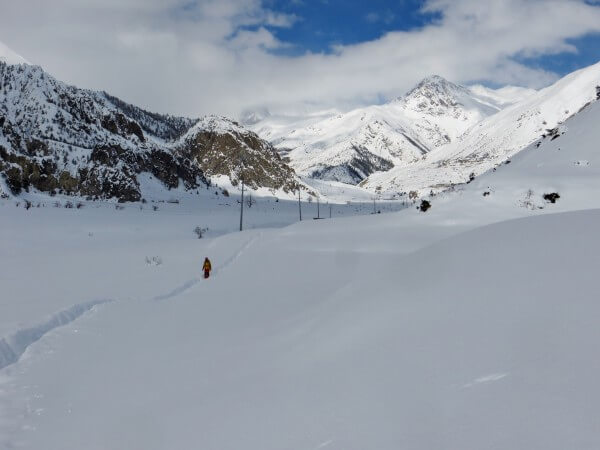 Trekking around Annapurna, Nepal
Although, almost all tourist come to Nepal for trekking to еру highest mountains in the world, there were much to see in this small country, before the earthquake didn't destroy everything… We were lucky enough to see what is just a pile of stones now…. Read my article about top 5 places to visit in Nepal.
Myanmar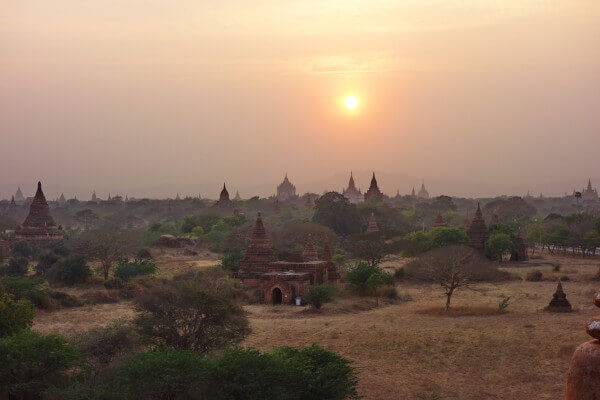 Bagan, Myanmar
Myanmar is probably the most peculiar and off the beaten track among all countries that we have visited. There are still not many tourists there, so be in a hurry to see what is a real Myanmar… Please read my article about 10 interesting facts about Myanmar.
Hotels
Yes, hotels in Myanmar are expensive. We usually live in hotels for 25-30$ and it was one of the lowest price for a more or less comfortable room. We have booked hotels using booking and agoda. Agoda sometimes is more beneficial.
Food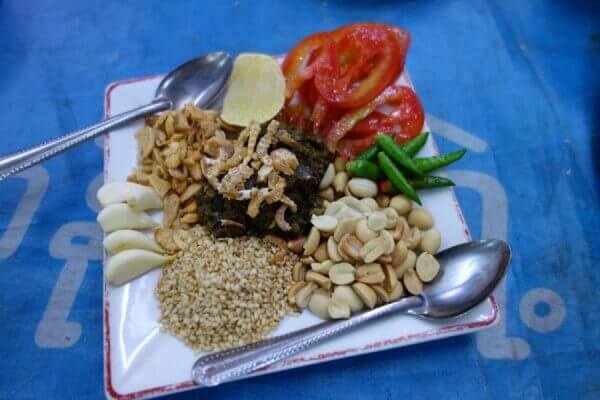 Traditional Myanmar salad with pickled tea
First of all, Myanmar has teashops - small cafes where you can drink very tasty milk tea with some snacks. All around Myanmar in every cafe there is a tradition of free tea - it usually stands on the table and you can drink it as much as you want.
There are variety of rice with different vegetable/chicken curry. Average price for rice with curry iin cafe is 2-2.5$
Street food usually starts from 1$
There is a unique dish in Myanmar - pickled tea that is usually added to traditional salad - it is very tasty and must try!
Transport
Actually, you can get almost anywhere you want using train or bus. There is rather big train network in Myanmar, thus I read many reviews about very slow trains and very bad conditions in trains. The problem with trains is that you can't buy tickets in advance. Tickets are usually sold one day before (if you will be lucky enough) or even several hours before departure. Trains are really very slow and not vey reliable as they usually delay for at least a couple of hours. But…. We have used trains four times and I could say it is a must-do experience in Myanmar as it is a real life and people and scenery outside the window….
Several times we used VIP buses (well-known in Myanmar JJExpress) - they have very good service.
People
I liked people in Myanmar very much. They are kind and sincere. Most of vendors are not pushy. They usually try to do their best when serving you.
I remember that strange feeling… It was midday and we visited a village in the middle of nowhere. Village was very small and there was the only one teashop were we sat down to have a lunch (tea with some patty). There were many men in teashop and all of them were so kind and laughing and relaxing. I felt myself as I was sitting in the kindergarten among children, and not in the cafe among adult men…
Must see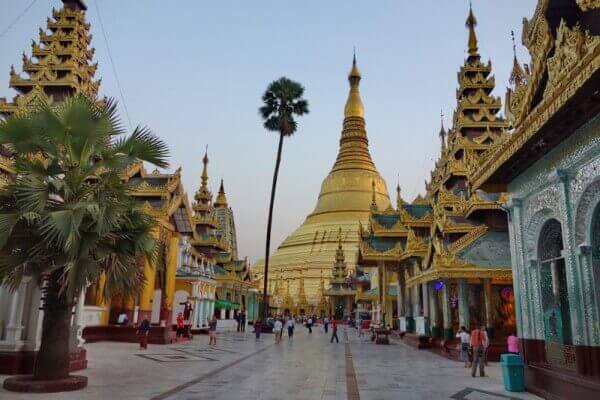 Shwedagon pagoda, Yangon, Myanmar
For more information, please read my list of top destinations in Myanmar.
Of course, number one is ancient city of Bagan. It impressed me even more than I expected.
Inle lake - is another must see destination as it is so unique
Yangon with its charming Shwedagon pagoda is wonderful.
Don't miss Mandalay as there is much to see in it and around.
If you want some trekking - there is a trek around villages nearby Kalaw.
Thailand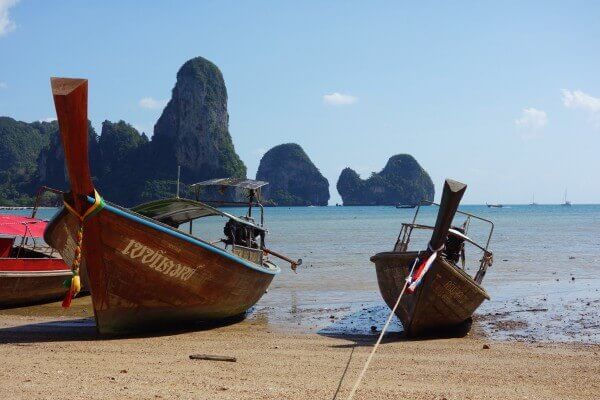 Reyli Beach, Thailand
Hotels
It really depends a lot where you want to live. Such popular destinations as Phi Phi islands and similar have only expensive hotels. However, we found wonderful small bungalow just on the beach on Koh Jum island for 20$. For example, on Koh Lanta island there are also many quite cheap hotels, we lived in very nice modern room with balcony for 22$. Of course, hotels in the mainland are much more cheaper.
Food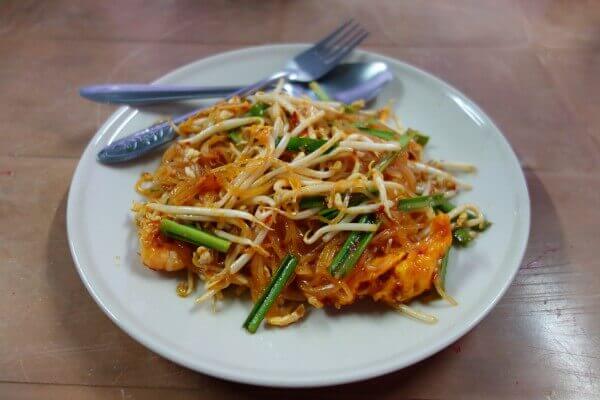 One of the most popular dish among tourist, Pad Thai
As for me, Thai food is one of the best in Asia, but I remember our first trip to Asia and our first visit to night market - how scary everything looked like! I couldn't bring myself to eat at least something despite I was really very hungry!
Just be ready to a small shock, but then believe me - Pad Thai will become your favourite food!
Great plus in Thailand is a variety of fruits - mango, papaya, bananas, pine apple, and much more - everything is quite cheap and very very tasty.
As for the prices, pad thai in the night market will cost around 1.5$, but we also paid 3$ for the plate of Pad Thai in the night market in Phuket - so it depends a lot on the location! We also like "4 soups" network with very tasty soup for 1.5$ for the big bowl (find their bright yellow signs, keep in mind they usually open after midday), it is also favourite places among locals.
And of course, popular banana pancake! Oh, it is really tasty, and will cost you about 1$ per pancake. Once we found a pancake-man who did so tasty pancakes for only 0.75$ but it was in the remote non-tourist village.
Must see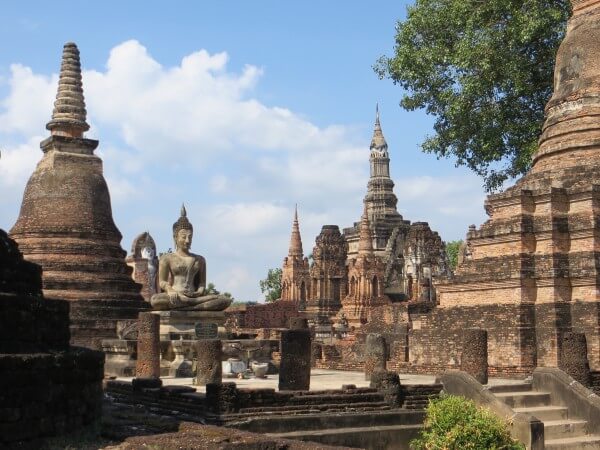 Sukhothai, Thailand
Thailand offers a variety of places of interest, but the warm blue water, amazing underwater world and marvellous beaches - this one of the most frequent reason why people go to Thailand. However, there are some ancients cities that are must visit places besides the beaches: Ayutthaya, Sukhothai and Phimai.
And of course, don't forget about Chiang Mai!
Laos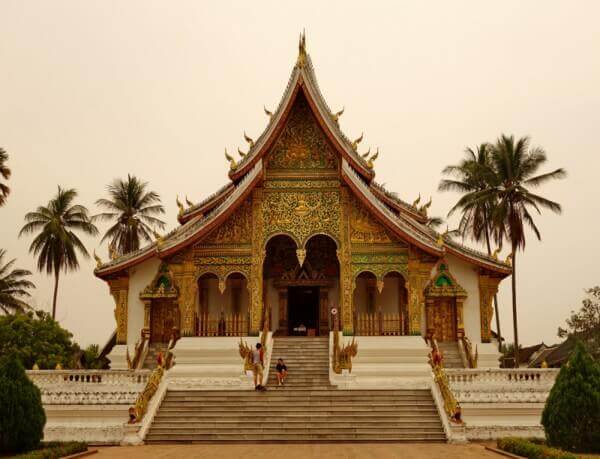 Luang Prabang, Laos
For more information about our travelling in Laos from south to north in 15 days, please read my article with itinerary. Laos is a nice country, spend their at least several weeks to feel the atmosphere of this country.
Hotels
Hotels are comparatively cheap in Laos. For example, on Don Det islands it is possible to find bungalow for two persons with very-very simple facilities for 5$. Simple facilities means shared toilet and bathroom, no windows just mosquito net if you are lucky enough, poor beds, etc. But many of the tourists choose this type of living. We usually have chosen a little bit more comfortable rooms, price varied from 15$ to 20$ per night per room.
Food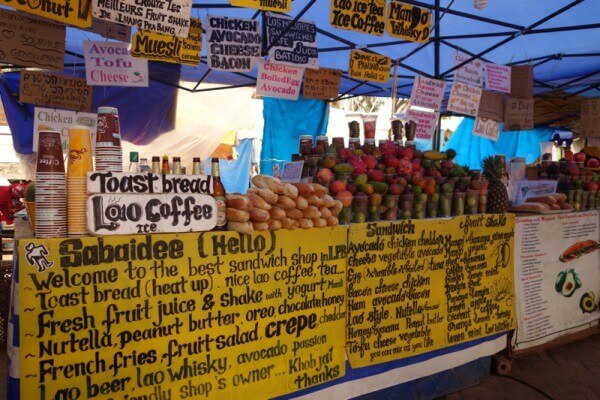 Thanks to French there is very tasty and quite cheap fast food in Laos - baguette with variety of fillings. Our best (and cheapest) baguettes was in Pakse and it was really cheap as it was made for local people. There are many stalls in the centre of Luang Prabang where you can try baguette with chicken, tuna, avocado, cheese and much more. Price starts from 1.2$ per baguette.
As for more health food, try traditional Lao rice noodle soup Pho. Price start from 1.2$ for soup without chicken to 2.5$ for soup with chicken. We usually eat one bowl of soup for two as it is really huge.
Another budget option is eating in the night market, but unfortunately they are quite rare in Laos. There is one well-know night market in Luang Prabang where you can find stalls with food for only 1.2$ per plate of food. Fruits are more expensive than in Thailand.
Transport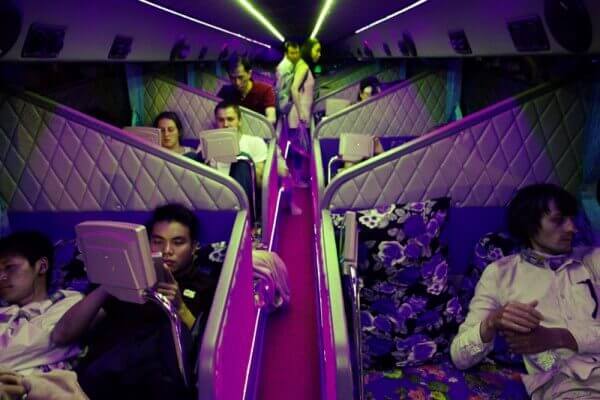 Our night bus from Pakse to Vientiane
There are a lot of pessimistic reviews throughout internet about terrible transport in Laos. That's is why I was a little bit nervous about how we get from South to North of the country. But everything turns out to be much more better in reality!
Yes, the only means of transport are buses and you will likely to choose tourist ones. There are no trains in Laos. Don't expect much of that tourist buses, even if it is written "Very super VIP bus" on your ticket.
And what is a most interesting, is that in Laos we had the best bus we ever had! It was a night sleeping bus from Pakse to Vientiane. It was very comfortable and we sleep all night long.
Must see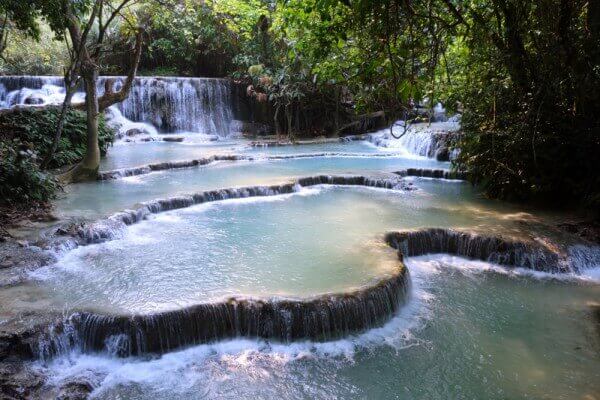 Kuang Si waterfall, Laos
Don Det island - one of the best places to relax in the one of the most authentic village in Laos, despite big amount of tourists there.
Bolaven plato - ride scooter around one of the best destinations in Laos - among coffee plantations, remote villages and nice waterfalls (more information about our journey around Bolaven plato here).
Kuang Si waterfall - one of the best experience in Laos. Visiting of this waterfall is almost the must. Nature is astonishing there and swimming in the cool blue water is just a dream (my detailed article about Kuang Si waterfall).
Champasak - old temple complex of times of Angkor Wat not far from Pakse is worth visiting if you like temples and ruins (my article about our one-day trip to Champasak from Pakse).
Vang Vieng - there are a lot of contradictory opinions about Vang Vieng but I liked this small, but very vibrant and picturesque town. There are much to do starting from swimming in a tube and ending with flying in balloon over the mountains. As for me, it is definitely worth visiting!
People
People are nice, smiling and very welcoming. Especially, children who always wave their hands and shout "Sabaidee" when see tourists. Lao didn't like to bargain so didn't expect much cut of the price on the market.
Vietnam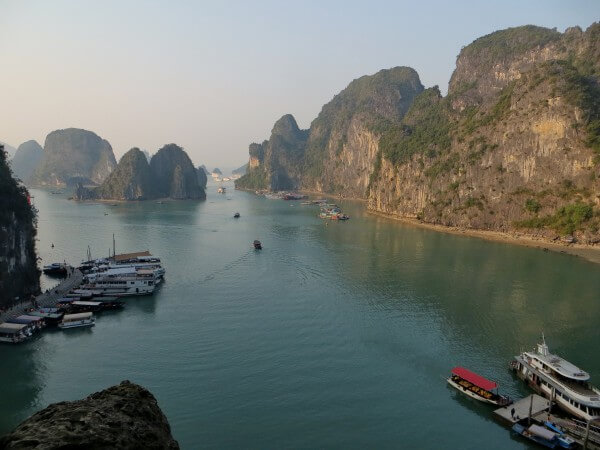 Ha Long bay, Vietnam
Vietnam is one my favourite country in Asia. I really regret that we have spent there only 2 weeks - it is very little time to explore this amazing country. For 2 weeks we have been in Vietnam we crossed country from North to South by trains.
Hotels
Hotels in Vietnam are cheap and very nice, you could easily find comfortable modern double room for only 20$ per night including tasty breakfast! Best hotels in Asia we have lived in where in Vietnam. Booking is a good option to make reservation.
Food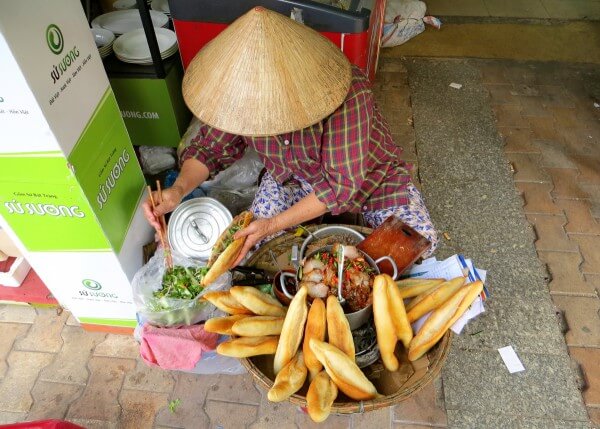 Popular street food in Vietnam, baguette with fillings
It seems to me that food in Vietnam is not as varied as we would like it to be. We usually ate Pho soup that could be found easily around the Vietnam, price for bowl of soup is about 2$. Popular fast food - Banh Mi - baguette with vegetables and meat slices - is rather tasty and cheap.
Transport
Trains in Vietnam gives very good opportunity to travel around the country. Trains are comfortable, and if going by train at night, you will save time and money for the hotel. As usual, the most reliable site about trains in Vietnam - http://www.seat61.com/Vietnam.htm. You can book tickets online beforehand.
Must see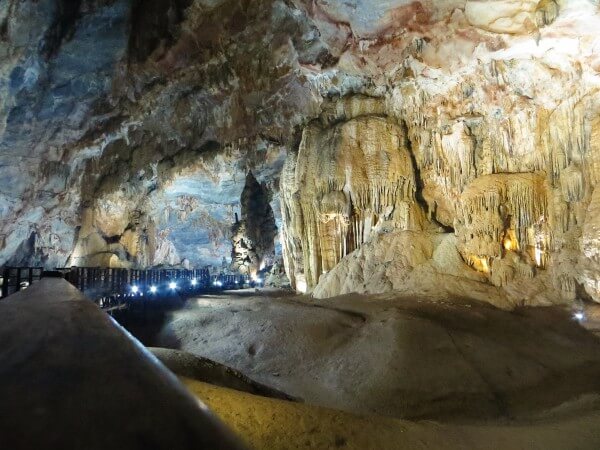 Paradise cave, Vietnam
Ha Long Bay - is a must visit and must see place number one in Vietnam. When I saw the photo of this place for the first time, it became my dream to visit it. And you guess, some dreams come true and it was really wonderful, it was marvellous, remarkable journey by ship with one night stay in the Halong Bay. And I really advise you not to miss the journey like that, even though it is not cheap…..
Phong Nha Caves - even if you are not fond of caves, I recommend you to visit this rather remote area with one of the most beautiful caves I have ever seen. We had a very nice adventure itself by scooter to the small town near the caves… There are two caves worth visiting - Paradise cave and water cave Phong Nha that could be visited only by boat.
Hanoi city - very nice atmospheric city with bustling old center and several worth visiting museums such as Hoa Lo Prison and Vietnam Military History Museum
Hue - worth visiting city with huge Imperial citadel, amazing Tomb of Khai Dinh and other tombs.
Cambodia (Siem Riep)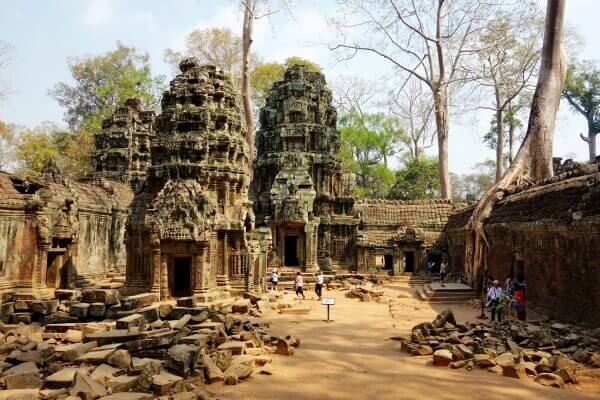 We have been only in Siem Riep in Cambodia. That is why my impression of Cambodia is not full enough, however Cambodia as I saw it, impressed me a lot that is why I want to describe it here as well.
I remember my first filling of Cambodia, when we arrived to Siem Riep, left our bags in the hotel and went to have a dinner to the centre of the town… I felt like I am not in Asia but in Europe. There were so many restaurants and people in the centre of the town. There were so many white tourists, there was pizza and beer on every corner and nice hotels and lighted streets and…. Almost nothing of that Asia I have used to….
Hotels
I have written that we have had the best hotels in Vietnam, but I was wrong. Our best hotels in Asia were in Cambodia. Yes, they were rather expensive, but they were amazing - with water pools, big modern rooms, great breakfasts and…. It was amazing, to rest a little bit in such nice comfortable hotels after a month in Myanmar where hotels were expensive but gloomy.
There are plenty of hotels in Siem Riep, for every budget. But if you are ready to pay 30$ - you will find excellent value for money!
Food
Oh, almost every day we ate pizza and dring cold cheap beer in Siem Riep, and I couldn't make myself to try something "traditional". I was so glad and surprised to find tasty pizza in Asia - but this is Siem Riep, you could find everything here - from banana pancakes for 1$ to Italian pasta.
Must see
We have visited only Angkor Wat and it was…. it was not love from the first sight. It was so hot there and there were so many people. But… finally Angkor Wat captured my soul and firmly ingrained in my heart. We met sun rise in one of the temples of Angkor, walked by solitary bridge with nagas when first soft sun rays lighted the temples - and it was just wonderful to be there, among old stones, carved Buddha faces and and huge trees.
Indonesia, Bali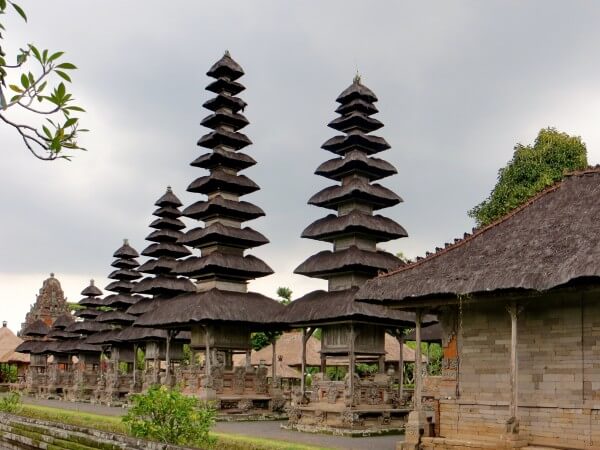 Hotels
There are a lot of hotels in Bali, especially along the coast. Hotels are of different level of price and comfort. We choose something cheap but comfortable, we usually pay about $17, but there are much more cheaper options if you are on the budget. Many of the hotels (even cheap one) are made in traditional style and it is very beautiful.
Food
In touristic places there are many restaurants (that are not that cheap) where you can eat whatever you want. We usually ate in a local cafes, food is not varied- rice with chicken, eggs or vegetables is the main option.
Must see
Actually, Bali is not an island to visit places of interest. Most of the travellers go there to surf, relax. find inspiration… But there is something to see as well, for sure. As for me, must visit places are:
Menjangan island - boat trip to one of the beatiest places for snorkelling. Diving is also possible. Underwater life is amazing there with coral reef and many fishes.
Lembongan island - unique island with local villages where people dry seaweed, mangroove forests and amazing views
Gunung Kawi temple and rice fields
Ubud town - popular place among artistic people, surrounded by rice fields this place has its own charm.
Sunken ship in the village of Tulamben. This is rather popular spot for diving, there are many diving centers there, but when we were there we were almost alone… ship seems horrendous, and there are aggressive fishes around it
Bali Botanical Garden - great big territory with flowers, cactuses, trees, bamboos, etc. Great gateway if you want to do something except sunbathing.
Puri Lempuyang - small non-tourists temple with amazing views over Mount Agung. It reminds me the stairways to heaven… it is very quite and peaceful.
Museum of Antonio Blanco. Entering fee is a little bit pricey, but it includes free welcome drink in the restaurant with fantastic views and prices :) You will see not only the arts of the painter, but also visit his so athmosperic house where he lived and create. As well as you will meet amazing colorful birds! Believe me, it is really worth visiting.
Taman Ujung - nice buildings in traditional style with beautiful park.
Transport
it is almost a must to rent a scooter while travelling in Bali. Scooters are very cheap here. We read that there are a lot of them, but once we decided to rent it we wend along the main street in Kuta and it didn't seem to be many of them. finally we found a man who agreed to rent us a scooter (rather old one, but it was ok) for 3.5$ per day for 20 days. Travelling around Bali by scooter is really amazing!
Indonesia, Java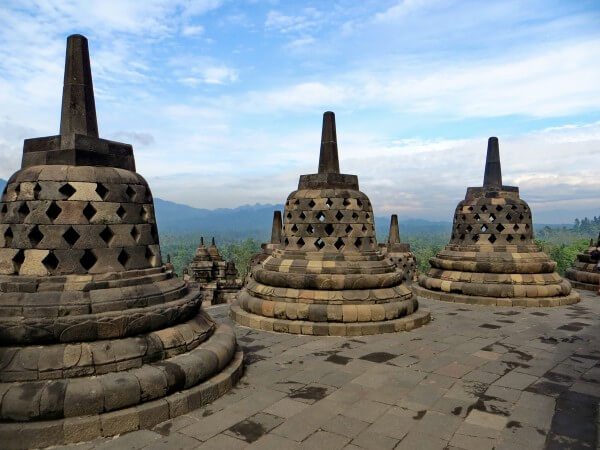 Borobodur, Java
Hotels
Java is definitely off the beaten track, that is why it is too few hotels there and all of them are quite expensive and rather gloomy ( many are old, where furniture is age-worn). Almost all hotels offer free breakfast but almost everywhere this implies rice and tasteless tea. Our average price for the room per night was 21$. Usually hotels prices start from about 10$ for the double room per night.
The best hotels we had in Surakarta, Favehotel - it is modern, if you lucky enough to get room on the up floor there is nice view thanks to great panorama windows in the room, really recommend this one.
Bandungan Hotel was also very nice, spacious rooms, a little bit oldy but with nice furniture and very stylish. There is beautiful pool there, but it was too cold for swimming…
Another good hotel was Mojokerto Homestay https://www.booking.com/hotel/id/mojokerto-classic-homestay.ru.html?aid= 942026 Inside it looks very… exquisitely. And though we had the smallest and cheapest room, it was rather nice to stay there.
Transport
There is railway network that connects main cities. Please take a look at this very detailed article about trains in Java
Our experience with car rental in Java
We didn't use public transport in Java, as we decided to rent a car for our travel. We rent Toyota avanza 2011 for 24$ per day.
It was controversial experience. From one side, we were free and it was amazing, we visited the most beautiful parts of Java by ourselves and it was not a problem to get there. From the other side, road in Java are of a very poor conditions. We punched tires several times. Roads are narrow, but there are too much traffic (and you probably guessed why. Java is the most populated island in the world and it seems that every person in Java has a scooter….), so our average speed was about 30 km per hour, 40 km per hour was very fast!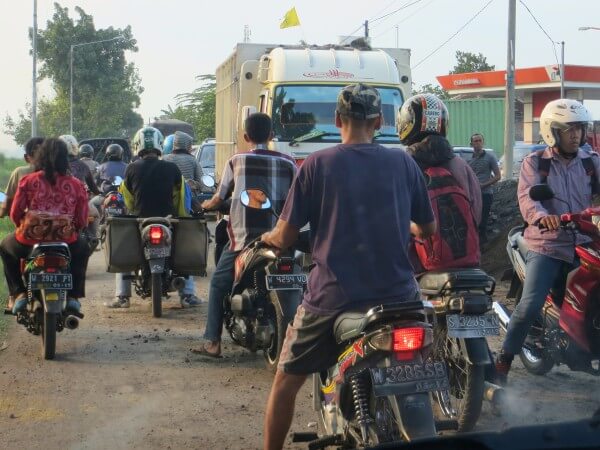 Road traffic in Java
The distance of 200 km (and as Java is rather big island we should do such distances almost every day) was made in 7-8 hours and it was rather exhausting. There were moments when I was ready to call the man who gave us the car and ask to take it away and hop into the train… But it is travelling with all its good and bad sides, overall it was great journey. Just be ready to go slow and to change tires at least several times :) And also one advise for those who still want to rent a car in Java - there is almost no traffic from 4am to 6am, sometimes we use this time if we need to go really long distances. During this time it is possible to go even with the speed of 80km/hour
Must see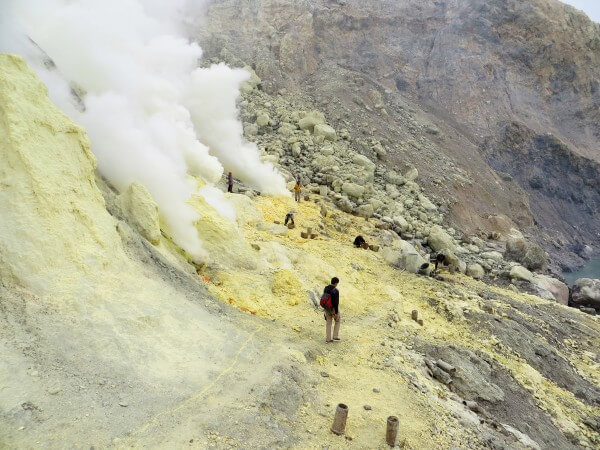 Ijen volcano, Java
Java is a real pearl for the traveller, as there are many really unique places of interest (but be ready to pay really a lot for each! Places of interest in Java are expensive as there is a special prices for foreigners. ).
1. The unbelievable Ijen volcano where hundreds of workers gather sulfur is probably the place number one.
2. Borobudur, 9th century Buddha stupa with amazing carvings won't let you indifferent even if you think you don't like destinations like this.
3. Landscapes of Bromo volcano are breathtaking. It is one of the most popular tourist's destination in Java, many of travellers go there to meet the sunrise. We were there in the middle of the day, but it was still great. The vast valley with regular shaped volcano… By the way, Bromo is active volcano.
4. Even huge crowds can't spoil the beauty of the Prambanan temples. These tall 9th century Hindu temples are one of the biggest and most impressive in South-eastern Asia, but come here as early as possible, as it is too much people there…. And don't miss remote temples! They may be not as much impressive as main ones, but it is so quite and peaceful there, as there is nobody there. There is a train that goes to remote temples if you are tired to walk.
These are the most memorable destinations from our trip. I think we need more days (we have been there 14 days) inn Java to visit all its hidden gems…
Food
Food is a rice with something in most cases and it is not very impressive. We bought some food in supermarkets (we liked a lot local cake "moriska"). Sometimes we eat in KFC. Try martabak - it is really tasty street food! Martabak is a distant relative of omelet, stuffed with some fillings. Search for the martabak sellers in the lively places, usually near the shops.
People
People are very friendly in Java. It feels like Java is not a touristic place at all, as everywhere (even in the very popular places of interest) people stare at us with genuine interest, many of them asked to make a photo together….. And I still remember one man on Ijen volcano, who carried the heavy baskets with sulphur, he went up, smiled and sang a song… And then all that poor workers who die so early because of this very harmful job, all of them started to sing together with him… And it was so…heartbreaking, that unclear song in a foreign language in the middle of the nowhere….
The end :) Have a nice trip wherever you go!