We arrived to Ohrid in the evening and walked along the lakefront. Next morning we continued exploring Ohrid. Again we walked by Sveti Kliment Ohridski street – very nice pedestrian street with restaurants, cafes and shops.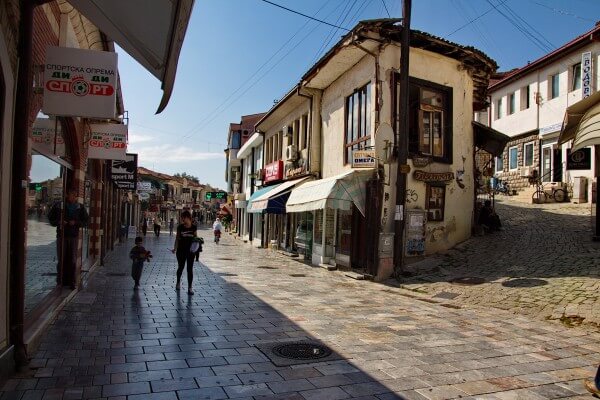 As soon as we reached the lake we were invited to hire a taxi boat to the church of Saint John Kaneo for 5 euro per two persons. Of course we declined the offers and continued walking by foot. We turned right and went along the lake shore.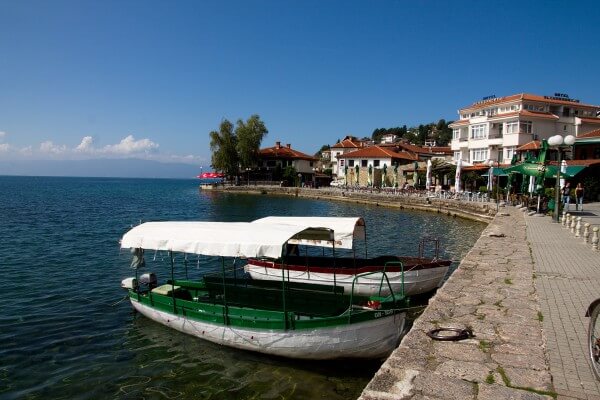 We saw church of St. Sophia on the way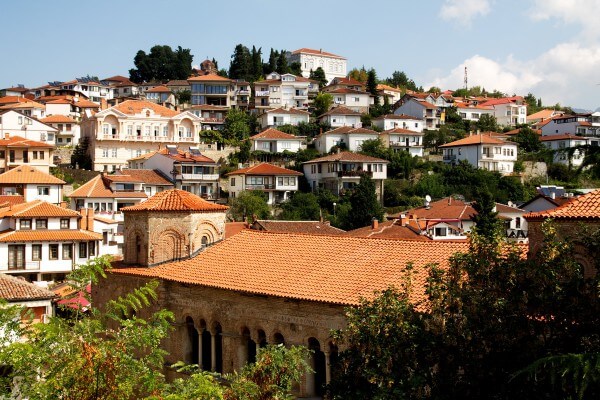 and then we went on the wooden bridge over the lake
We reached one the most popular places of interest in Ohrid, its hallmark – church of Saint John Kaneo.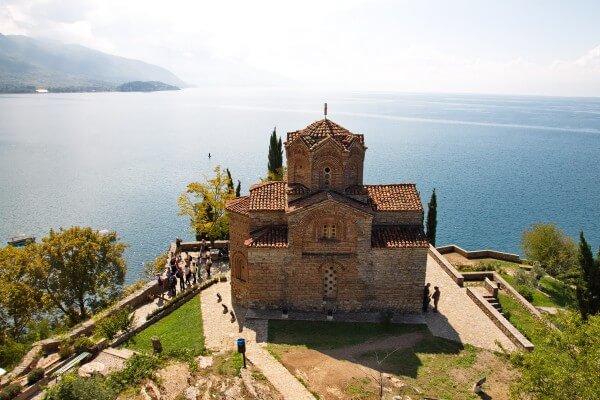 This church is dedicated to John the Apostle, the date of the construction is unknown. Church was build in the form of Christian cross. Entrance to church cost 100Den (=1.6 euro).
From the church there is a nice path through the pine forest to the Ohrid castle.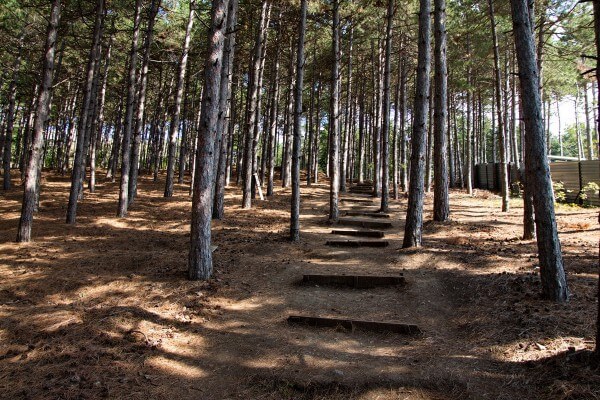 We paid 30 Den (=0.5 euro) to enter the castle. It is absolutely renovated, all walls are newly built, there are constructions on the walls to go up.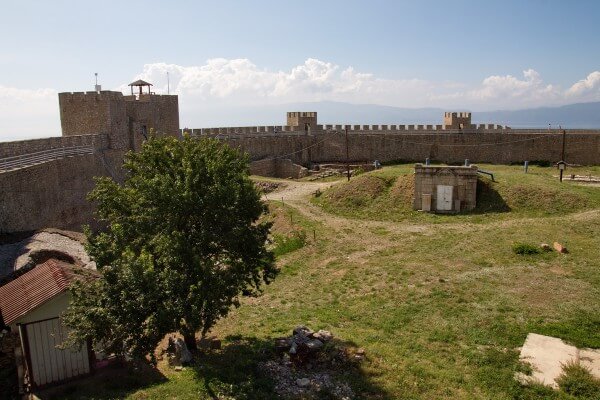 Views from the walls are nice, but there is nothing more to do and to see in the castle, unfortunately.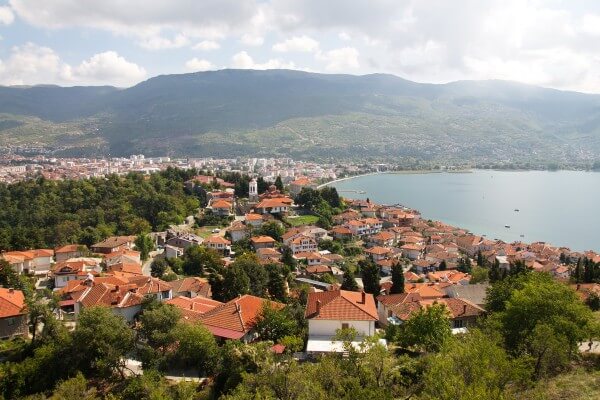 Useful tip: you could park the car not far away from entrance to castle, there are plenty place, gps coordinates: 41.115046, 20.794921
There are ruins of ancient theatre not far away from the castle. Theatre was built in 200 BC during Hellenistic period. It is said that only lower part of the theatre preserved, thus it is unknown how many visitors theatre could hold.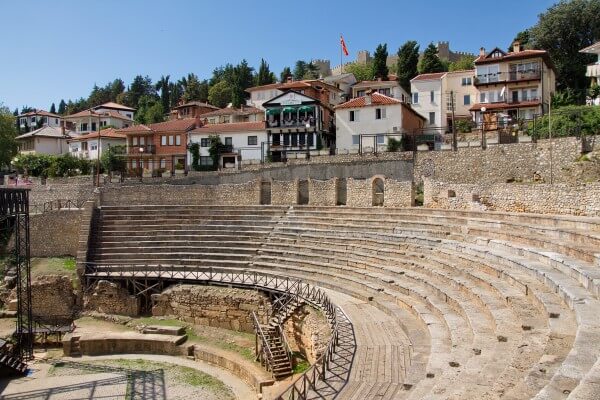 Then we made a short walk to the church of Holy Mother of God. There is an exhibition of Ohrid icons inside.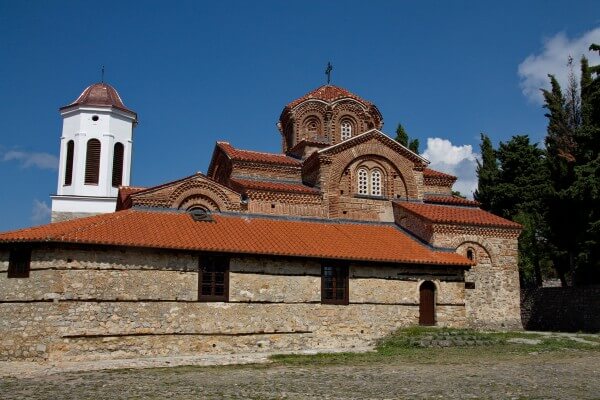 From here there is very nice view over the castle (yeah from a distance it looks much better than inside)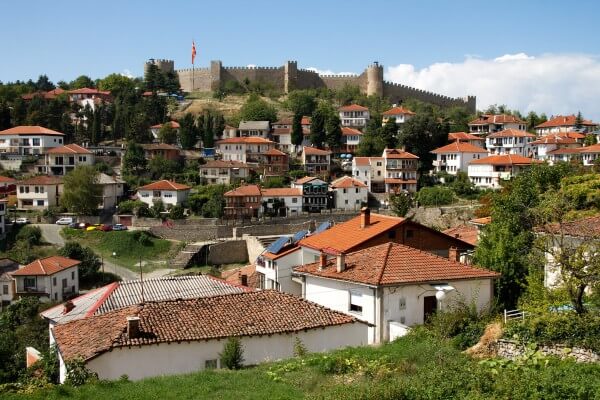 At this point we really felt hungry. We went to the street Goce Delcev with many Turkish restaurants (owner of our apartment told us that along this street there are the cheapest restaurants in the central part of Ohrid)
We choose restaurant "Вкусно" where we ordered traditional Macedonian dish tavce-gravce (white beans baked in special earthenware pot) and kebapi (grilled minced meat served with onion and bread). Both were very tasty and I really recommend you to eat there. Totally we paid 240 den (=4 euro) for two meals (100 den for tavce-gravce and 140 for kebapi).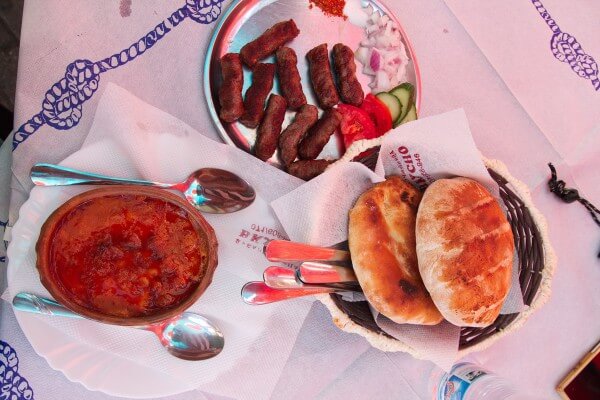 After the perfect lunch we decided to go home across the market full of fruits and vegetables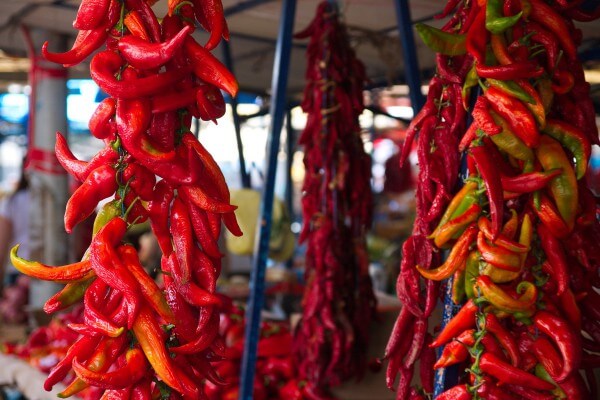 Our trip around Ohrid on map. Overall we went 5 km and spent 3 hours