We have traveled around Montenegro for three weeks and here is my (as always very subjective! :) list of must see places in this small but very welcoming country. it is interesting that when we have been traveling in Montenegro in 2011 I liked it a lot! Sea was so blue, food was so tasty and overall it was fantastic journey.
But when we crossed Montenegro again in summer 2015, after almost a month spent in Croatia, it seems to me not so beautiful compared to Croatia.
However, there are some really amazing places in Montenegro worth visiting!
1. Durmitor National Park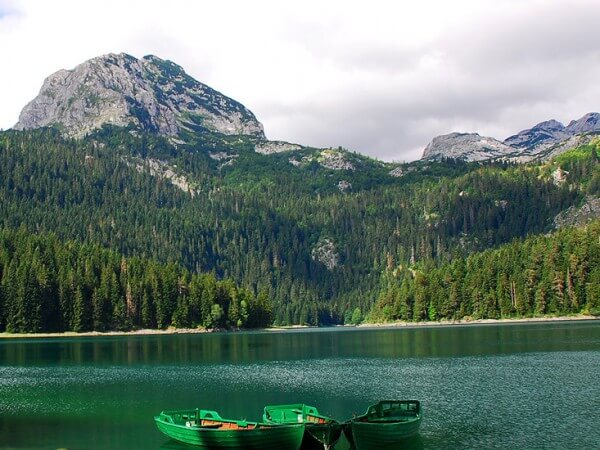 Photo taken from summitpost.org
Trekking in Durmitor National Park was probably the most exciting experience in Montenegro. Unfortunately, there is no our photos left from this trek as our photo camera was stolen in Serbia later with all our photos…
We decided to climb up to the highest mountain, Bobotov Kuk with an altitude of 2,523m. So, we arrived to Zabljak, the starting point of our trek the day before in the evening and stay in the camping "Ivan Do" (if you are interested in campsites, I think my list of all campsites in Montenegro will be helpful for you). It was palpably colder than near the sea. We started trekking early next morning.
We decided to make two days trek, so we took a tent and sleeping bags with us as well. It is not allowed to pitch the tent in Durmitor National Park, that is why we waited for the dusk when we can place the camping near Veliko Skrcko Jezero. There is a forester hut near the lake, where we bought the tickets that allow us to visit Durmitor National Park.
There is a lack of water resources in the mountains in August, so be prepared. Next day we ran out of water and hoped that we would find it near the lake Zeleni Vir, but the lake was totally dried. We summited Bobotov Kuk and returned back to Zabljak really very tired… It was rather difficult and exhausting, but very picturesque trek.
2. Kotor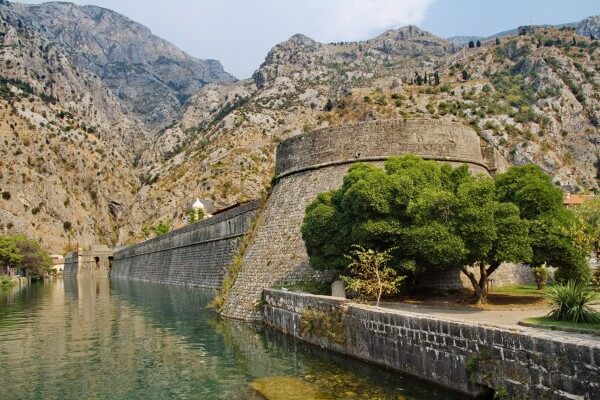 Venetian fortifications of Kotor
Kotor is probably the most popular and touristy place in Montenegro, but it is really very nice and worth visiting. Old town of Kotor, that is a UNESCO world heritage site, is very cute, with many churches, restaurants, narrow streets and old houses. View over Kotor bay is amazing.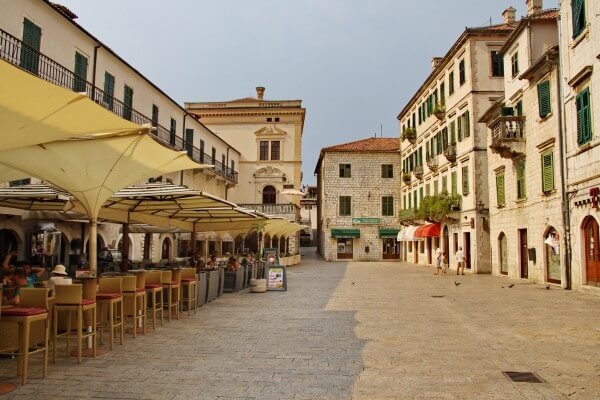 Old town of Kotor
Fortress walls of Kotor are visible from any part of the city. You can buy entrance ticket of 3 euro and ascent up to the fortress via 1350 steps. It is a long harassing way, so don't forget to bring a lot of water and avoid very hot days.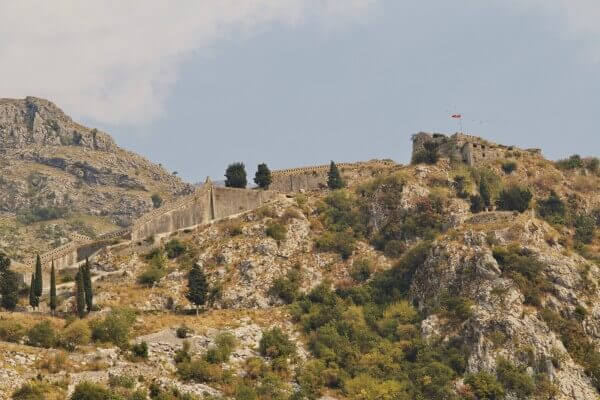 Fortress walls of Kotor
We have decided to find the free path to the fortress and early in the morning, after several attempts we finally found one, that leads us up to the top. It was non-tourist path used principally by shepherds. We use the common steps to return to the city center.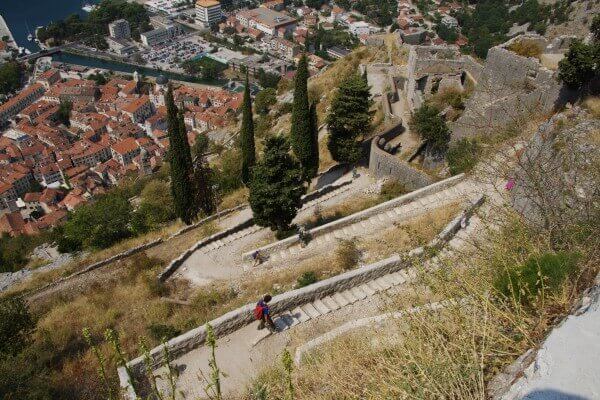 Descending from the fortress by steps
I liked the fortress a lot, views over Kotor city and Kotor bay are breathtaking, fortress itself is also interesting. It is hard to believe that it is possible to build this loop fortified walls in 14th century.
3. Stari Bar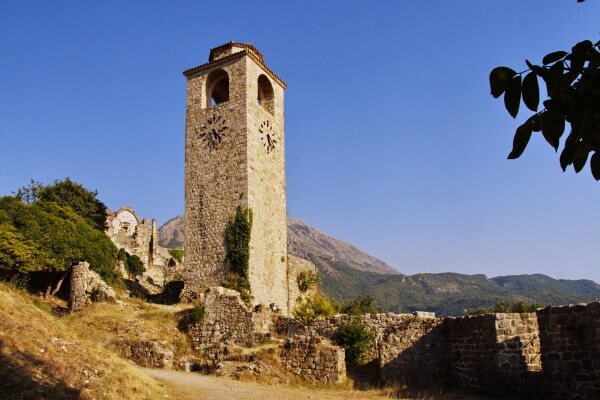 Clock tower in Stari Bar
It is interesting that in the early middle ages this town was called Antibari, that meant that it is situated opposite Bari city in Italy.
This large old town has its own clock tower, aqueduct, churches, bathhouse. I liked it a lot. We walked by narrow laid-stone streets among ruins, climbed the walls, listened to the wind, discovered remains of frescoes on the walls. It was amazing, there were few tourist, it was silent and the sun illuminated the fortress with gold sunset light…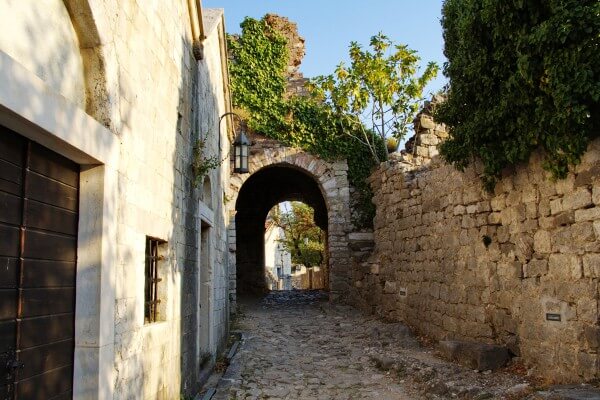 Narrow street of Stari Bar
Opening hours: 08:00 - 22:00
Ticket: adults - 2 euro, children - 1 euro
GPS: 42.093864, 19.136254 (there is free parking area just near the entrance to the old town)
4. Fort Vrmac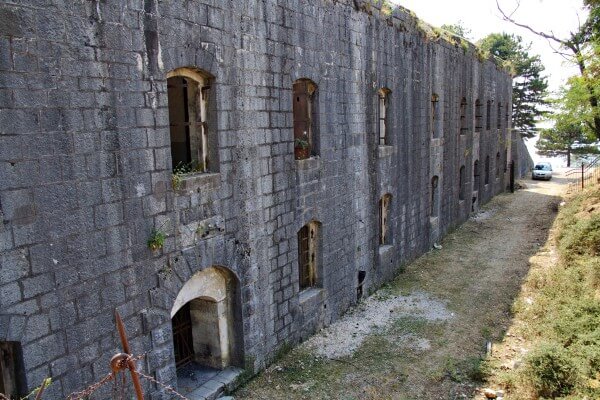 Grim building of Vrmac Fort
This Austro-Hungarian fort is definitely not the tourist place, but it is still very impressive. Built between 1894 and 1897 years, this fort was the most modern in the Kotor area during the First World War.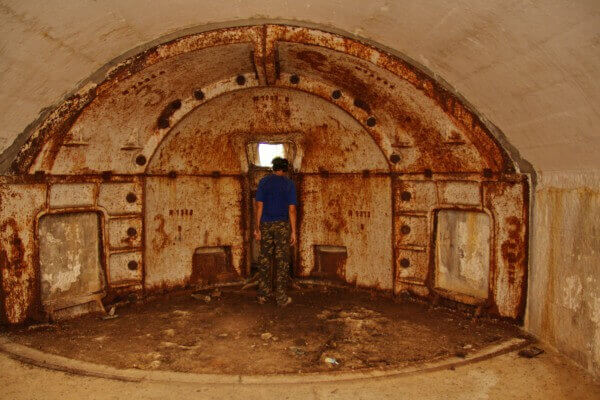 Škoda-made casemates, which housed a 10 cm PH M05 gun
The fortress is abandoned now, the atmosphere is a little bit grim there but it is very interesting and dramatic. Don't forget the headlamp to explore the fortress!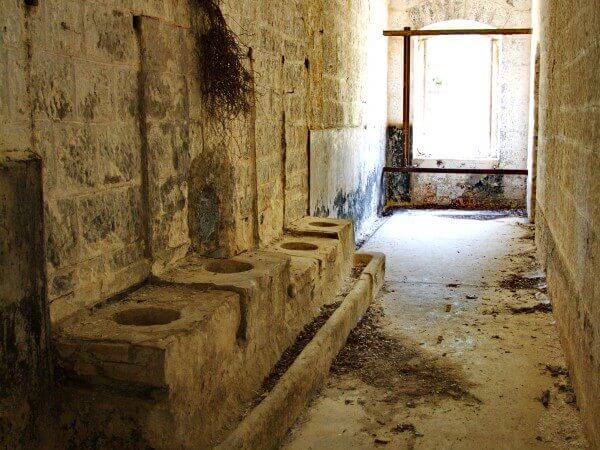 Stone latrines in the troop accommodation area
More historical information about Vrmac fort you can find on wikipedia.
GPS: 42.421154, 18.748833
5. Perast
From this small old town one can observe two very picturesque islets in Kotor bay - St. George islet and Our Lady of the Rocks.
Our lady of the rock is an artificial islet that has a local nickname 'island of Dead' because of the large cemetery.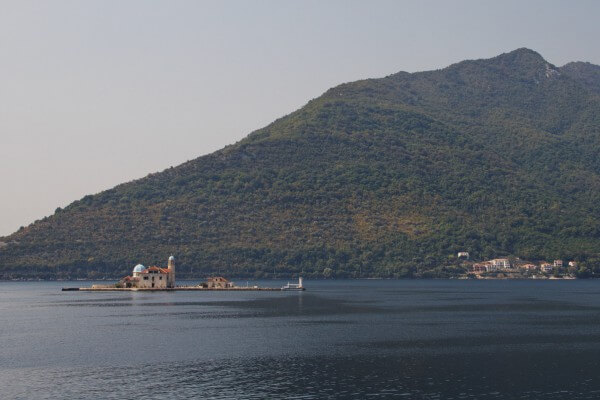 Our lady of the rock islet
St. George islet is a natural one. It houses Benedictine monastery built in 12th century.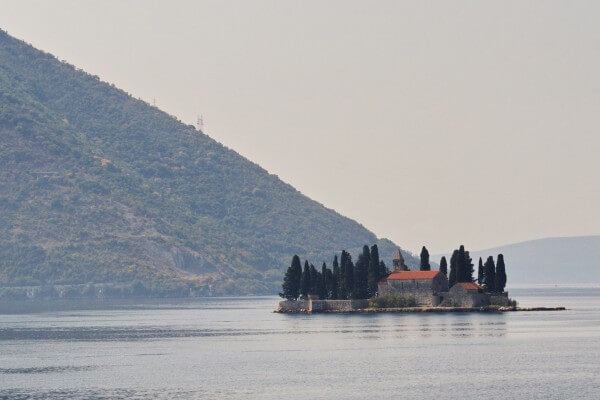 St. George islet
You may ask - and that's all? And what about Budva? And what about hallmark of Montenegro - Sveti Stefan?
Ok, let me explain. Sveti Stafan is very picturesque and if you pass nearby of course it is worth to make a stop there.
Budva is a hell of Montenegro, on my opinion. There are so many tourists, especially Russians that we drove away as quickly as possible.