This trip became one of the best and exciting experience in Laos and I really recommend you to visit Bolaven plato when travelling in Laos. There are many travel agencies in Pakse that organised the one day tour to plato (we asked for the price, it is around 150,000 Kip per day per person), but I am so glad that we decided to go around Bolaven on our own by bike.
Frankly speaking, reality differs a lot from what I imagined about Bolaven plato. There are no breathtaking views, but there are many small authentic villages on the way, greeting children, coffee drying along the road, nice waterfalls and much more….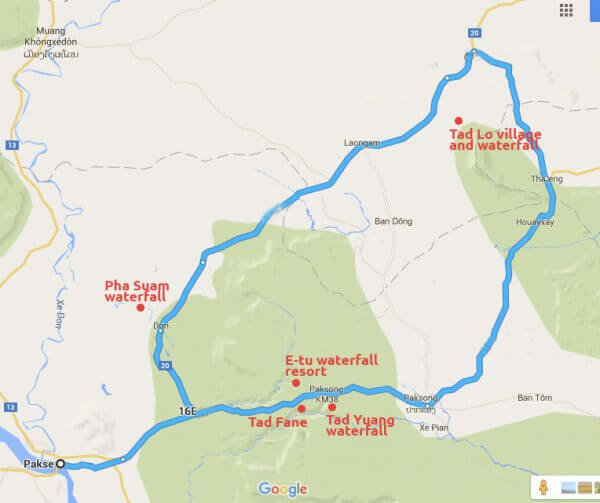 Our trip around Bolaven plato
Total km of the trip: 245km
Trip dates: 26th of March - 28th of March
First day: Pakse - Paksong
On the way: 95 km
Visited: Tad Yuang, E-tu and Tad Fane waterfalls, coffee tour
We started around 8am from Pakse. Rent a semi-automatic scooter, as it was twice cheaper that automatic one (we rented honda wave 100 for 50,000 kip/per day, automatic honda scoopy costs 100,000 per day). And our trip began...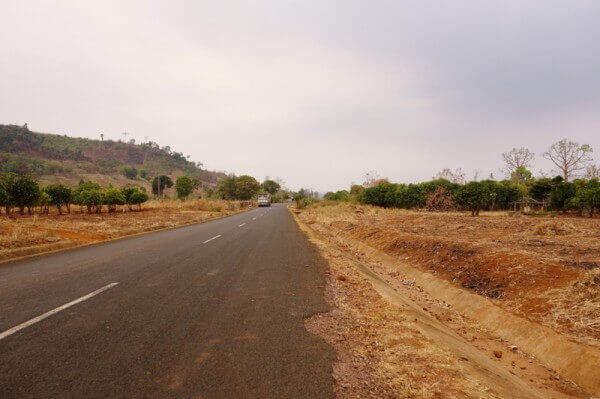 Road around Bolaven plato
The road to Paksong is narrow but quite good. We reached Paksong around 9.30am without any stop on the way. We choose Savannah Guesthouse, that has very modest rooms but with hot shower, wi-fi and good atmosphere for the 80,000 Kip per double room.
We left our backpack there and set forward to Tad Yuang, E-tu and Tad Fane waterfalls.
Tad Yuang waterfall
Parking 5,000 Kip
Entrance: 10,000 Kip/person
Nice waterfall, worth visiting. You could swim there. There are souvenir stalls and restaurant just near the waterfall. I liked it the most among all waterfalls we visited on Bolaven Plateo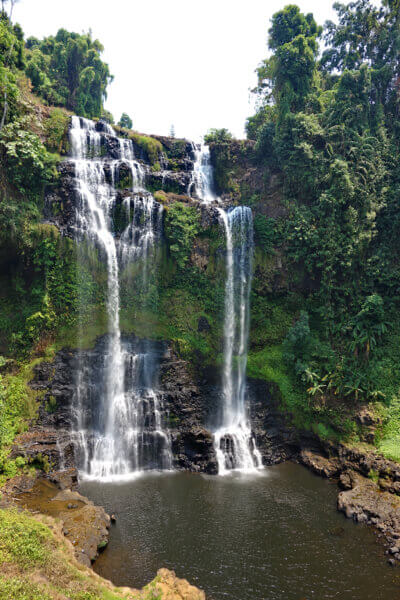 Tad Yuang waterfall
E-tu waterfall
Parking: 5,000 Kip
Entrance: 5,000 Kip/person
Very small, but still nice waterfall.
It is situated on the territory of the E-tu Waterfall Resort http://www.booking.com/hotel/la/baan-e-tu-waterfall-resort.en-gb.html?aid= 942026. We were the only visitors there, so we enjoy the silence, water sounds and peacefulness.
If you don't have time or you are full of waterfalls you could skip this one as you won't lose much.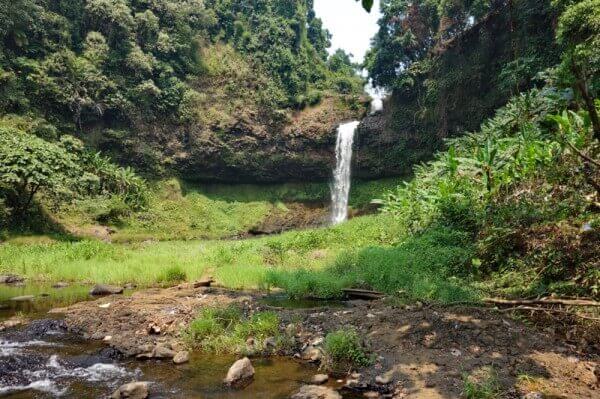 E-tu waterfall
Tad Fane waterfall
Parking: 3,000 Kip
Entrance: 5,000 Kip
The tallest waterfall of Laos, impressive but far away from viewpoint.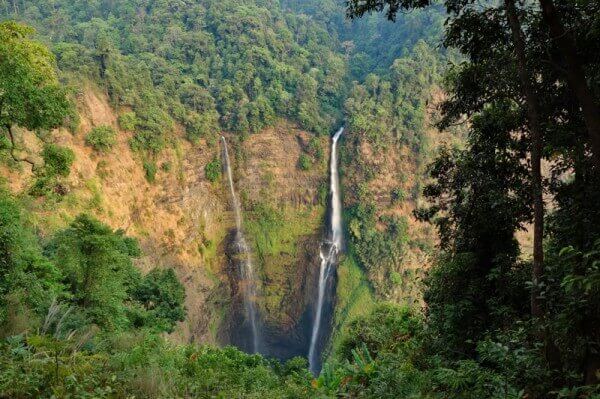 Tad Fane waterfall
We read about coffee tours arranged by Dutch expat Mr. Koffie that usually starts at 2pm near Tad Fane waterfall restaurant. So we wrote him an email on the same morning and hope to meet him on time.
Exactly at 2pm Mr. Koffie and his brother came to the restaurant.
Mr. Koffie is very nice friendly person. There were only two of us but it was not a problem for him. The tour began from the several cups of pure arabica coffee, roasted, ground and made by Mr. Koffie himself. Coffee is very tasty, rich, moderately bitter and not acidic. We talked about the life, about this and that and then about coffee itself of course.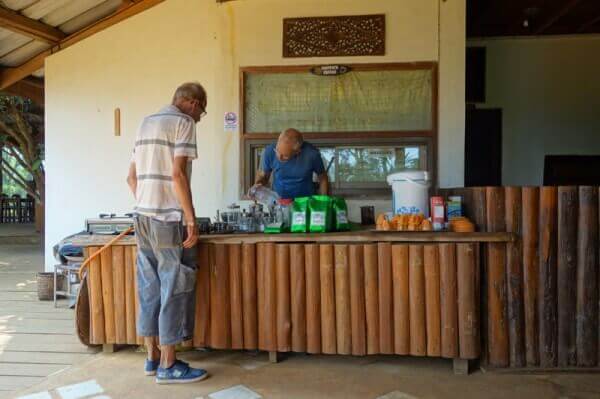 Mr. Koffie and his brother are preparing coffee
Tour continued with the walking around coffee plantations where Mr. Koffie showed us arabica, robusta, liberica and others coffee trees and explained the difference between these trees. Tour was very informative and it was nice to meet with Mr. Koffie and listen to his "lecture" about coffee production, coffee types and coffee consuming. Especially at the end of the day full of waterfalls.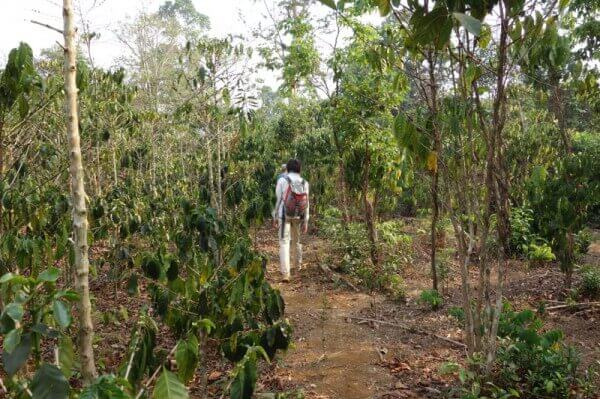 Walking around coffee plantation.
Price for the tour including cups of espresso 50,000 Kip/person
We came back to the guesthouse tired and hungry, and went to the cafe opposite Savannah Guesthouse. Soup and rice with beef were tasty there.
Second day: Paksong - Tad Lo village
On the way: 65 km
Visited: Tad Lo waterfall
You still won't find the village Tad Lo on Google Maps, only the waterfall with the same name (but there is a good detailed map on Openstreetmap with all guesthouses mentioned). Tad Lo village became very popular among backpackers and there are abundant comparatively cheap guesthouses. So we head for the Tad Lo village and waterfall next morning.
The weather changed slightly, it was cloudy and cooler than during other days. We passed by coffee trees that appeared to grow all around (after the coffee tour we learned how to recognize them), small villages with similar stilt houses.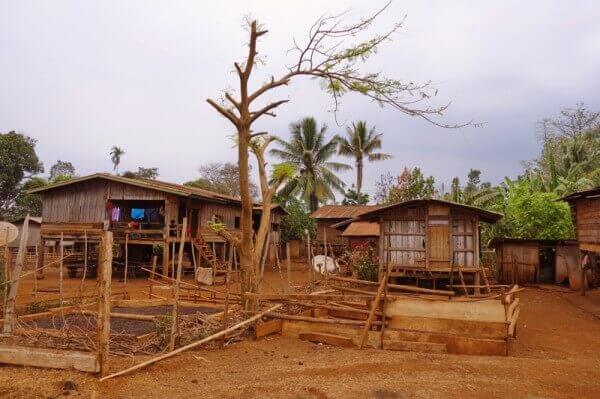 Villages on Bolaven plato
Locals dried coffee beans in front of the houses. Children always waved and greeted us.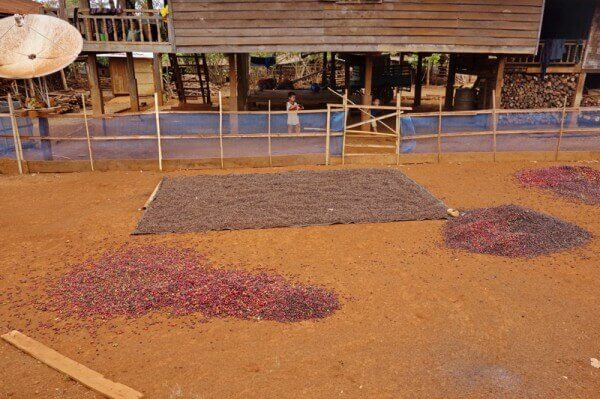 Drying coffee along the road
We made a stop in the town Thateng where we bough mango and some pastries on the market. It seems that tourists have never been there as all sellers looked at us with wide open eyes.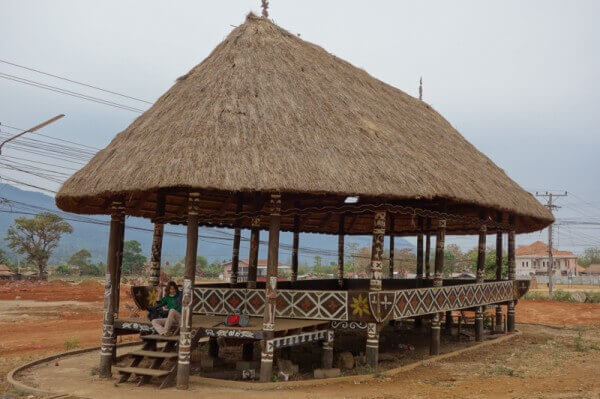 Resting in Thateng village in the amazing hut
When we reached the Tad Lo village we were surprised by how many guesthouses there are in such a strange place for the hotels. We asked for the room in Tim guesthouse. They have a bungalow for 50,000 Kip with shower next to the room and small terrace. Then we saw the room in Sipaserth Guesthouse (15.532596, 106.2739162) with wonderful view over the river and waterfall and we made the decision. It was worth to pay 80,000 Kip for the balcony with such a view and for hot shower in the room. Room is very modest and worn out, but we planed to spend their only one night so it was ok for us.
After the rest on the balcony with a glass of beer we were ready for the walk to Tad Lo waterfall. We entered waterfall just after crossing the bridge and ascend a little bit. Here is a "free" entrance, as if you would enter from the Tad Lo resort side you will be charged for entrance (don't know why as we exited from that side). Waterfall is nice, you could swim there as well.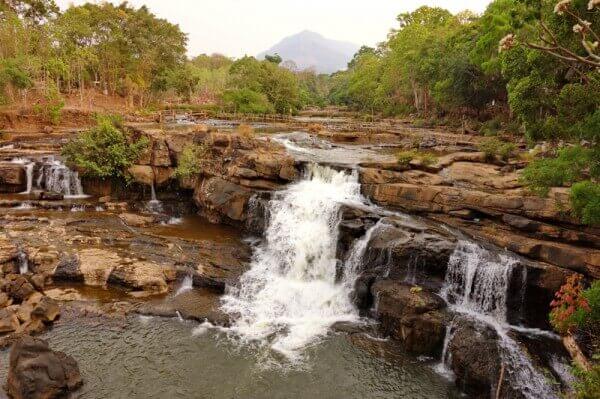 Tad Lo waterfall
We cross the waterfall by wooden paths and reach upper waterfall where we saw how the elephant is going to swim.
That was the first time we saw swimming elephant and we were so excited to see this. Elephant was so lovely and his rider was so nimble.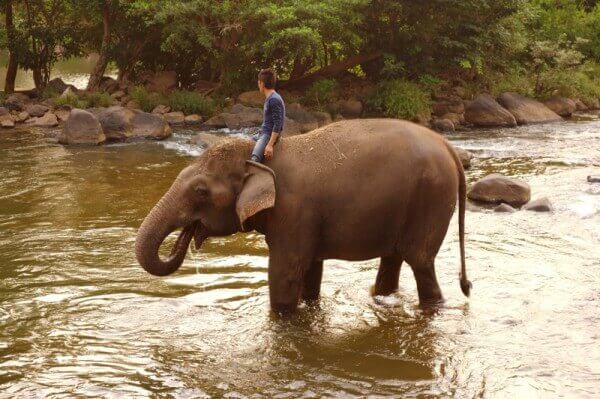 Swimming elephant
For the dinner we ordered soup in Sipaserth Guesthouse`s restaurant and we didn't like it. So it is better to try some other places for eating.
Third day: Tad Lo village - Pakse
On the way: 85km
Visited: Pha Suam Waterfall
We were not in a hurry this morning so we sat on our lovely balcony with a cup of coffee till 12 o`clock at noon and then after check out head for Pakse. On the way we made a stop on the Pha Suam Waterfall - for the rest and walking.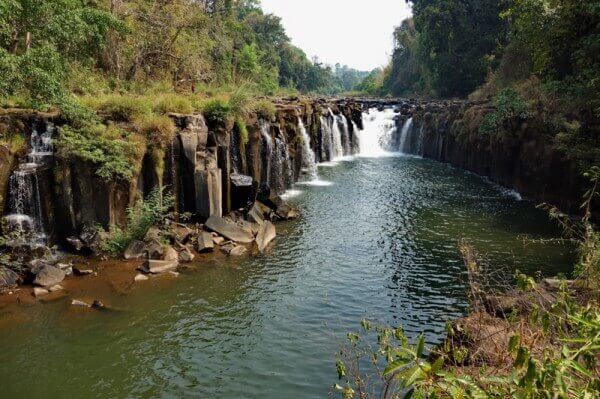 Pha Suam Waterfall
It was the end of the dry season and waterfall was not as impressive as should be. There is a restaurant near the waterfall and ethnic village with some funny houses.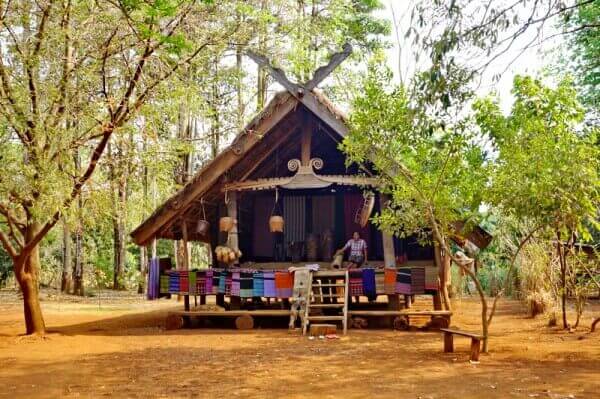 One of the house in ethnic village
Parking fee + entrance fee - 22,000 Kip.