I could say that we have seen many waterfalls in Laos - several on Bolaven plato, one on Don Khon island and Kuang si waterfall was the best. If you have only one day in Luang Prabang and even if you don't like waterfalls - go to visit Kuang Si and you won't regret!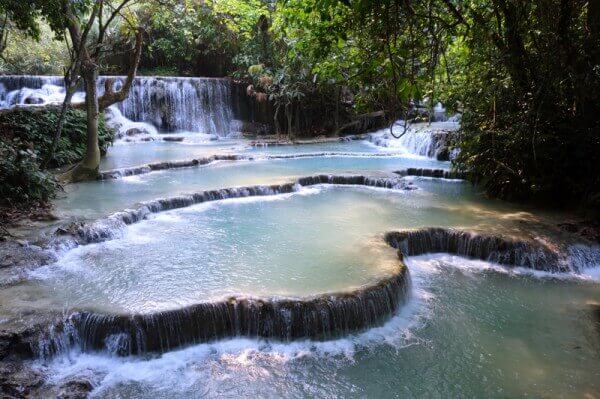 Breathtaking beauty of the waterfall
Contents
How to get there
There are several options to visit Kuang Si waterfall such as:
join to one of the numerous one day tours that are sold around the town
go there by tuk-tuk. It will cost about 200,000 Kip (25$) for the whole day and tuk tuk will wait for you on the waterfall
rent motorbike and go to the waterfall by your own (100,000 Kip for manual bike and 120,000 for automatic scooter)
As we like freedom and riding bike we choose the third way. We rented a motorbike from our guesthouse for 100,000 Kip per day. Motorbikes in Luang Prabang are the most expensive ones in Laos. Kuang Si waterfall is located in 30km from Luang Prabang. There are some small villages along the way and few cafes.
At the entrance to the waterfall there are cafe as well but be ready to pay more for the same food as usual. There are souvenir stalls, too.
Around Kuang Si waterfall
Entrance fee for Kuang Si is 20,000 Kip. Just after we entered the territory of the Kuang Si waterfall we saw black bears who freely walk, play and some of them lay behind not so high fence. There is rescue bear center on the territory of the waterfall where Moon bears live. It is very nice, each bear has a name and his short story that you could read on the board.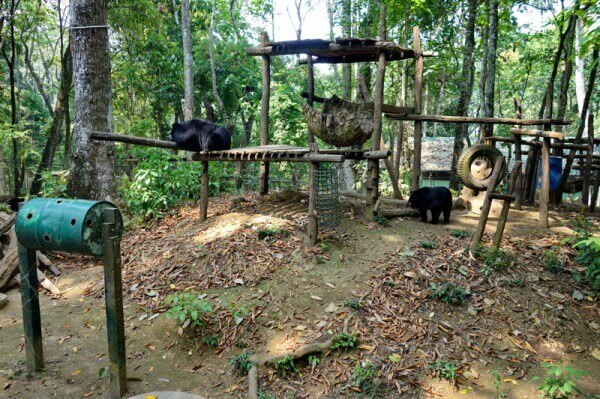 Bears in rescue center of Kuang Si waterfall
After this we continue walking by the path that very soon leads us to the beginning of the waterfall. People were swimming there and even jumping into the waterfall. There are restrooms and changing rooms.
We wear our swimsuits and I jumped into the blue water - it was wonderful. Water was cool and very refreshing. It was hard to stay long in such cold water but it was so pleasant to plunge into the coolness of waterfall.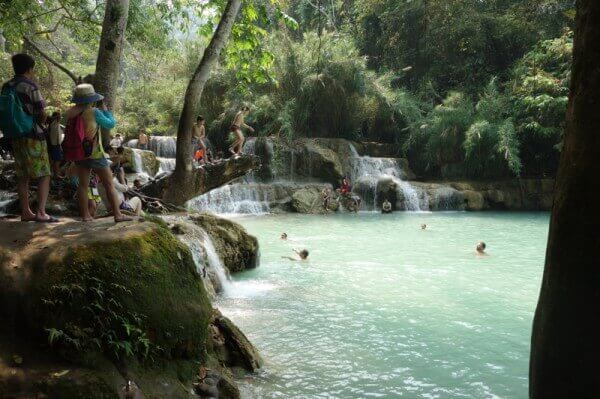 Swimming and jumping into the Kuang Si waterfall
After swimming we continued walking, we had a plan to walk around the waterfall. We continue walking along the path and soon we reached the bridge from where it was seen the main waterfall and continued ascending, first by steps and then by steep slippery path.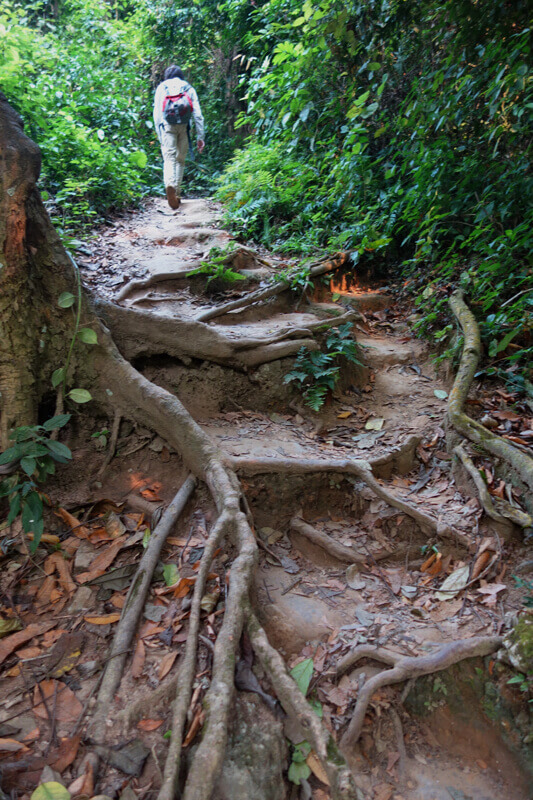 Path to the very top of the Kuang Si waterfall
Ascend took about 10-15 minutes, we were tired a little bit but it is worth for sure to make it! It is very nice atop, with wooden bridges you can cross the waterfall and descent by another path on the opposite side of the waterfall.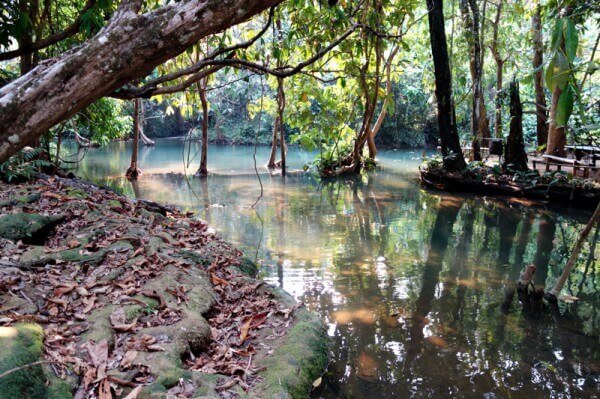 Amazing nature on the very top of Kuang Si waterfall
Don't forget to wear comfortable sandals or shoes as paths are really a little bit dangerous, slippery and steep!
Visiting this waterfall was one of the best experience in Laos, I liked it too much. There are plenty of tables with benches where people drank beer and ate some snacks. Atmosphere is very relaxing and the nature is amazing.