Mandalay is different from Yangon, it is not that charming and touristic, but it is really worth visiting.
Contents
Things to do in Mandalay
You will need about three days (or better even more not to be in a hurry) to explore Mandalay itself and its surroundings. So let's see how you could organize your time in Mandalay.
First day: explore the city of Mandalay
Tip: rent a bike as distance are quite long and it will be hard to do it by foot. Riding bicycle in Mandalay is not as bad, but could be a little nervous as traffic is heavy and chaotic.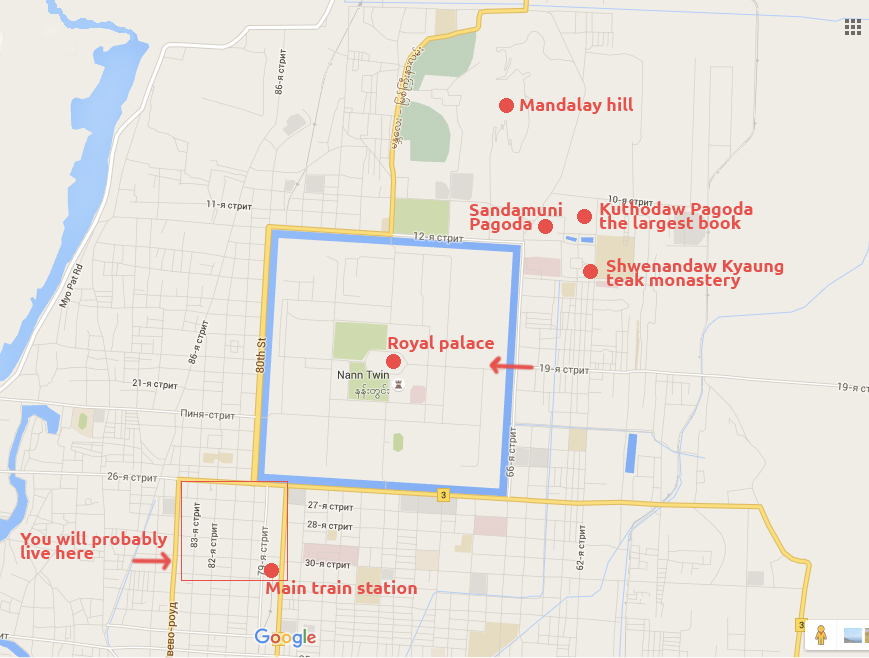 At the first place of destination you will buy the ticket for 10$ that will be your entry ticket for the next several days as it covers all places of interests in Mandalay and around.
Royal palace, surrounded by four walls 2km each, consists of many wooden houses restored after the bomb attack during world war the second. View from the observation tower is worth climbing there. Royal palace itself is located in the centre of the fort, and occupies small part of the walled territory. Rest of the territory is not of the tourist interest.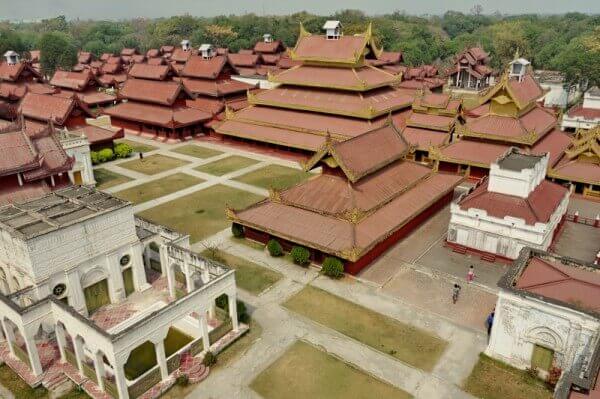 View over Royal palace from the observation tower
Shwekyaung monastery is built entirely of teak wood and it is really impressive building. Finest carving decorate the walls, the ceil and the doors of the monastery. This monastery was royal residence and was a part of the Royal palace; it is the only one building that survives during the WWII bomb attack. I like it so much that it took the 6th place in my rating of best places in Myanmar.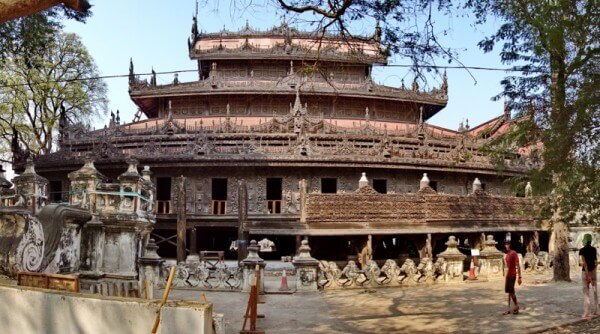 Impressive Shwekyaung monastery with its finest wood carvings
Mandalay hill offers the great views over the town. If you want to go there by foot the best time is morning or evening because it gets very hot during the midday. The ascent takes about half an hour, you will get over 900 steps built 700 years ago. The other option to go up is to use the lift.
Kuthodaw pagoda, known as a the largest book in the world is situated not far from Shwekyaung monastery. It is called the largest book because of the 729 small white stupas around the main golden stupa. These small 729 stupas contain marble slab, where the page from Tipitaka, the main Buddhist scriptures, is inscribed. Frankly speaking, it is not much to see there and the white stupas of the nearby Sandamuni Pagoda impressed us more.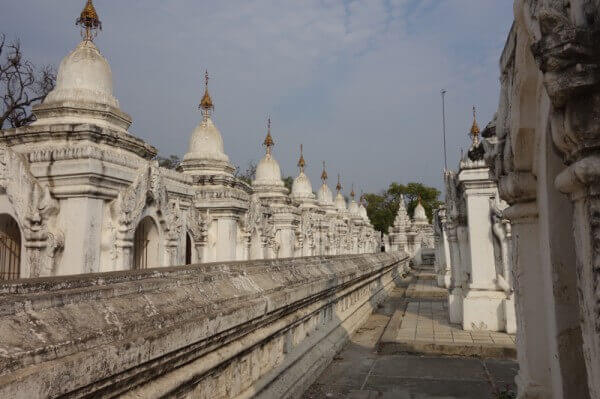 Small white stupas, "pages" of the largest book, Kuthodaw pagoda
Second day: Inwa-Sagaing-U bein bridge
As for us, the better way to explore these places of interest is to rent a scooter (~12$) and organize this tour by yourself. However, it is up to you how you want to visit them. We saw a lot of tourists that got there either by taxi or with a guide and a car.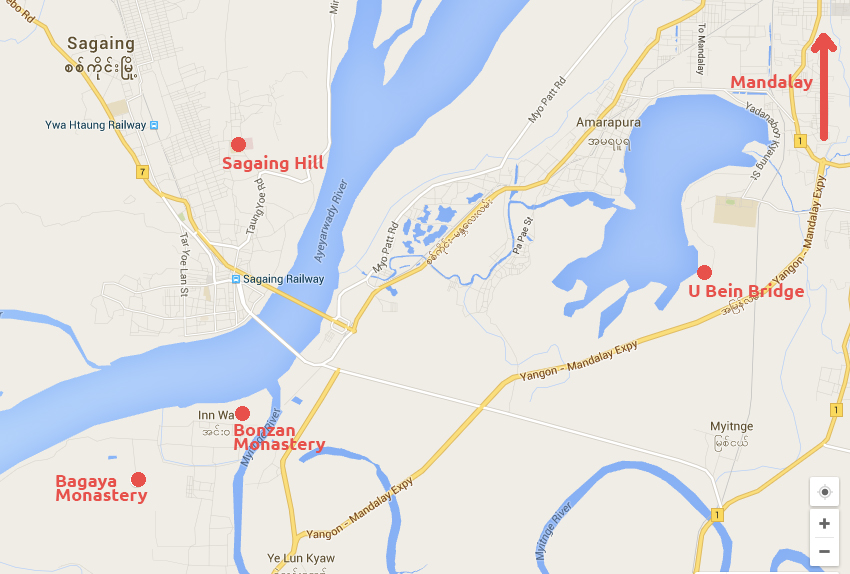 Inwa
Now it is hardly to believe that this small village was once the imperial capital. Located in 28 km from Mandalay, Inwa could offer much to see and visit. The most popular places are:
Bagaya Monastery (GPS: 21.848441, 95.968108) - old teak monastery, built in 1770s years with nice carvings. It is not as impressive as Shwekyaung monastery in Mandalay, but still has its own charm and beauty, The novice monks have a small school inside the monastery that gives even more atmosphere to this place.
Bonzan Monastery (GPS: 21.858265, 95.984546) - built in 1818 year this masonry monastery differs a lot from the traditional Burmese monasteries constructed with a wood. However, it is very nice decorated and the sounds of the flying bat in the dark labyrinths on the down-floor won't leave you unsatisfied.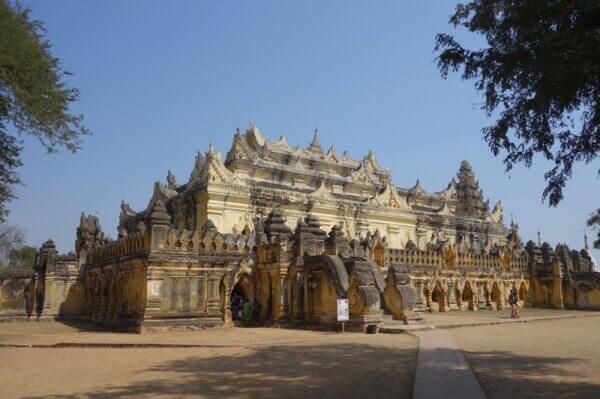 Bonzan Monastery made of stone
Many spots of ruined pagodas. We found all of them occasionally. Here you will find marvelous destroyed temple: 21.839881, 95.977744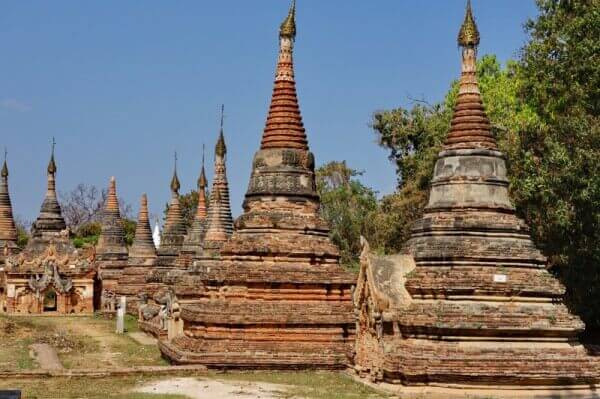 Ruined pagodas around Inwa
Sagaing
Sagaing has numerous monasteries scattered on the hills. It is very beautiful view over Sagaing from the view point on the bridge. You could drive by the curve road to the very top of the central pagoda, Soon U Ponya Shin Pagoda from where there is also nice view over the town.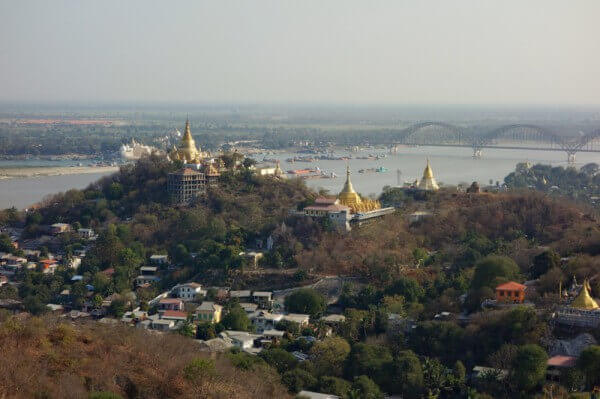 View from Sagaing hill
U bein bridge
This 1.2 km long bridge is constructed from teak in 1850 and that is why it is said that it is the longest and oldest teak bridge in the world. Sounds good, yeah? But in reality you will meet so many people there (especially on the sunset) that the whole impression of this place could be spoiled. However it is beautiful there and it is worth visiting.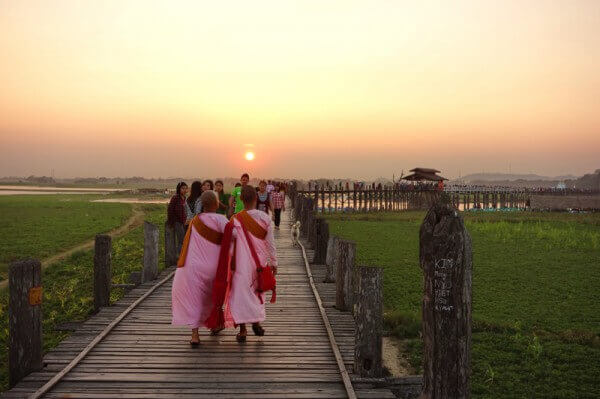 Sunset on the U Bein Bridge
Third day: trip by boat to Mingun
Mingun is easily accessible by ferry from Myan Gyan Jetty in Mandalay (end of 26th street). Ferry departs daily, only once at 9am and it take an hour to go to Mingun. For returning to Mandalay take the ferry at 1pm (it will go faster due to the downstream and you will arrive in Mandalay in 45 minutes).
There are two main attractions in Mingun:
Mingun Pahtodawgyi: huge unfinished stupa that should have become the biggest stupa in the world with the height of 150 meters. Construction of the stupa was begun in 1790 by king Bodawpaya. It is said that building process was stopped due to the astrologer`s prediction that once the stupa was completed the king would die. However, even in this form temple is impressive and views from the top are very nice. Just near the stupa there is second largest bell in the world with a weight of 90 tones.
Hsinphyumae Pagoda: nice white pagoda designed in the form of Buddhist mythological mountain Meru
What else to do in Mandalay:
- Workshops: there are numerous workshops outside the centre, located on 36th street. There are gold workshops that produce gold leaves and stone craftsmen who carve statues of different size and shape. Try to visit King Galon or Golden Rose for free introduction to creating the gold leaves.
- Mahamuni pagoda: it is the second holiest place in Myanmar after Shwedagon Pagoda in Yangon. You could see men applying gold leaves to Mahamuni Buddha there. Women are not allowed to enter this sacred place but they could witness everything on TV.
How to get there
From Yangon:
by bus:
There are VIP class overnight tourist buses (price ~19$) that depart around 8pm from Aung Mingalar bus station. To get to this bus station from the city center (Sule Pagoda) you could either catch a taxi (for about 8$) or find the bus/minibus on the bus stop north of Sule Pagoda (just ask any bus driver about Aung Mingalar bus station and he will show you the right minibus). One of the company the offer great service and comfortable buses is JJExpress. You could book ticket through FB with them.
by train:
There are three trains from Mandalay to Yangon, each has different types of coaches. Please refer to this site for detailed information about trains and schedules.
From Inle lake:
by bus:
the easiest and quickest way is to use a VIP tourist buses. You could buy the ticket in every travel agency around Nyangshwe (there are many of them)
by train:
there are no direct trains from Inle lake to Mandalay. First you should go from Nyangshwe to Shwenyaung by tuk tuk, it is the nearest train station. From there catch the train to Thazi (it is very slow train, so be ready to the 10 hours ride). From Thazi take the train to Mandalay. If you are interesting how we did this way, but in the opposite direction, please read my guide to Inle lake.
From Bagan:
by bus:
There are some bus companies operating between Bagan and Mandalay. Tickets are available from travel agencies in Nyaung U. Price from 9$, travel time 6 hours.
by train:
Train station in Bagan is situated 7 km from the town, so be ready to pay around 7$ to get there. It takes about 8 hours to go by train from Bagan to Mandalay. Upper class coaches are quite comfortable. Train departs at 7am and arrives at 2.30pm. You could buy tickets half an hour before the departure, price 2$ per ticket.
by boat:
There are two types of ferries.
Cheap local very slow ferry costs 18$, departs from Bagan at 5.30 am on Mondays and Thursdays and arrive at Mandalay next day at 4pm.
Ferries for tourists are more comfortable, quick and costs around 45$. They usually depart everyday at 6am and arrive same day around 6pm. Ask for tickets at the hotel or in any travel agency around Nyaung U.
Our experience
We got to Mandalay from Bagan by train. It was nice experience, I don't know how is a bus ride, but I consider train even more comfortable as there is toilet and comfortable seats.
We have lived in the Hotel 8 located in the central part of Mandalay. Hotel is very nice, staff is really helpful. Rooms are quite good and comfortable, wifi is stable, there are free bicycles for rent in the hotel as well. The only thing I didn't like about this hotel is breakfasts, there are a buffet breakfasts, but of very poor choice especially if you don't want to eat local food in the morning. However, food in the roof top restaurant is tasty and the prices are .
One day we took free bicycles from the hotel and visited Royal Palace, Shwekyaung monastery, Kuthodaw and Sandamuni pagodas.
For the second day we rent a scooter from the hotel (12$) and went to Inwa, Sagaing and U Bein bridge. It took us the whole day, from 9am till 7pm.