At 6:20 we boarded the bus to Ahmedabad. The bus was old, the seats were not that comfortable, and the door was not closed. So we went all the way withe the open door and it was really cold because of the cool night air that blew through the door.
Later a Hindu couple came into the bus and said that they have booked the seats we were sitting on. They showed us some paper with seals ... We were confused, because all seats almost gone and it was about 6 hours to Ahmedabad.
But we were lucky that the couple was peaceful - they realized we didn't understand what happens and didn't want to free the seat. Therefore they found two seats apart. What should we do in such situations - it still remains a question … Man in the ticket office didn't want to sell us a tickets at all, the tickets we bought in the bus had no seats mentioned.
We were a bit tired when we finally reached Ahmedabad . But today we have planned to get to Udaipur, so we went to the ticket office in the bus station to find out about the next bus to Udaipur. There we were approached by the man who offered us to go to Udaipur by private bus. We have already traveled by private buses - they are really more comfortable (though more expensive).
We followed the man to see what he would offer us.
At the booth that represents a bus company we were offered a ride for 400 rupees per person (public bus costs Rs 230). The bus departures just in half an hour so it was very good opportunity to get to Udaipur not at the very night. We agreed and sat down into tuk tuk to get to the place where we would board the bus.
The bus was quite good, with common seats along with berths for sleeping. There were many strange people riding in the bus. On man was a kind of drunk - he laid down in a passageway.
When we arrived to Udaipur it was already dark. All tuk tuk drivers were stubborn and didn't want to bargain. Eventually my friend hardly agreed with one driver to get us to the hotel for 60 Rupees.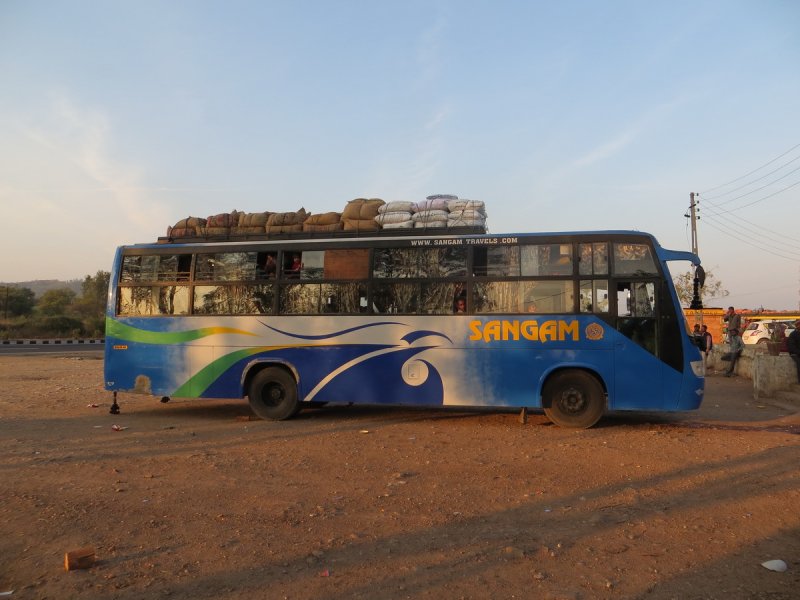 We booked the room in the Panorama hotel. But when we finally got there man on the reception told us they didn't receive our booking and all rooms are occupied. It was already 10 pm, we were tired and very surprised to hear such news…. But the man said they have one cheap room on the first floor near reception... if we want… Yeah, we wanted it because we really need a rest. So we check into the room and went to the roof top restaurant for the dinner.
Tomorrow man promise to give us another room.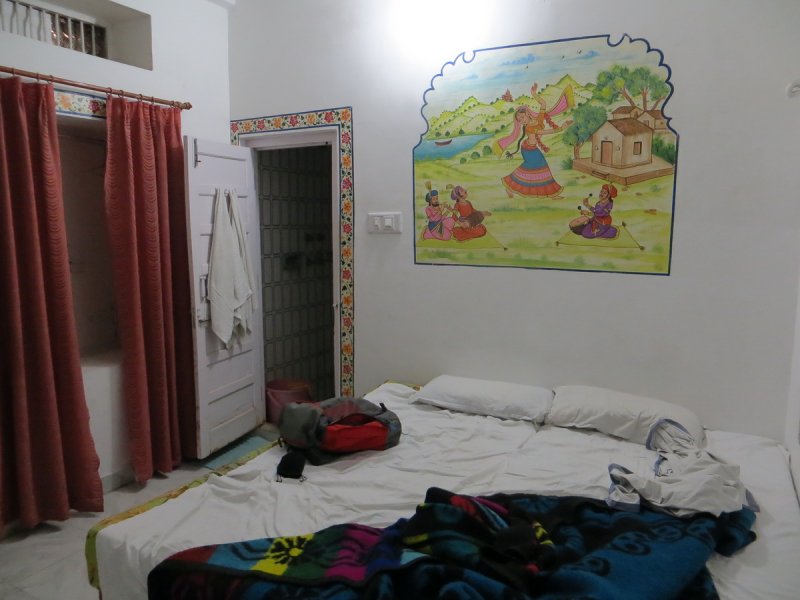 We liked a dinner a lot. We ordered palak paneer with roti - everything was very tasty and palak paneer was one of the best during our journey.
So we enjoyed our dinner with a breathtaking views of the night lake and Udaipur palace.