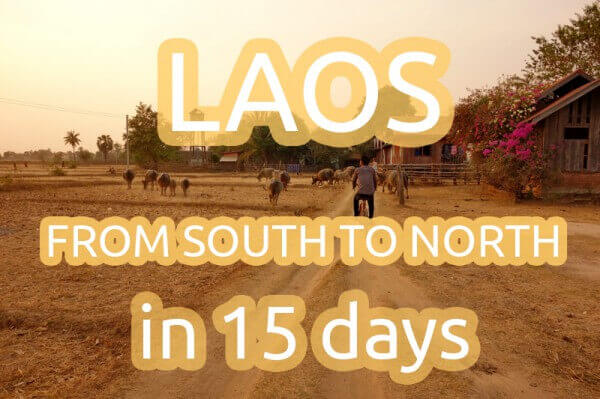 Contents
We crossed Laos from south, coming from Cambodia by bus and travel to north in 15 days. Before this journey I read many not so positive reviews about traveling around Laos, many travelers wrote it is very slow and not worth it. But I could say it was very nice, transportation was much more better than we expect and we are really happy that we decided to go through this beautiful country.
Below is day by day itinerary of our travel, hope it will be helpful for those who are going to visit Laos and interesting for those who are still thinking about it.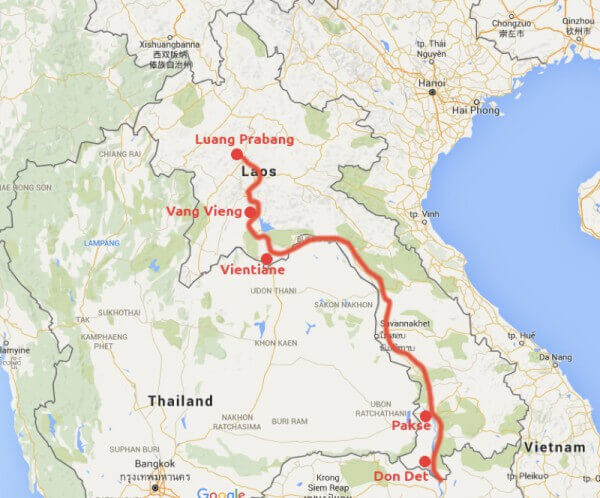 Map of our route from south to north in Laos
1 day (21st of March, 2016): crossing border Cambodia-Laos
This was our first time in SE Asia when we planned to cross borders overland. There were some negative reviews in internet and I felt a little bit nervous about how everything will go on.
We booked quite pricey (30$ per person) but reliable (according to the reviews in the internet) bus service AVT http://www.asiavantransfer.com/ by email and on 21st of March they picked us up at our hotel in Siem Reap at 8:30am.
At the AVT office in Siem Reap we were informed about everything we should know about this trip (how much Laos visa cost, about additional 2$ fees on border, about stop at Stung Treng for lunch), after this we sat up in the minivan and go ahead to the border.
We stopped for the lunch in Stung Treng and changed the minivan there. After another hour we were on the border where we filled in the form for Laos visa, got stamp (that cost 2$) in Cambodian police booth, went another several hundred meters and found ourselves in Laos part of the border where we pay for visa 30$ (prices vary according to your nationality) and another 2$ for the stamp and here we are - in Laos, so easily and without any problems!
Waiting for Laos visa on the border
Again we changed the bus that took us to the nearest Laos village of Nakasang where we sat down to the boat heading to Don Det island.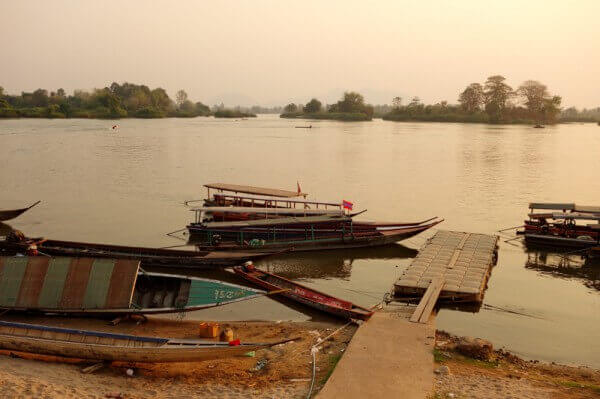 Pier in Nakasang. Waiting for boat to Don Det.
We accosted to Don Det just before the sunset. We booked the hotel Mr Tho's Bungalows in 1.5 km from the main pier, so we went there by foot.
When we have reached the hotel it was already pitch dark, so we checked in and drank beer in the hotel's restaurant with pad thai and fried noodle.
In "Mr Tho's Bungalows" hotel we lived in more expensive rooms with garden view. Room seems much more better on photos than in reality, it is not bad, but very simple, consisting of only the bed. There were no table and even no hanger. However, we lived on the second floor with very nice terrace all for ourselves, as the hotel was almost empty.
Almost all bungalows on the island are very-very simple, so "Mr Tho's Bungalows" hotel is not bad option for those who want to pay a little bit more but don't want to live in the bamboo hut without any glass window and with gaps in the walls.
Nevertheless, most of the travelers choose that simple bungalows and it seems feel happy there, so it is up to you and depends only on your budget (bungalows start from 5$) and attitude.
2nd day - 3rd day: Don Det island
Next two days we were relaxing on Don Det island. Now, I could say it was one of the best experience in Laos. From one hand, Don Det island is touristic island with many guesthouses and restaurants, but from the other hand it is very quiet and authentic. Without paved road, with local people living in their bamboo houses, with pigs and cows everywhere and children playing football in the middle of the field.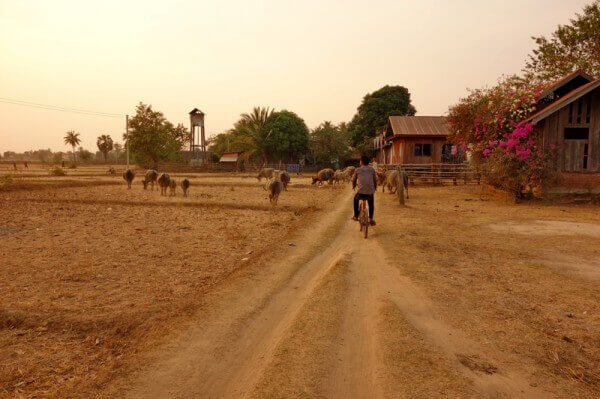 Main road on Don Det.
One day we just walked around the island by foot (it was not difficult as an island is relatively small), witnessed its life and enjoyed the feeling of being in the new country.
On the second day we rent the bicycle and went to the nearby island Don Khon where there are two main attractions for the tourists: waterfall Tat Somphamit on the north west corner of the island and dolphins watching on the south of the island.
Tat Somphamit waterfall on Don Khon island
There is a bridge between these islands and you will be charged 35,000 Kip fee (~4$) to enter the Don Khon island.
Waterfall is amazing, we liked it a lot. We didn't take the boat to see Irrawady dolphins. Boat cost 70,000 Kip and also you will pay something on the border with Cambodia.
4th day: Don Det to Pakse by bus
The previous evening we bought tickets to Pakse from our hotel, so the owner of the hotel was waiting for us at 11am to transfer us back to Nakasang where we take the bus to Pakse.
There were a lot of tourists on the bus station and I was wondering how all of us will place in the bus but at the end everybody was sitting and the bus head to Pakse.
It was not a VIP bus as every seller of the tickets will tell you, but anyway the bus was not bad. It took around 4 hours to reach Pakse from Nakasang bus station with one stop for restroom. Fortunately, bus took us to the very center of the city so our hotel "Alisa guesthouse" was in walking distance. I booked this hotel in advance by email but it is available through booking.com and agoda websites as well.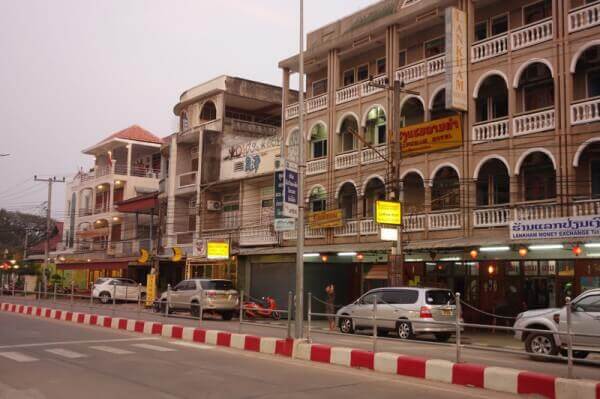 Central street in Pakse with many hotels
Alisa guesthouse has nice rooms and I think it is a good value for money. We paid 15$ for our standard double room including AC, hot shower and cosy rather big room.
5th day: trip to Champasak
Today we rented the automatic scooter from our hotel for 100,000 Kip per day and visited Champasak that is famous for it's ruined temple complex built in the days of the Khmer empire and now is a UNESCO World heritage site.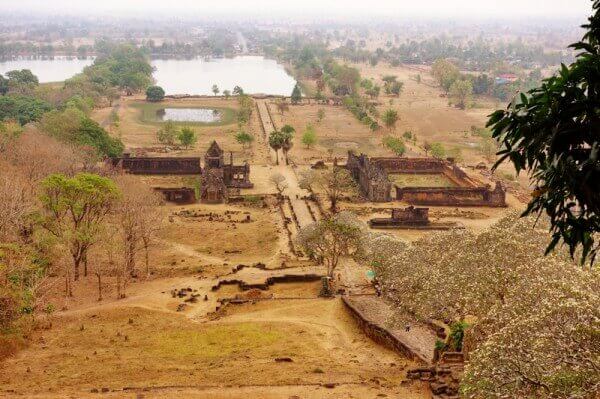 View of ruins near Champasak from the hill
Please read the full story about our day trip to Wat Phu ancient complex near Champasak.
6th day - 8th day: trip around Bolaven plato
Today we rented the manual bike from the hotel and head to the trip around Bolaven plato. Please read my full story about our trip here.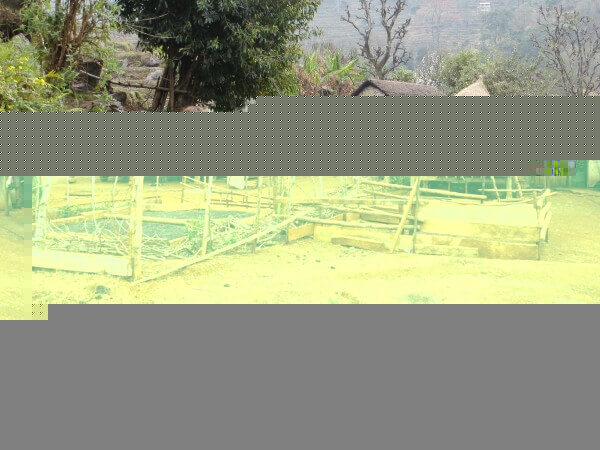 Villages along the road around Bolaven plato
It was one of our best experiences in Laos. We started and ended our trip in Pakse. These three days were full of joy, beautiful nature, smiling children and coffee :)
9th day: Vientiane
Today early in the morning we arrived to Vientiane by sleeping bus from Pakse. Sleeping bus was super cool, beyond our expectations. We bought tickets on the tourist bus station in the centre of Pakse (GPS: 15.118108, 105.796525) two day in advance.
There are several companies that organize sleeping bus from Pakse to Vientiane, but we choose 'King of bus" company as their buses seem to be better than others (they have number one ticket booth on the bus station).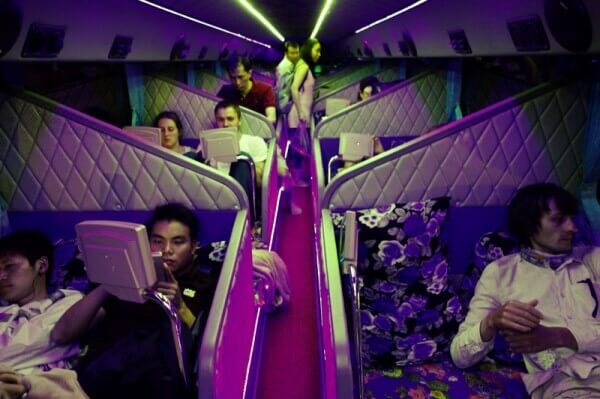 Our sleeping bus from Pakse to Vientiane was super cool
The bus was very comfortable and even I slept almost all night long (I have very light sleep) . We have seats on the second floor. Bus departure at 8:30pm and arrived to Vientiane at 6:30am to the bus station in 8km from the city center. It was obvious that we need tuk tuk to get to the center. Tuk tuk driver proposed to drive us to the centre for 40,000 Kip, while we were thinking he reduce the price to 30,000 Kip and we agreed (don't know what is a normal price).
We have booked Vientiane star hotel in the very center of the city. Hotel is a little bit overpriced (but it is common situation for Laos) as there were only beds in the room but location is great, atmosphere was very lovely and breakfast was tasty.
We had only one day in Vientiane, so after a little rest and a cup of coffee in the hotel we were ready for walking around the city.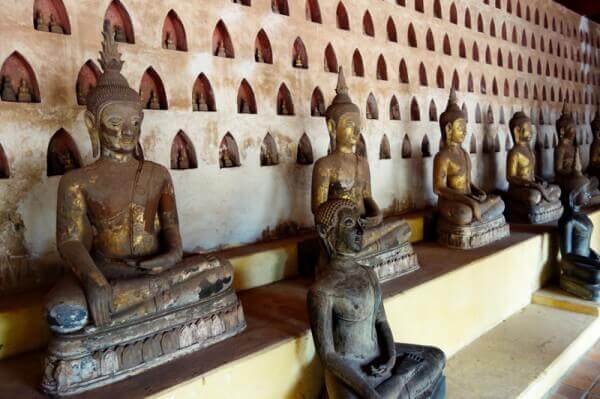 Numerous Buddha in Wat Sisaket temple in Vientiane
As almost of the travel bloggers wrote - there is not much to do in Vientiane. We went to Arc de triumph that is nice, visited Wat Sisaket temple with Buddha statues in the niches in the walls, strolling along the riverside… And finally exhausted and very hungry we ate delicious Indian food in Nazim Restaurant (GPS: 17.964985, 102.603029)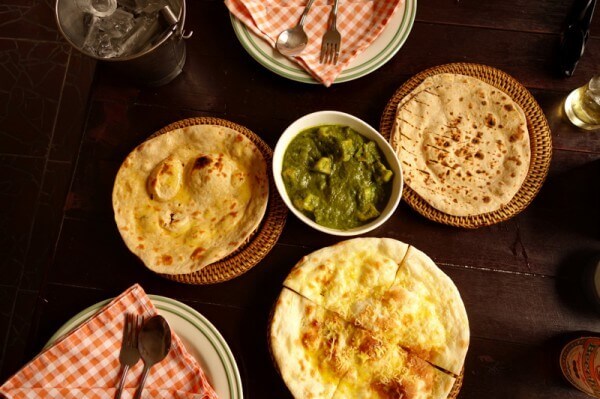 Tasty Indian food in VIentiane
10th day: Vang Vieng
Yesterday we bought tickets for the bus to Vang Vieng from our hotel, so after the breakfast we were ready for the bus ride. Bus departure at 9:30am from the hotel and arrived to Vang Vieng around 1:30pm.
We have booked Sengkeo guesthouse in Vang VIeng but once we saw it we decided to whip away as it seemed too gloomy and was situated quite far from the village center. So we found another place for living - Phoomchai guesthouse, with very friendly manager, nice territory and bungalows with air-con for 100,00 Kip (12$).
We liked our stay in Phoomchai guesthouse. For the first night we were the only guests and it was so tranquilly. For the second night new guests arrived and it appears that soundproof is very bad, but anyway it is nice place to stay for the couple of nights in Vang Vieng. Bungalows have hot shower, wifi and very nice terrace with table and chairs to relax.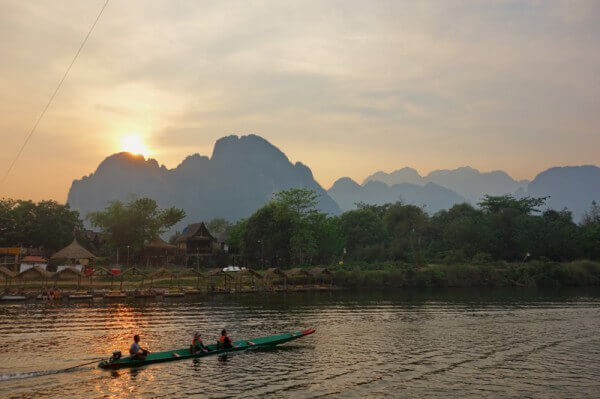 Amazing nature in Vang Vieng
We liked Vang Vieng a lot and I was really upset that we had only two nights there. I read a lot of reviews about this place, many of the travellers don't like this place (and once again I make sure that we can`t rely on other people's reviews as it's all very subjective at the end).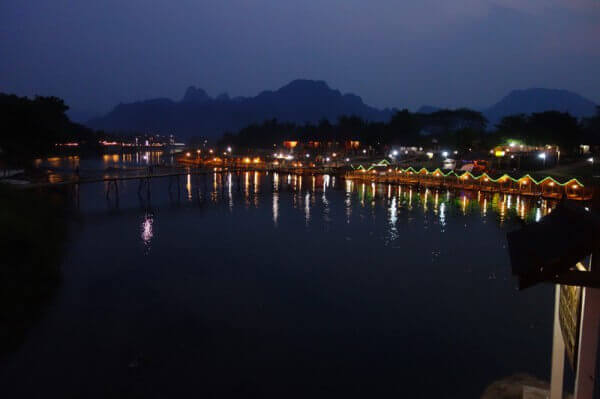 Vang Vieng at night
I advise you to stay there at least for three-four nights. Village itself is small where every house is either a hotel or restaurant but the nature is superb there, atmosphere is very friendly and relaxing and there is much to do nearby - tubing, kayaking, caves and of course drinking beer in one of the riverside bars.
11th day: Water cave near Vang Vieng
In the morning we rent a motorbike and decided to go to the water cave called Tham Nam (GPS: 19.0360006, 102.4273885). We reached the bridge where the was a fee 10,000 Kip (1,25$) per person to cross it and the nearby piece of land called parking that was also paid (5,000 kip per motorbike). We were so confused by this and not because of money but because of the fact that even bridge is paid.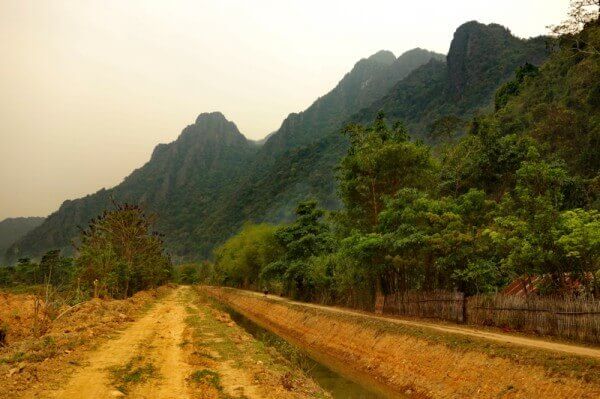 Narrow unpaved road to water cave
We decided to try another road. We were so happy to find the free bridge after which the road became very narrow and skirted along the water canal. But we were not afraid as we were full of enthusiasm to reach the cave.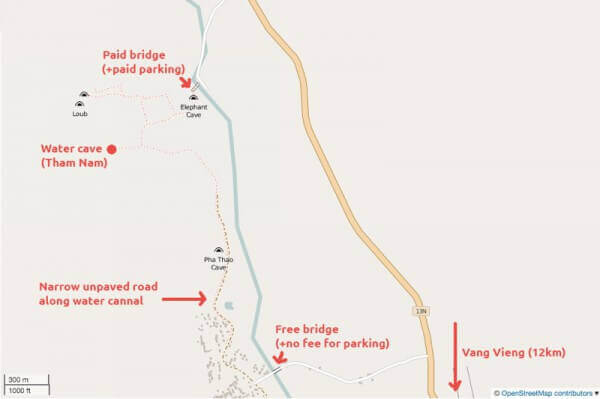 Map of water cave near Vang Vieng
Finally we got to the cave. At first it was not obvious that we did that, but there were some tables and cafes and then we saw the tubes. Of course there were no safe boxes where we could leave our backpack, so we asked in one of the cafe for the water pack. They have ones for renting (10,000Kip). We paid another 10,000 Kip per person for the tube and flashlight, wear our swimsuits and our journey to the cave began…..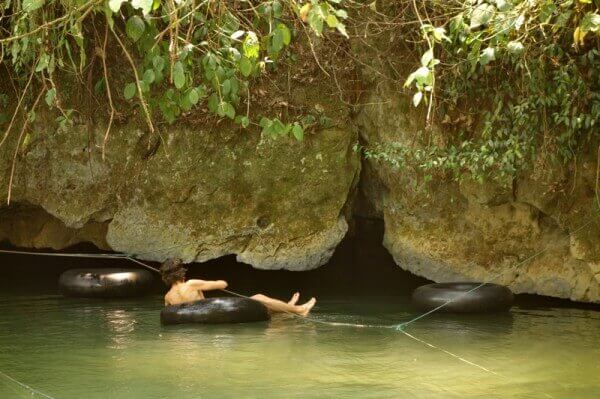 Entrance to water cave
Cave turned up to be long, it was pitch dark inside and only the light of our two flashlights illuminates our way. We were there in the afternoon and we were the only visitors at the moment.
It was very exciting trip, we have been to many caves around the world, but this one was so unique and impressive. Cave is like a tunnel with many stalactites of different shapes and sizes. There are ropes strained along the wall of the cave - they help to move on. The only disadvantage is very cold water - so if you have diving suit it will be a good idea to wear it as I really froze there.
Cave is one way so once we reached the end of the rope we decided to swim a little bit by our own and the turned back to the entrance of the cave. Unfortunately, there were no sun anymore when we went, the sky was covered with clouds. We dressed up and drove back to Vang Vieng.
12th day - 15th day: Luang Prabang
Yesterday we bought tickets in Wonderful tour to Luang Prabang. So the minibus was waiting for us at 8:40 in the morning in front of our guesthouse. Minibus was not very comfortable, but we got to Luang Prabang rather quickly, with only one stop for restroom.
We booked room in A Tee guesthouse but when we came, the owner wanted to give us the room on the first floor. The room was on the first floor, it was glum and smelled bad. We asked for another room on the second floor, but he said that all other rooms cost not 16$ but 20$…. Owner spoke almost no English, I didn't like him and the room he wanted to give us so we turned around and left the guesthouse.
It was afternoon and we didn't know what to do. We don't like to search for the hotels on the spot, but fortunately we found very nice B&B guesthouse, not far away from A Tee guesthouse, for the same price but much better.
Room was very cosy and comfortable, hot shower is the best in Laos, very quiet place, nice public balcony, free coffee and tea. It is located in 15 minutes from night market and city centre. We were the only guests in this guesthouse for the first two nights, but then new guests checked in and it turned up that soundproof is very bad, but still it is very good place to stay! First we planned to stay there for one night and find something more closer to the centre, but then we decided to stay there for all nights in Luang Prabang.
One of the day we rented a bike and had a day trip to Kuang Si waterfall. It was a great day and I liked the waterfall a lot. Please read my full story about our journey to Kuang Si waterfall.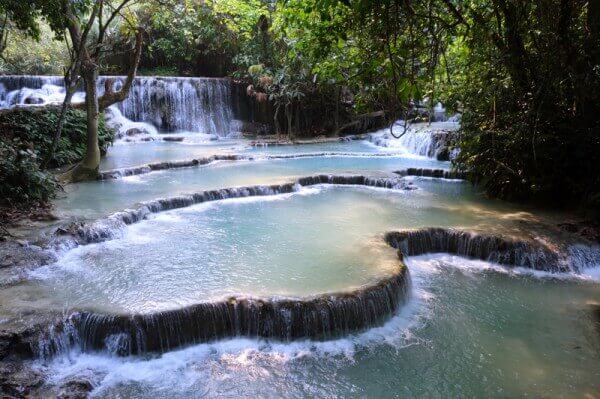 Kuang Si waterfall near Luang Prabang is must see!
Other days we just walking around the town, doing nothing. First we wanted to rent a bike and go to the opposite bank of Mekong river and visit temples and pottery village there, but it was too hot that we gave up and just sitting in cool room in the hotel.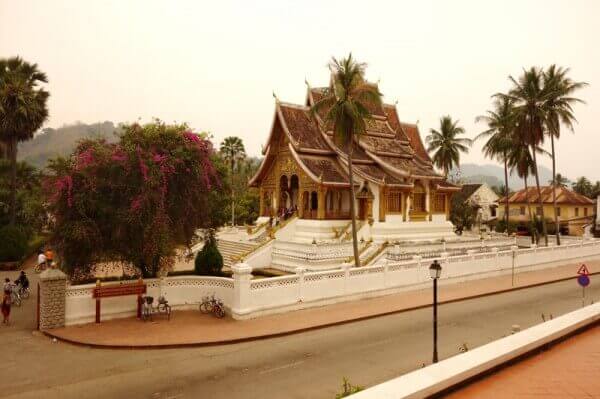 Temple in Luang Prabang
We also skipped well-know Pak Ou Caves as the boat ride costs 65,000 Kip per person and we were full of caves at that moment and it seems quite pricey for us to go there without a great desire, but simply because everybody goes.
Every day we ate hot sandwich with chicken in the center of the town.On the main square there are many stalls with sandwich sellers.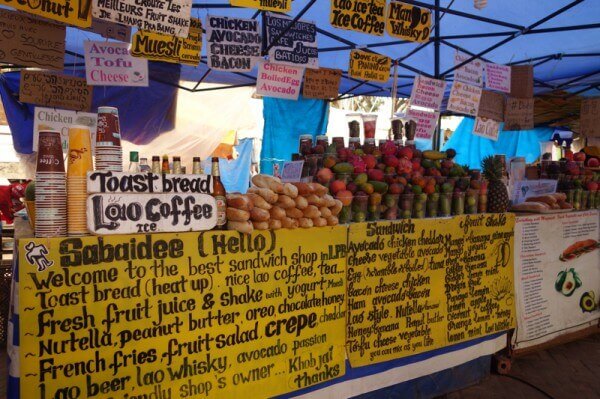 Sandwiches in Luang Prabang
Thanks to new Airasia flight from Luang Prabang to Bangkok we successfully completed our journey by going back to Thailand and from there to Kiev.