Several years ago, I thought that Myanmar has the only one place of interesting, the marvelous Bagan. But if look closer, it appears that Myanmar has a lot to see and to explore.
Unfortunately, there are still some places that are hard to visit because of the restrictions and slow transport (for example, well known Mrauk U can't be reachable overland for foreign tourists as for 2016 year).
But overall this is a wonderful country to travel if you want to feel real Asia, it is still not as much touristic and thus very distinctive.
Here is a list of must-see places around Myanmar but it still much more behind them.....
Map of the best destinations in Myanmar
1. Bagan
With no doubt, Bagan is number one in this list. We have spent three whole days (and 4 nights) in Bagan, met two sunsets and one sunrise. Every day at the end I have deeper feeling of this place than previous one. This destination is somehow contradictory, as it is hard to grasp it at once. Every temple is unique but meanwhile is very similar to others. You could even feel something like "And where is that fantastic view that I have seen on photos".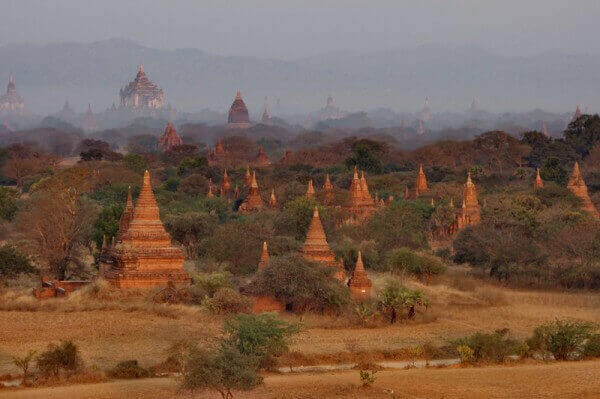 Yes it happens, you will feel like you are missing something. You will ride around the temples in pursuit of "that magnificent view" or "that solitude place"…. But at the end it will be evidently that you will never forget this fantastic place, you will never see something like this and this place will affect your heart and soul.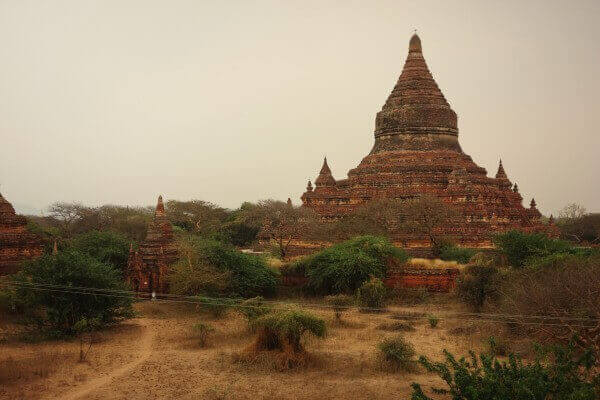 My final advise - go to Bagan and don't expect too much, as high expectations usually broke everything. But be sure you will like it. If you are interested in more information, I wrote the article about my ten favorite temples in Bagan.
2. Shwedagon pagoda, Yangon
I was deeply impressed with this place. If I could I put this place along with Bagan on the first place in this list. We went their by foot, it was already 5 pm and we forgot to change the money or withdraw them, so we didn't have local cash. There was broken ATM near the ticket office and closed exchange booth - a good start. However, we paid for entrance in dollars and here we are….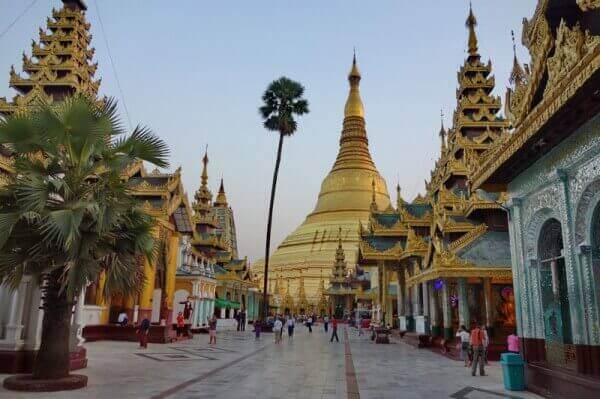 Of course the center of the whole complex is grand gilded pagoda, 99 meters high that is decorated with the 15 grams diamond on the very top. However, diamond can't be seen, even in the binoculars. There is photo-gallery where you will find photos that depict decorated top of the pagoda.
We spend there about three hours, went around stupa for three times and each time the lighting was constantly changing. First it was soft light, than when sun was setting it reflects with pink in stupa and finally when it got dark they turn on the backlight and it gave even more fabulousness to the atmosphere of that place.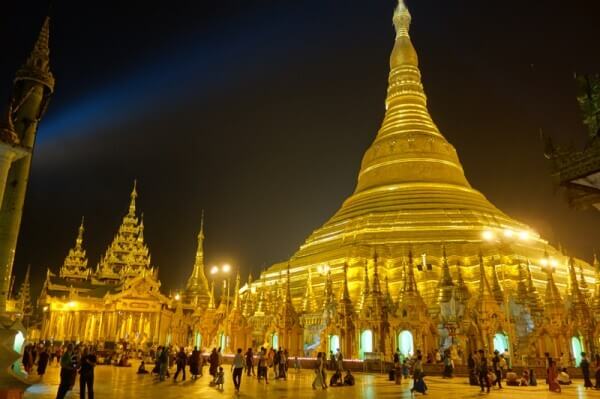 Great place of interesting, must see in Myanmar. When I read about it in lonely planet and through the internet I can't believe this place is so amazing and impressive.
3. Inle lake
Boat trip around Inle lake was one of the best I have ever had in my life. It was incredible experience to see villages right on the water with canals instead of streets, floating gardens and well-known fishermen; to witness that amazing another world on the water created and managed by the people. And don't miss Indein ruined pagodas - that place is fantastic!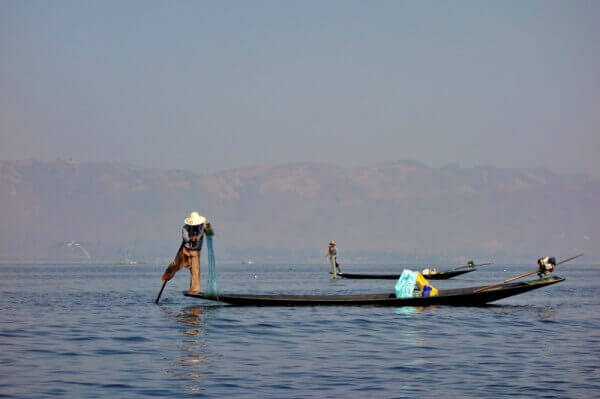 You will find my travel guide to Inle lake here.
4. Inwa, ruined stupas and monasteries
It is hard to highlight just one thing in Inwa, as everything that we have seen there was exciting. Masonry Bonzan Monastery with bats in the dark tunnels downstairs; and the old teak Bagaya monastery with novices monks studying lessons; and many-many spots of ruined pagodas that we found occasionally; and impressive temple (probably) that I noticed just passing by; and green-green rice fields.
This building I liked the most - it was so amazing, standing almost in the nowhere, huge, old, almost reclining, but still grandiose.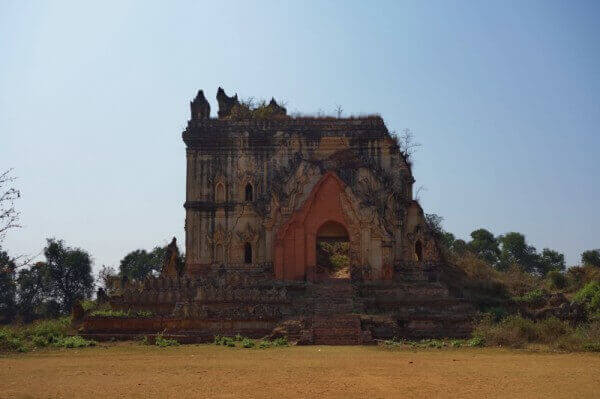 5. Botanical garden, Pyin Oo Lwin
Frankly speaking, I didn't expect much of it. Small town of Pyin oo Lwin is not impressive at all, with just one central street where the main attraction is clock tower built by British colonists.
At first glance the garden didn't seem big and we thought we would spend there not more then several hours, but finally we walked there for more than 5 hours, we were tired but full of great impressions.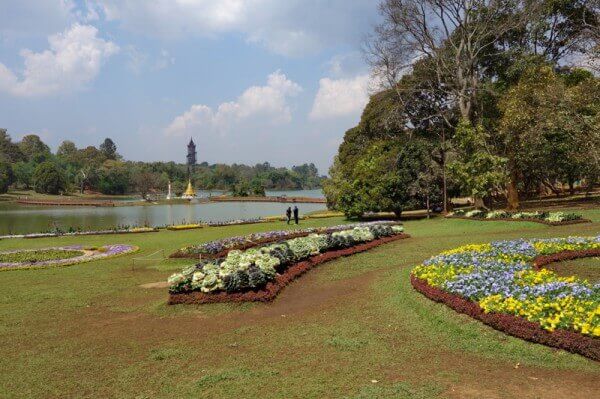 Don't miss exhibition of petrified wood - it was the greatest experience I had there. Petrified wood is amazing, I saw this for the first time and it was hard to believe that it is more than million years old.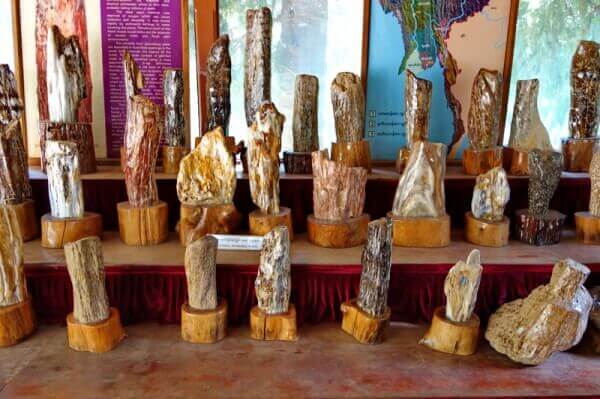 Aviary is also very nice with funny birds and parrots. Observation tower has good views over the garden and town. Food in restaurant is tasty, while the price are a little bit higher than average it's a perfect place to take a rest when you are tired.
6. Shwenandaw monastery, Mandalay
There are quite many attractions in Mandalay, but Shwenandaw monastery is worth visiting for sure. Once a king's residence and a part of royal palace, it was than converted to monastery. This is the only building that survives during the World War II bomb attack that destroyed the whole royal palace.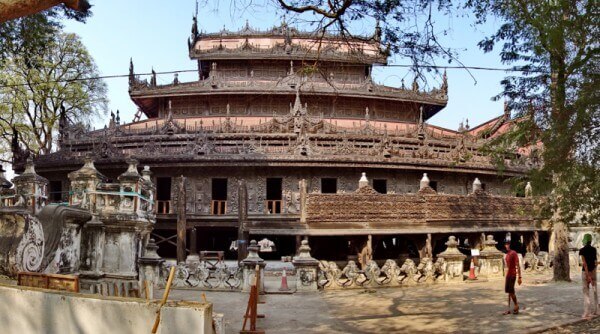 Monastery was built fully from teak. Teak carvings are astonishing and impressive. there are so many small details as horse mane, girl's hair and faces of the warriors….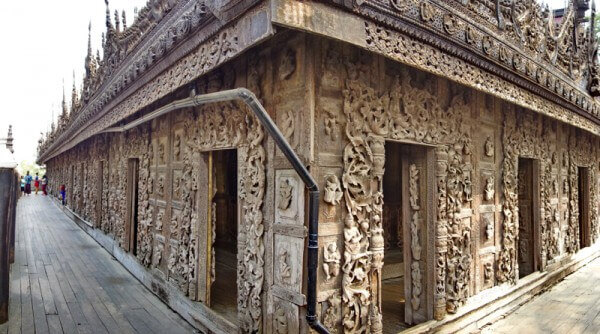 The whole building is permeated with antiquity, it smells like an old attic, many details have lost their form and keep only blurred outlines…. But it is charming this old-old building.
7. U Bein bridge, Mandalay
This place of interest is very contradictory and frankly speaking I didn't add it to this list initially. It is said that this 1.2 kilometres long bridge was built in 1850 and thus it is believed to be the longest and oldest teak bridge in the world. Sounds good, but… It is too overcrowded on the sunsets that all its beauty is difficult to perceive.
However, I should admit that sunset was very nice there and the whole atmosphere is good enough for spending the evening. Probably, I would try to go there in the morning.